What is the meaning of life? What is love? What should I have for lunch? These are the age-old questions that our ancestors pondered. While we can't help you with the first two conundrums, we've got the third answer in the (lunch) bag with these delicious recipes from HelloFresh.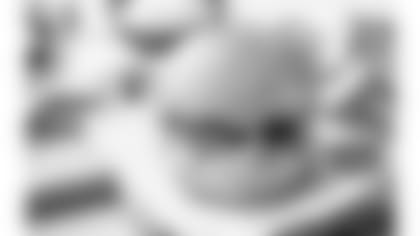 Sriracha Turkey Burgers with Sweet Potato Chips and Ginger-Dressed Greens
Have you jumped on the sriracha bandwagon yet? If not, these burgers might convince you to come aboard (and if you already have, they're sure to delight). The spicy sauce is mixed right into the turkey patties, plus it spikes the mayo that's slathered on top. Add a ginger-dressed salad to the side, and you've got an impeccable combination of both cooling and fiery flavors.
Slice sweet potato into very thin rounds. Toss on a baking sheet with oil, and season with salt and pepper. Bake in oven at 450 degrees until browned and crisp, flipping halfway through.
In a large bowl, combine ground turkey, minced shallot, minced garlic, 2 tsp ginger, finely chopped cilantro, sriracha, and soy sauce. Season with salt and pepper. Form mixture into two patties. Season all over with salt and pepper.
Heat oil in a large pan over medium-high heat. Add burgers and cook until browned. Transfer pan to oven and bake burgers until no longer pink in center.
Add split buns to the baking sheet with the sweet potato chips to toast.
In a bowl, whisk together minced ginger, garlic, and oil. Season with salt, pepper, and more garlic and ginger. Add spring mix and toss to coat.
Mix mayonnaise and sriracha together, and spread a little sriracha mayo on each bun. Top with a burger and cilantro. Serve with salad, sweet potato chips, and any remaining sriracha mayo for dipping on the side.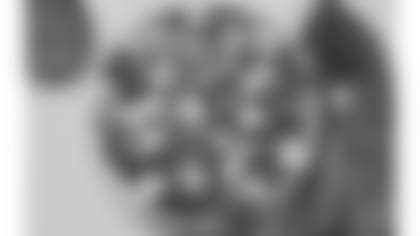 Spinach Caprese Salad with Herbed Chickpeas, Caramelized Shallots & Creamy Balsamic Vinaigrette
Here's a bigger, better version of a Caprese salad that's chock-a-block with ingredients and totally main-course worthy. Fresh spinach provides the leafy base with caramelized shallots throughout for pops of sweetness. Crisp roasted chickpeas add a protein boost while garlicky ciabatta croutons up the crunch factor even more. Of course, it wouldn't be Caprese without the tomatoes and fresh mozzarella, but we made them bite-size so they're more fork-friendly. We even upgraded the balsamic dressing, making it creamier and heartier.
Drain and rinse chickpeas, and pat very dry with paper towels. Halve, peel, and cut the shallot into ½-inch-thick wedges. Toss the chickpeas and the shallot on a baking sheet with a drizzle of oil, Italian seasoning, salt, and pepper. Roast on top rack at 425 degrees for 18-20 minutes until the chickpeas are golden and tender and the shallot is caramelized. (You'll add more to the sheet after 11 minutes.)
Halve tomatoes. Dice mozzarella into ½-inch cubes. Place tomatoes in a small bowl and toss with balsamic vinegar, 1 tsp sugar, and a big pinch of salt.
Halve ciabatta lengthwise and cut into ¾-inch strips. Tear strips into rough cubes. Transfer to a large bowl and toss with olive oil, garlic powder, salt, and pepper.
Once chickpeas and shallot have roasted 11 minutes, remove from oven and push to one side of sheet. Carefully add the ciabatta croutons to the empty side, and continue cooking for 7-9 minutes until golden and crispy.
Remove tomatoes from bowl and set aside, leaving marinade behind. Whisk mayonnaise and mustard into marinade until smooth. Slowly whisk in 4 TBSP olive oil, drizzling a little bit at a time, until creamy. Season with salt and pepper.
Add spinach to bowl with cooled chickpeas, shallot, and croutons. Toss with dressing until evenly coated. Divide salad between plates. Top with mozzarella and tomatoes. Drizzle some reserved dressing on top, and season with salt and pepper to serve.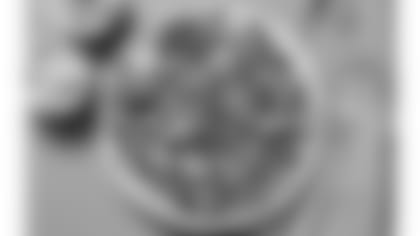 Thai Shrimp with Candied Peanuts over Sesame Cabbage & Arugula Salad
Salt and pepper. Burgers and fries. Peas and carrots. These classic pairings have stood the test of time. If you're anything like our chefs, though, you know that one flavor duo trumps all others: sweet and spicy. Here, that sweet heat comes in the form of a finger-licking blend of Thai chili sauce, lime zest, and a bit of butter. It's all simmered with the sautéed shrimp, then spooned over a refreshing arugula sesame salad and topped with candied peanuts. With meals like this, life really is sweet (and spicy), friends.
Heat a large, nonstick, pan over medium-high heat. Add peanuts, 2 tsp sugar, and 2 TBSP water. Cook and stir for 3-5 minutes until water has evaporated and peanuts are coated and lightly toasted. Remove peanuts from pan and set aside.
Add grated carrots, half-moons of cucumber, shredded red cabbage, arugula, sesame dressing, and juice from two lime wedges to a bowl. Toss to combine. Season with salt and pepper.
Rinse shrimp under cold water, and pat dry with paper towels. Melt 1 TBSP butter in pan used for peanuts over medium-high heat. Once pan is hot, add shrimp and minced garlic. Cook for 3-4 minutes, stirring occasionally, until shrimp is opaque and cooked through. Season with salt and pepper.
Turn off heat under pan with shrimp. Stir in chili sauce and lime zest until evenly coated.
Divide sesame cabbage and arugula salad between plates and top with Thai shrimp. Garnish with candied peanuts and lime zest. Serve with any remaining lime wedges on the side.
Eat Right Tuesday will be a year-round feature on NewOrleansSaints.com as the Saints and HelloFresh want to do our part to improve the health and wellness of our Saints family. If you have any ideas or questions for our experts, we want to hear them. You can email us at SaintsLiveWell@saints.nfl.com.
HelloFresh is also offering Saints fans $110 off their first order with code "SAINTS". Order now >>