Literally, Mark Ingram II is standing on the doorstep of New Orleans Saints history.
Twenty rushing yards is what the Saints running back needs to climb to the top of the chart as the franchise's all-time leading rusher, 20 yards is what he needs to surpass Deuce McAllister's 6,096 and to own two franchise records (he also leads with 50 career rushing touchdowns).
Entering Sunday's game against the Titans at Nissan Stadium in Nashville, Tenn., Ingram now is so close, after appearing to be so far.
The first-round pick in 2011 played with New Orleans through 2018 – and was 90 yards short of breaking McAllister's record – before joining Baltimore as a free agent in 2019. After two seasons there he was waived, then signed a one-year deal with Houston for this season. On Oct. 29, he was traded to New Orleans and was given a new chance to break the old record.
"Yeah, obviously, when I left I knew I was close and that sucked," he said. "I didn't know when I'd come back or if I'd come back or how I'd come back. I always figured that maybe I'd have a chance to come back. You never know. The league is crazy, but I'm thankful that I was able to come back. I feel like it was perfect timing."
Not totally perfect in all aspects, because in a perfect world, Ingram, who has 70 yards on 15 carries in the two games since his return, would have set a new mark last Sunday, in Caesars Superdome against the Falcons. But he'll take it wherever he can get it, especially if it's set in the context of victory.
"I think it would have been special to do it last week versus Atlanta in a victory ideally, and be able to break it in front of the home crowd," he said. "I think that would have been probably a special moment.
"But I think it would be a special moment no matter where it's at. Obviously being able to celebrate it in the home stadium in New Orleans, I think that would have been something that would have been cool. But I don't think that's going to happen. So if I make it to the next home game without the record something bad really happened.
"So we keep going, man, the record is cool and it's something that I'll be proud of and something that I'll be honored to do with such a great organization with great runners who have come through here. But the main thing is to be the best version myself and help us win games. That's the main thing.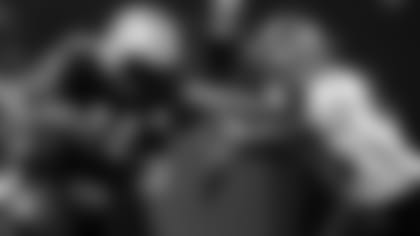 "So the record, like I said, when I came (back) here, I knew I had like 90 yards and if I didn't have 90 yards by a certain point it would have been bad. So my main focus and my main vision is just being the best version myself mentally, physically, emotionally, be the best teammate I could be, and prepare myself to go out there and perform at a high level each and every Sunday, each and every game, whichever day that is, and do my job and do my part in helping us have success and winning games."
McAllister has been nothing short of encouraging to the player who's poised to replace him atop the chart.
"Deuce has been one of the most supportive guys throughout my whole career, even in beginning times when whether it was a role or whether it was injury, whatever it may have been, when things weren't as ideal as you'd want them to be as a first-round pick," Ingram said. "He was always one of those guys who was encouraging and supportive of me.
"So I'm thankful for him pouring into me, being positive to me, and helping me grow as a runner, and as a professional. He has definitely helped me along the way as well. So I'm thankful for him and will be honored to be able to now get the yardage to top that record. He set the bar and set the standard and we're just trying to elevate it."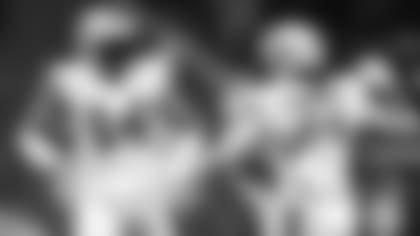 There may be increased opportunities to do so against the Titans. Alvin Kamara, New Orleans' leading rusher, missed practice Wednesday and Thursday with a knee injury and might not be available Sunday.
If he has to take on a heavier load, Ingram said he's prepared.
"I am ready for a whole load at all times, that is what I prepare for," he said. "That is what I do. That is what I'm built for.
"I'm always excited about the opportunity to be able to go out there and prove myself. That's something I try to do every single day in practice, try to prove myself, try to improve, try to get better and try to prove that I'm one of the best out here doing it. So I always preparing myself mentally, physically, emotionally to be able to shoulder a big load and that's what I do.
"So always ready for an opportunity, and just thankful for the opportunity to be able to play this game, be able to do the best I can to help our team win. That's my ultimate goal, no matter if it is one particular role or if I have got to shoulder a load, I am always prepared to do whatever it takes to help the team win."