As we approach the 2022 NFL Draft on April 28-30, NewOrleansSaints.com takes a look at the history of their overall pick positions and the players it brought into the league. The Saints will have picks in Round 1 (16th and 19th overall), Round 2 (49th), Round 3 (98th), Round 4 (120th), Round 5 (161st) and Round 6 (194th).
Over the past 10 drafts, defensive tackles have been selected the most with Pick No. 49. Three of the past 10 selections have been at the defensive tackle position with tight ends, wide receivers, and linebackers are tied for the second most selected with two apiece. The Saints have never selected at pick No. 49.
This second round slot has included three PFWA All-Rookie selections in wide receiver Chase Claypool (2020), guard Mitch Morse (2015), and tight end Jace Amaro (2014).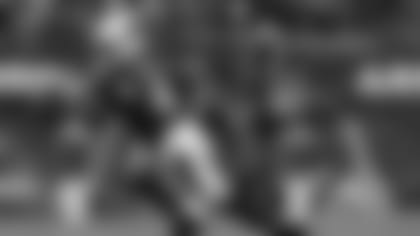 YEAR-BY-YEAR BREAKDOWN OF 49TH PICK:
2021: Arizona Cardinals, WR – Rondale Moore, Purdue
2020: Pittsburgh Steelers, WR – Chase Claypool, Notre Dame (PFWA All-Rookie Team)
2019: Indianapolis Colts, LB – Ben Banogu, TCU
2018: Philadelphia Eagles, TE – Dallas Goedert, South Dakota State
2017: Washington Commanders, LB – Ryan Anderson, Alabama
2016: Seattle Seahawks, DT – Jarran Reed, Alabama
2015: Kansas City Chiefs, G – Mitch Morse, Missouri (PFWA All-Rookie Team)
2014: New York Jets, TE – Jace Amaro, Texas Tech (PFWA All-Rookie Team)
2013: New York Giants, DT – Johnathan Hankins, Ohio State
2012: Los Angeles Chargers, DT - Kendall Reyes, Connecticut
PWFA All-Rookie selections
Pick #No. 49 has produced three players selected to the PWFA All-Rookie Team. Tight end Jace Amaro played 14 games his rookie season, posting 38 receptions for 345 yards and two touchdowns. Mitch Morse played and started 15 games during his rookie season in Kansas City, solidifying himself as one of the top-tier linemen in the NFL. Chase Claypool played 16 games, hauling in 62 receptions for 873 yards and nine touchdowns.