West Palm Beach, Fla. – The New Orleans Saints still are working through their "musts" list this offseason, but have made substantial progress on it.
"I think we've done a pretty decent job, in terms of this offseason trying to fill a few spots," Coach Dennis Allen said Tuesday from the NFL Annual Meetings at The Breakers. "Certainly, the quarterback must is always the biggest one. You've got to make sure that we feel good about where we're at there.
"There's still a couple of things on the roster that I think we're going to be able to do. But we're going to take our time in doing that. I've found, and we've found as an organization, that usually our best moves are usually not the ones that everybody wants to write about and talk about and tweet about or whatever.
"Our best moves are going and getting a guy like a Demario Davis, that wasn't this 'splash' signing but fits our culture, fits a specific need that we have and he's the type of player and type of personality that we're looking for and it just becomes a good fit and they have success. I think that's what we're going to continue to do."
The quarterback 'must' was filled with the signings of unrestricted free agents Jameis Winston and Andy Dalton to fill the Nos. 1 and 2 spots, respectively.
"It was a little bit crazy," Executive Vice President/General Manager Mickey Loomis said, given that the Saints heavily haven't been in the market for a quarterback since 2006, when Drew Brees joined as an unrestricted free agent. "We haven't been in that market very often, so it was a little different in that there were some guys available via trade.
"But I don't think that happens every year. And then obviously there were some free agents. And look, we love what Jameis has done for us and we wanted to keep him as well. And yet he was a free agent, so there's a lot of uncertainty going into this offseason. But I'm happy where we landed."
Among the other additions for New Orleans were safety Marcus Maye and defensive tackle Kentavius Street. Maye joined the franchise as Marcus Williams departed.
"Good, veteran safety," Allen said. "Adds some flexibility, can play both positions in the back end, can play strong (safety), can play free. Has range in the back end. Smart, instinctive. I remember watching him coming out of Florida, really liked him then. Somebody that we felt like had that versatility that we're looking for."
Too, Allen said Street, who was coached by co-defensive coordinator Ryan Nielsen in college at North Carolina State, provides versatility along the defensive line.
"He can play defensive tackle, he can play nose, he can play strong side end," Allen said. "There's some flexibility there. (I) also like the fact that Ryan coached him, so there's a little bit of familiarity with the player in that regard."
THOMAS VISIT: Allen recently visited receiver Michael Thomas, who missed the 2021 season due to ankle surgery and recovery.
"I just feel like it's important that – he is one of our better players – and I think that relationship between he and I is important," Allen said. "I don't think it was a 'clear the air' type of deal. It was really just me going to see one of our better players and trying to get to know him a little better."
LOOKING FOR HELP: Even with Thomas on schedule to return, the Saints will continue looking for help at receiver. "I think it's still a position that we want to try to add to, but we certainly feel good about getting Tre'Quan Smith back, having Deonte Harty, having Mike Thomas come back," Allen said. "So we feel good about the position, but yet it's still a position that I think we want to add to."
"I think we have some work to do there, so we're looking," he said.
ON THE RIGHT TRACK: Allen had high praise for linebacker Pete Werner's rookie season. Werner, in eight starts and 15 games, had 62 tackles, four tackles for loss and a quarterback hit.
"That's the type of player that we're looking for: Tough, smart, competitive," Allen said. "He's got all those qualities. And to come in as a rookie and play that position – linebacker is one of the more difficult positions to play because it's the only position that you play where things are happening on every side of you. There's things that are happening in front of you, things that are happening to your right, to your left, behind you, and you have to be aware of all those different things. Play the run, play the pass.
"It's a challenging position to play and I thought he really did a nice job of stepping in. He played both 'Will' and 'Mike' and was ready to play some 'Sam' if we needed him to. I'm really excited about Pete."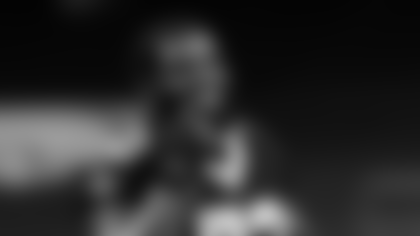 ARMSTEAD, WILLIAMS DEPARTURES: Allen and Loomis each were complimentary of the on- and off-field contributions of left tackle Terron Armstead and safety Marcus Williams, who signed with Miami and Baltimore as unrestricted free agents, respectively. New Orleans simply couldn't make the contract numbers work in either case.
Armstead's departure especially was significant, after he spent nine seasons (93 starts in 97 games) with the team and emerged as one of its most recognized leaders.
"Really tough," Allen said. "That's part of the business that we're in. Certainly, we would love to have been able to have him back. I'm happy that he got a (contract) number that he felt good about. His play, his leadership, his ability in the locker room, we're going to miss that."
"Terron Armstead has been absolutely fantastic for us," Loomis said. "He's a great leader, he's been a great player, just everything you want. He's a player that if he can get out there, no matter how he's feeling injury-wise, he's going to play, and play for his teammates and the organization. I just can't say enough good things about him. It's disappointing that he's not going to be on our team, and yet it gets back to the choices you have to make when you have a salary cap."
A possible replacement for Armstead already is in-house, with James Hurst.
"I feel good about it," Allen said. "I feel real good about it. He's done a great job for us and I have all the confidence in the world that he can step in in that position if that's where we end up being."