As we approach the 2022 NFL Draft on April 28-30, NewOrleansSaints.com takes a look at the history of their overall pick positions and the players it brought into the league. The Saints will have picks in Round 1 (16th and 19th overall), Round 2 (49th), Round 3 (98th), Round 4 (120th), Round 5 (161st) and Round 6 (194th).
Over the past 10 drafts, defensive backs and linebackers have been selected the most with pick No. 16 with three of each of the past 10 selections being those positions. Tackle is the second most selected position with two. The Saints have never drafted at No. 16.
Pick No. 16 is highlighted by four Pro Bowlers, three All-Pro players, and one member of the PFWA All-Rookie team. For a four-year stretch (2017-2020), the player selected has received some sort of accolade during his career.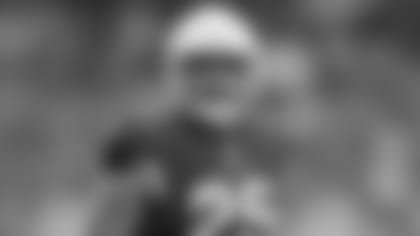 YEAR-BY-YEAR BREAKDOWN OF 16TH PICK:
2021: Arizona Cardinals, LB – Zaven Collins, Tulsa
2020: Atlanta Falcons, DB – A.J. Terrell, Clemson (Second Team All-Pro)
2019: Carolina Panthers, LB – Brian Burns, Florida State (Pro Bowl)
2018: Buffalo Bills, LB – Tremaine Edmunds, Virginia Tech (2x Pro Bowler)2017: Baltimore Ravens, DB Marlon Humphrey, Baltimore Ravens, Alabama (First Team All-Pro, two-time Pro Bowler)
2015: Houston Texans, DB – Kevin Johnson, Wake Forest
2014: Dallas Cowboys, T – Zack Martin, Notre Dame (five-time first team All-Pro, two-time second team All-Pro, seven-time Pro Bowler, PFWA All-Rookie Team)
2013: Buffalo Bills, QB – EJ Manuel, Florida State
2012: New York Jets, DE - Quinton Coples, North Carolina
Zack Martin
One of the best and most consistent linemen in the NFL, Zack Martin was selected at No. 16 in 2014. During his eight-year tenure he has played and started in 120 games for the Dallas Cowboys. He has garnered awards for his exceptional play including seven Pro Bowl selections, five first team All-Pro selections, two second Team All-Pro selections, and making the PFWA All-Rookie Team.