Cam Newton was first, Jalen Hurts is last (for now), Matt Ryan has been most frequent and another 37 adorn the list.
Forty NFL quarterbacks have been sacked by New Orleans Saints defensive end Cameron Jordan, who has accumulated 98.5 of them during his 11-year NFL career entering the Saints' Thanksgiving night game against Buffalo in the Caesars Superdome.
Jordan, who has all four of his sacks this season in the last five games, is second in franchise history behind Rickey Jackson's 115, 38th on the NFL's all-time list and fifth on the active list behind Von Miller (110.5), Chandler Jones (105), J.J. Watt (102) and Justin Houston (101.5).
And at the foundation of it all is a motor that always has run hot, from Newton to Hurts and all points between.
"My love for the game is extremely high," Jordan said. "I love coming to work and practicing. There is no facet in this game that I don't love to be a part of, as well as perfecting my craft and forever chasing the next sack, win, whatever it is. Hopefully a Super Bowl. That would be nice."
That summary – working, practicing, perfecting his craft – best has described Jordan since the three-time All-Pro and six-time Pro Bowler entered the league.
He didn't record his first sack until the 16th and final game of his rookie season in 2011, when he tracked down Newton for a 5-yard loss on the last play of the first quarter in a 45-17 victory. (He was penalized 15 yards for a horse collar tackle on the play.)
Since, he has totaled 21 sacks against Atlanta (all against Ryan, the most one player has against another in NFL history), hasn't totaled less than 7.5 in a season and hasn't missed a single game, playoffs included.
"His durability and his stamina are two things that you notice," Saints Coach Sean Payton said. "He's been able to play, play in and play out. And to do that, relatively healthy and to do that consistently."
"Maybe one day when I'm older I'll look back and say, 'Hey, I was active for 160-something games in a row,' " Jordan said. "We will talk about that later. But at this point, I am trying to win the next game. It is about we and not me. It's not about me."
It is, however, about an approaching milestone that has taken 170 games (169 starts) and thousands of reps to reach.
Arguably, no player has, or will, take more snaps against Jordan than did Zach Strief, the Saints' right tackle from 2006-17. Arguably, no player has a better perspective than Strief, who currently is assistant offensive line coach for the Saints.
"For one, I think there's kind of a universal truth of, the best pass rushers are guys that can beat you in multiple ways," said Strief, who played 158 games with 94 starts for New Orleans. "The guys that can only rush you with speed, there's ways to take that away. The guys that can only rush you with power, you can take that away.
"But it's hard when a guy can beat you in multiple ways and Cam, I've always considered to be a power player first, but man, there's a lot of real finesse to his game. He's incredible at kind of taking his chest away. He's just a guy that's hard to get your hands on. And when you're playing someone that can also drive you all the way into the quarterback, and you're not getting your hands on him to begin with, it kind of creates all kinds of challenges. So that's the first thing, and I think that's kind of universal with all good pass rushers, is the ability to beat you in multiple ways.
"And the second thing – I think this has really kind of been the hallmark of his career and is what has really separated him from a lot of others – the guy has a motor that is really second to none. I think that's probably an overused kind of description of a guy. He has a motor, right? Most guys play hard, and most guys don't quit on plays, and most guys aren't lazy.
"But Cam has the ability to rush with the same energy on the 60th snap as he does on the first. And that is really unusual. That is something that there are not many people that can do that. Cam's always been that way. And it's that way in practice, it's that way in games. He just wears people out, I think.
"I think most people are unable to match his energy, and you couple that with all the skills that he actually has as a pass rusher, and you start doing interviews about the 100th sack in a career."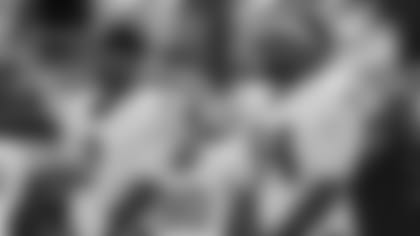 The second-most sacked quarterback on Jordan's list concurs.
The second-most sacked quarterback on Jordan's list also happens to be a current teammate: Jameis Winston became a Saint in 2020, but was sacked 10 times by Jordan when Winston played with Tampa Bay from 2015-19.
"I was always an admirer of just how much fun he had when he plays," Winston said. "He's definitely a fierce competitor and does not play any games out there on the field, but he has so much fun. And his energy, even when you're against him. Like, it's fun to watch it on the sideline being his teammate, but when you're out there playing against him and you feel his presence all the time, you just know he loves what he does."
Winston said he remembers the Jordan celebrations, but that the two never had a contentious back and forth on the field.
"I'd say, 'Aw, man, you got me. How did I let you get me?' " Winston said. "Or I'd say, 'You ain't sacking me today,' and he'd be like, 'Ah, you're gonna give me one.' Stuff like that. But it was always friendly competition."
Once they became teammates, Winston said he told Jordan that Jordan couldn't sack him anymore. Jordan countered that he'd sack Winston in practice.
Quick wit, perhaps surpassed only by quicker hands.
"I think he has some of the fastest hands in the league," Winston said. "I believe it's his hands and his explosiveness. But also, it's just the type of guy he is. He's so authentic to who he is, he doesn't let anyone take him off his pivot. He's always working every single day to get better and he has fun, loving what he does."
There isn't much doubt that Jordan still loves what he does. The motor still runs hot.
"As long as I have love for this game," he said, referring to how long he'll play. "I love practice and there's no place I'd rather be. Until that love dissipates, no.
"Plus, we still have lots of goals ourselves. I look forward to these games and these practices. One day, it might be my day (to retire). One day."