The NFC South Division-leading New Orleans Saints (5-4) have won two straight entering Sunday's game against the Vikings (5-4) at U.S. Bank Stadium in Minneapolis, and aside from a 34-0 win over the Patriots on Oct. 8, New Orleans hasn't again approached the complete performance it seeks.
Will it happen Sunday on the road? Here are a few things that would help:
1. RUSH LANE DISCIPLINE: Mobile quarterbacks have been the bane of existence for the Saints' defense, and it will see another one in Minnesota's Josh Dobbs. Dobbs was traded to Minnesota on Oct. 31, had his first practice the next day, was pressed into duty due to injury four days later and led the Vikings to a 31-28, comeback victory over the Falcons by completing 20 of 30 passes for 158 yards and two touchdowns, with no interceptions, and rushing for 66 yards and a touchdown on seven carries. He earned NFC Offensive Player of the Week, and it's the threat of the run that may be most concerning for New Orleans, which allowed 70 rushing yards on eight carries to Bears quarterback Tyson Bagent on Sunday. Playing man-to-man in the secondary is a contributor – cornerbacks with their back turned to the play can't help much on scrambles – but just as much, rushers staying in their rush lanes is paramount. Dobbs will have to be boxed in better than the Saints have done in the previous four games, and that responsibility mainly could lie with defensive ends Cameron Jordan and Carl Granderson.
2. FIGURE IT OUT: In four consecutive games, the Saints' defense has started slow in the first half – 17 points allowed to Houston, 17 to Jacksonville, 20 to Indianapolis and 14 to Chicago. The feeling-out process has been subpar from that standpoint, and it may be beneficial to attack first rather than get a feel for what the opposing team is doing. Second-half adjustments have been spectacular (20 points total allowed in the four second halves), but figuring it out in the second half wasn't enough to win against Houston or Jacksonville. While the offense has started faster in the last two games, the defense hasn't, and that can present problems on the road. Coach Dennis Allen said he has to do a better job of having his defense ready from the opening snap; Sunday would be a really good time to put that on display.
3. IN THE RED: Don't look know, but the Saints vastly have improved their red zone efficiency. New Orleans was 6 of 9 in the red zone the last two games, after starting the season 9 of 24. Quarterback Derek Carr has thrown three touchdown passes, running back Alvin Kamara has caught one and run for one and Taysom Hill has thrown one, run for one and caught one. Effective running by Hill and Kamara has helped open up the effectiveness near the goal line, and that has helped receivers get open for Carr. The Vikings have 22 sacks and blitz at the highest rate in the NFL, so there will be openings if time is provided.
4. PATCH IT UP: Rookie kicker Blake Grupe has hit a rough patch (four misses in his last 11 attempts, including two inside 50 yards). That part of the overall team operation has to be cleaned up, because one-score games are the norm. It was costly against Green Bay and Houston, and could have been costly against Chicago if not for five forced turnovers.
5. AS THE D TURNS: Speaking of turnovers, New Orleans is tied for the NFL lead with 18 takeaways, including 12 interceptions. Cornerback Paulson Adebo, the reigning NFC Defensive Player of the Week who has four picks this season, and the secondary will attempt to add to that total against Dobbs, who threw five interceptions in four games before playing Atlanta. The Saints have forced at least one turnover in every game; if they can keep Dobbs in the pocket and apply pressure, they could add to that streak. He has been sacked 20 times and has fumbled 11 times this season.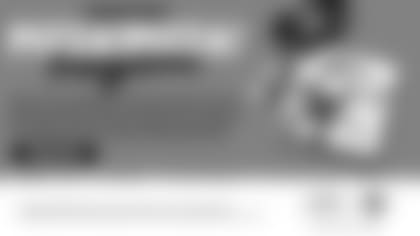 Little Caesars® is always the winning play on Saints gameday! Order online at littlecaesars.com during Pizza!Pizza!® Pregame — 1 hour before or 3 hours after kickoff on Thursdays, Mondays, and all day Sunday. You'll score fun perks and be entered to win a trip to Super Bowl LVIII! No purchase necessary. Visit Littlecaesars.com/NFL for rules.