SAINTS AT VIKINGS GAME PREVIEW
Coming off a hard-fought 24-17 win over the Chicago Bears in the Caesars Superdome on Sunday, the New Orleans Saints moved into sole possession of first place in the NFC South. They will look to win their third consecutive contest heading into a Week 11 bye, when they face the Minnesota Vikings at U.S. Bank Stadium Sunday. The matchup features two hungry 5-4 teams that have overcome adversity.
New Orleans showed a nose for the ball, while taking perfect care of it offensively, as they snared five takeaways from the Bears. The defense recorded four of the five takeaways in the second half, while surrendering only three points to power a complementary victory in all three phases. An opportunistic New Orleans defense is ranked first in the NFL with 12 interceptions.
Minnesota leads the regular season series, having won 20 of 32 contests since the teams first met on October 13, 1968 at Tulane Stadium and four of five postseason meetings; the Black and Gold won that first matchup 20-17. The Saints would not beat the Vikings again until Sept. 3, 1978, losing six straight contests in the interim. Though the Vikings have a firm grasp of the overall series record, the Saints have fared much better since 2009. The teams have met on ten occasions since then, seven times in the regular season and three in the postseason and New Orleans has captured six, including a 52-33 win on Christmas Day, 2020, when RB Alvin Kamara tied NFL records with six rushing touchdowns and six overall touchdowns.
WATCH SAINTS AT VIKINGS ON TV
Fans can catch the action on the following television stations:
TV: FOX (WVUE FOX 8 locally)
Announcers: Adam Amin (play-by-play), Mark Schlereth (color analyst), and Kristina Pink (sideline)
LISTEN TO SAINTS AT VIKINGS LIVE
Fans can catch the action on the following radio stations:
Local radio: WWL-870 AM and 105.3 FM and Saints mobile app
Announcers: Mike Hoss (play-by-play), Deuce McAllister (color analyst), and Jeff Nowak (sideline)
Spanish language radio: KGLA 830 AM and 105.7 FM
Announcers: Mario Jerez (play-by-play), Juan Carlos Ramos and Victor Quinonez (color analysts)
STREAM SAINTS AT VIKINGS ONLINE WITH NFL+
With NFL+, Saints fans can take their game on the go. NFL+ offers fans in the New Orleans market access to every Saints Sunday afternoon game live on phones and tablets. Additionally, fans can also watch every prime-time regular season and postseason game on mobile devices, including the three Saints appearances during prime time this season. Additional benefits to NFL+ users include live local and national audio for every NFL game, NFL Network shows on-demand, NFL Films archives and more.
NFL+ is available in the NFL App across all app stores for $6.99/month or $39.99/year. Fans can upgrade to NFL+ Premium for $14.99/month or $79.99/year, which offers all of the features of NFL+ as well as full and condensed game replays and the All-22 Coaches Film.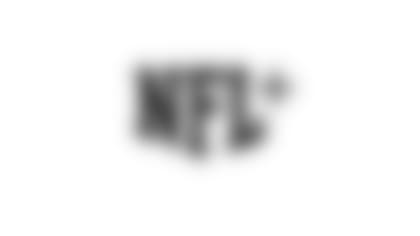 NFL+
Watch live out-of-market Preseason games, live local & primetime Regular Season and Postseason games on your phone or tablet, game replays, and more.
ADDITIONAL SAINTS AT VIKINGS GAME COVERAGE
SAINTS GAMEDAY LIVE
Catch a gameday preview with John DeShazier and Erin Summers one hour prior to kickoff between the Saints and Vikings for 2023 NFL Week 10, featuring a one-on-one exclusive with Dennis Allen. Fans can stream and watch LIVE on NewOrleansSaints.com, the Saints mobile app, Twitter, Facebook, and YouTube.
SAINTS POSTGAME SHOW:
Fans can watch player postgame reactions and analysis from John DeShazier, Erin Summers, and Saints legend Scott Shanle following the Saints' 2023 Week 10 game against the Minnesota Vikings on the Saints Postgame Show. Fans can stream and watch LIVE on NewOrleansSaints.com, the Saints mobile app, Twitter, Facebook, and YouTube.
SAINTS SOCIAL MEDIA ACCOUNTS
Follow your Saints on social media for live game day updates, videos and behind-the-scenes photos: