As we approach the 2021 NFL Draft on April 29-May 1, NewOrleansSaints.com takes a look at the history of their overall pick positions and the players it brought into the league. The New Orleans Saints will have picks in Round 1 (28th overall), Round 2 (60th), Round 3 (98th and 105th), Round 4 (133rd), Round 6 (218th), Round 7 (229th and 255th).
Over the last 10 drafts, defensive linemen have been selected three times and linebackers and guards have been selected twice with the 28th overall pick. The last 10 picks at 28th overall have combined for three Pro Bowl selections and one All-Rookie Team selection.
2020: Baltimore Ravens, LB – Patrick Queen, Louisiana State (PFWA All-Rookie Team)
2019: Los Angeles Chargers, DT – Jerry Tillery, Notre Dame
2018: Pittsburgh Steelers, DB – Terrell Edmunds, Virginia Tech
2017: Dallas Cowboys, DE – Taco Charlton, Michigan
2016: San Francisco 49ers, G – Joshua Garnett, Stanford
2015: Detroit Lions, G – Laken Tomlinson, Duke
2014: Carolina Panthers, WR – Kelvin Benjamin, Florida State
2013: Denver Broncos, DT – Sylvester Williams, North Carolina
2012: Green Bay Packers, LB – Nick Perry, Southern California
2011: New Orleans Saints, RB – Mark Ingram, Alabama (3x Pro Bowl)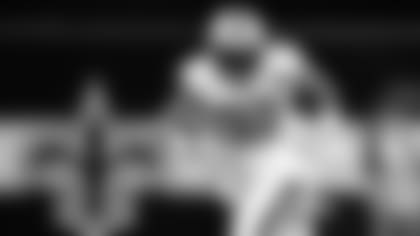 MARK INGRAM IN NEW ORLEANS:
The New Orleans Saints selected Ingram in the first round with the 28th pick in the 2011 NFL Draft - the same pick number the Giants used to draft his father, Mark Ingram Sr., 24 years earlier, at the same age. Ingram was the first running back drafted in 2011 and since the 1970 AFL-NFL merger, this was the latest pick used for the first running back chosen in an NFL Draft. In his first 10 seasons with the Saints and Ravens, Mark Ingram has appeared in 132 games with 87 starts, rushing for 7,324 yards on 1,595 attempts (4.6 avg.) scoring 62 touchdowns and has posted 260 receptions for 1,895 yards with 10 touchdowns and has been named a Pro Bowler three times, all with the Saints.