Adam Trautman wants to be the leader of his group, and there's reason to believe he can.
True, he only is entering his second season at tight end for the New Orleans Saints and, true, he had to play catch-up as a rookie last year because there was very little offseason contact with teammates until they gathered for training camp.
But veterans Josh Hill and Jared Cook were released this offseason, Trautman has more Saints game experience than any other listed tight end on the roster – Taysom Hill is a quarterback – and he got a feel for all that is required of him in those 15 games, with six starts.
"I guess the best way to put it is the opportunity is there, to take control of it," said Trautman, the Saints' third-round pick in 2020. "But you've got to be able to do it. There's no given, there's no 'not earned' in this league.
"I've never been given anything like that in my life, anyway. I kind of pride myself on, you get what you earn. That's kind of my mentality. I work to have an expanded role in this offense and to be able to help us win games, so all offseason just studying other guys, even film from last year from our own guys like a Cook or a Josh, just to be able to fill those roles and to be able to do it all. Because I think that's my role.
"I can (be a factor in the run or pass game), and I can do whatever they need me to do. In the position I'm in, I want this to be my group. That's how I train, is to be that guy."
The 6-foot-5, 253-pounder got help from the other guys last year, en route to catching 15 passes for 171 yards and a touchdown. Hill, who was an undrafted rookie, retired this offseason after playing eight years with the Saints and Cook, a Pro Bowler for New Orleans in 2019, caught 16 touchdowns in 29 regular-season games over two seasons as a Saint.
"Those guys were awesome to me," Trautman said. "Each of them brought a different skill set to the table.
"Josh could line up and do anything for you, in regard to blocking especially. He was a specialist. You want to talk about gaining trust of your peers and coaches, there was no doubt ever when he was in the game or doing this responsibility or that responsibility of whether he could do it or get it done or knew it. That dude was always ready to go in everything. And Jared, I think last year was his 12th or 13th year. He still moves like he's 25 years old. It's one of the most incredible things I've ever seen. And he's very knowledgeable as well, especially in the passing game.
"Learning from those two was great for me. I'm super happy I got drafted into the situation I did, not only because of the organization but because of that, having two guys that have played this position for so long and done it at a high level. Super beneficial to me. They taught me lessons that I'll carry on throughout not only this season, but my whole career."
What they couldn't teach, simply, was the experience gained by playing in the NFL. That sped up Trautman's learning process as much as anything.
"When I really started to play well last year and gain more reps is – I talked to our coaches about this and the other guys – when you, hearing the play call and then once you get to the line of scrimmage, the process," he said. "How fast can you process what's going on?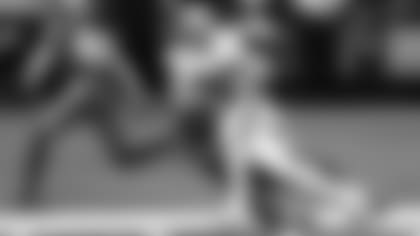 "When I found out what my process is and how fast I can go through it, everything starts to slow down for you. There's no such thing as, like, you just play in this league and it just slows down. It takes a process to be able to go through that and actually have it slow down. And that takes away the speed a lot. That's when you can really start to play and you're not super worried about scheme or anything, because you know what you're doing."
One of the things that the Saints discovered early was Trautman's willingness to block. His receiving skills were unquestioned, but the ability to be an effective blocker also was something he was able to transition from Dayton to the NFL.
"That's something I always pride myself on, and really it always starts with an effort thing," he said. "Are you that type of guy that's willing to put your heart and soul into every snap and every single play, and really want to do it. That's half the battle in blocking.
"I grew last year getting playing time and starting to play well in the middle of the season, and gaining more playing time. Experience is the best teacher. In camp, I had my fair share of failures and even during the season, but you just grow from that.
"I felt very confident at the end of the season in what I could do blocking, and hopefully expand the role and gain more and more trust within the organization and the coaches and my teammates, as well."