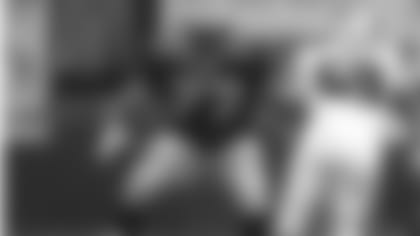 Former New Orleans Saints tackle William Roaf participated in a conference call with New Orleans and national NFL writers today to discuss his upcoming induction into the Pro Football Hall of Fame. The 1993 first round draft choice who was selected to seven Pro Bowls as a Saint discussed everything from his humble beginnings in his hometown of Pine Bluff, Arkansas, his college days, as well as his time with the Black and Gold. The Pro Football Hall of Fame Enshrinement Ceremonies will take place on Saturday, August 4 at 6:00 PM CT where Roaf will be inducted along with Jack Butler, Chris Doleman, Cortez Kennedy and Curtis Martin. The Saints kick off the 2012 NFL preseason the following day at Fawcett Stadium in Canton, Ohio with a contest against the Arizona Cardinals in the Hall of Fame Game on Sunday, August 5 at 7:00 PM CT. Below is a transcript of Roaf's Q and A session:
Are replicas of your bust going to be taken to your former high school in Pine Bluff?
"Not replicas. The NFL has a new thing where they go to your high school and put a bronze picture of you (in there). Kind of like you see with the guys at Yankee Stadium, they have a bronze thing and something about you at your high school. The NFL will come back and have a ceremony, usually during the fall after you get inducted, where they put a couple of things at the high school. Just a couple of weeks ago I was talking to Torii Hunter (Anaheim Angels outfielder), who went to my high school, and he didn't realize Don Hutson had played there. A lot of us didn't realize that Don Hutson played there from 1926-30 and he went to Pine Bluff High. He was an outstanding athlete at Alabama. He ran track, played centerfield, and played football. I have to say that we have had a lot of outstanding athletes but Don Hutson would be the cream of the crop to come out of there."
What impact do you think that your induction has on the Pine Bluff community? How are you going to try to contribute to their future success?
"I think it has a good impact. I think Torii goes back and does a lot in the community. It is just a tough situation because a lot of the businesses and a lot of the people have moved away from Pine Bluff High School and the Pine Bluff area. When I went to school there, it was mostly black, but it was close to 50/50. Now, it is predominantly a black high school. I have to go back and do my part in letting the kids see you and talking to them. The problem is you have to get more businesses and stuff to go back down there. They will have to figure out a way to do that, to get the businesses to come back. I think some of them were trying to come back, it was just what the city wanted to allow them to do to come back in to the community."
Can you discuss your time with the Saints?  Even though the team had some hard times on the field at times, you enjoyed an outstanding career there with seven Pro Bowl selections, as well as being the cornerstone of the team to win the first playoff game in franchise history.
"It was tough. I came in when they started breaking up the Dome Patrol. The Saints were getting some pride. They got Jim Mora after Tom Benson bought the team. Jim Finks was drafting well. The Saints started winning some games and people started having some pride. Going to the playoffs in 1992 and getting beat by Philadelphia at home. That was a year they had a lot of expectations. I come in and Bobby Hebert is going through a situation, they trade Swilling, they were trying to break the team up and go a little younger, we went a little older (at quarterback) with Wade Wilson. We got off to a good start, we started 5-0, and I am thinking 'we are good, we are 5-0' and then we hit a bye week and we hit a tough break after that and finished up 8-8. I remember playing Cincinnati in the last game of that season and beating them at home to go 8-8. After that, we got Jim Everett and went 7-9 and he threw the ball for 4,000 yards for a couple of years in a row. We didn't run the ball at lot. We didn't give up a lot of sacks. After the 1996 year, it was real tough. Mora left. We got (Mike) Ditka and in 1998 we almost made the playoffs but went through some tough patches. 1997 was a tough year for me. 1998, before I went to Duke (University Medical Center) and got myself into pretty good shape and I played real good in 98. 1999, we had a tough year. I remember when we went to Baltimore to play. I played pretty good against Mike McCrary, but Johnny Unitas was on the sideline. That was a thrill to be playing with Unitas on the sideline. He was at the game. Then we got (Jim) Haslett in 2000 and we had a wonderful season and the city was fired up. We won that playoff game and had a lot of expectations in 2001 and guys got hurt and I tore my ACL. At least before I left the Saints, we won a playoff game in 2000, the first one they won. You get Sean Payton and Drew Brees (now) and they are going to call this (current) period the golden years because these are some great years in Saints football history. The Saints are making everybody proud, the way they have been playing since 2006. I had a chance to finish with some real good offensive teams in Kansas City and do a lot of thing when I left New Orleans. I am glad that I got a chance to finish up on a high note and play with some good teams at the end of my career, especially some good offenses."
What did the years with the Chiefs mean to you and your career? Did those years put a cap on your Hall of Fame election?
"I don't think I would have gotten in to the Hall of Fame so quickly if it weren't for my Chiefs years. What we were able to do on the field, breaking a lot of records offensively, the best years of my career, consistently winning, were played with the Chiefs, not the Saints. The fact I got drafted in Louisiana, played at Louisiana Tech, and am from Arkansas, I played the majority of my career with the Saints. Coming off the knee surgery and not having a lot of options to play, at that time, other than the Chiefs and going down there and playing with that outstanding offensive line that we had. The only year that I can say we had a line (with the Saints) that was comparable was in 2000 and we only got to play one year together. Basically, when I was in Kansas City, other than the right tackle got switched out after John Tait left all four of us played together for four years. It was good having that continuity and playing together for those years was really something special. I know it was something that propelled me to get in on an early ballot."
There are four linemen in this year's class, what does that mean about the importance of linemen on both sides of the ball?
"The fact that we have four linemen going in is real special. Also, the fact that none of us have (Super Bowl) rings. You have four linemen that had real good careers but only one of us played in a Super Bowl.  All of us were outstanding players for a long period of time and most of us with just one organization. "
"It is a very good class to go in with. Let's not forget Curtis Martin and Jack (Butler). Jack was an outstanding football player, a real good person. It is a very down-to-earth class. (There are) not a lot of egos involved. We are happy about what we achieved. It is a good class to go in with… It is just exciting for me to see my video going with those guys that are the legends of the game."
Can you talk about your relationship with your parents and football? You asked your dad to present you and your mom didn't even want you play.
"Anybody that knows me or my dad knows my dad never missed a game, other than one game, in my pro career. He was driving to all of the home games, I mean. He never missed a college game. He was there most of my high school days, he was at every game. My dad was a really integral part. He wasn't the type of father that, as a kid, he wasn't going out there and playing football with me. He didn't have to, we had so many kids playing ball in the neighborhood. As soon as I really started playing football, I started organized in the fourth grade, and when we got to junior high and high school started getting more serious. He was always there. He always there to make sure we were playing hard, even in high school games. He coached to the bench because my dad was on the school board for a long time. He always came to my college games and from there on he was always there to give me words of wisdom and make sure that I was focused on what I was doing when I was on that field after the game. He has always been a big part of me. To him, this is very special too, to be a part of this ceremony. For my mom, I would say she would have rather I been more into my academics or pride myself more in that area. If you want to say, she would have rather me do something else other than play football. She would rather me have better grades and play sports. They both were happy that I got a scholarship when I was leaving high school. It was a chance to go somewhere close to home and play football. They didn't have to worry about taking care of me because I had a scholarship down there at Louisiana Tech. I think they were happy I got the scholarship. She would be a lot happier if I do get my degree someday, or if I would have had better grades."
What do you remember about the game against Alabama when you were at Louisiana Tech that impressed the Saints and so many other teams that helped result in you getting drafted so high in a matchup against defensive end Eric Curry?
"I say that was a big game because they were the number one ranked defense and those guys got drafted real high. I had a pretty good game and pretty much got after them. It was a step-up game for me as far as playing those guys. Through the course of my career we played Auburn. We had beaten Auburn a couple of years since I was a redshirt freshman. I played the games against Southern Miss and Tulsa. It was a big game as far as being on that stage and playing the number one team in the country. We had the number two defense in the country at the time. When I got drafted, three guys off my defense got drafted too that year. People say that is a breakout game for me but I started for four years, I got redshirted. We played Maryland in the Independence Bowl. At home, we were undefeated I think over my four year period at Louisiana Tech. We were Independent so we did play seven games on the road. We played four at home and we didn't lose at home in the four years I was there. We had some pretty good teams. I think that was a big game for me but I think I was a pretty good college football player outside of that game."
Has the game changed much since you retired?
"I wouldn't say it has changed much. When I was in the league, you had defenses and you had guys that you knew were going to be there for a long time. You had defense where they had guys on the defense that were going to play on that team for 5-8 years and you were going to against those guys for a number of years. I think it changes out a lot now. I don't know if it is the situation with the guys in college or what is going on. I don't even see the core teams with units that are there for a longer period of time. The teams that are do tend to. If you have continuity with your offensive and defensive line, I think you are going to have some pretty good teams. The league looks different because teams don't run the ball as much in this league. They pass the ball a lot more. They throw the ball instead of running it for a first down. The Saints have shown and Green Bay can show that really without a big running game you can still win a Super Bowl. The Giants ran the ball more and they won last year. The Patriots had won as more of a throwing team, they didn't run the ball. The league is changing in that facet. A lot of teams don't have a balanced attack, I would say, running and passing. The lines don't have to run block as much as they used to."