Drew Brees:  I would have been in San Diego, California. I was playing for the San Diego Chargers. We would have been getting ready for our first game of the season.
Sean Payton: I was coaching in Dallas and we would have been in our preseason training camp.
Edge:I was in my house in France. We were between two legs of a tour and we were recuperating after a long and hard first leg and first caught the news that there was this hurricane on its way to New Orleans. Then turned on the news channels and just watched as this horror unfolded.
Mike Tirico: I was doing a full season of college football on Thursday nights and Saturdays. We were getting our season started. Like many, not in the Gulf Coast area, you were a prisoner to cable news and what was going on. It was hard to go to sleep because you were just watching and waiting and wondering with everyone else. As we know, we didn't find out really until the next day began how bad the night was.
Steve Gleason: The team had just evacuated a day or two before that. So we were in the San Francisco Bay area ahead of the preseason game against the Raiders.
Quint Davis: I was in a fetal position in a hotel room in New York City.
Doug Thornton: I remember waking up that morning at about 5 A.M. and looking out my window and seeing the trees bent over double and the rain pouring down, so that was a day that I will never forget.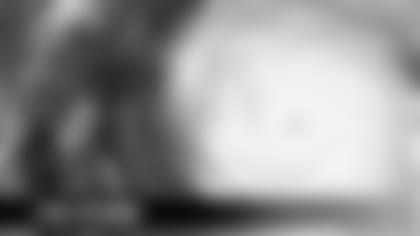 Hurricane Katrina, which started out as a tropical wave off the western coast of Africa, passed over South Florida as a Category 1 hurricane, moved into the Gulf of Mexico and then came ashore at Buras, Louisiana at 6 a.m. Aug. 29, 2005. After reaching category 5 status in the Gulf, it was a Category 3 storm when it slammed into the Louisiana and Mississippi coasts with 125 mph winds, laying waste to everything in its path.
New Orleans was buffeted with hurricane-force winds and heavy rains but because it was on the western side of Katrina's eye the area was spared the full force of the storm. The initial reports were that the city had dodged a major bullet.
Dennis Lauscha: When I got word that the levees had broke and the streets were flooding and neighborhoods were completely flooding, that's when we got really scared. There was a lot of concern. A lot of concern for our employees, a lot of concern obviously for our fans and the neighbors and everything else. Like everyone else, it was beyond comprehension.
Mike Tirico: To see that really as a place of survival and the shredding of the top, the skin of the roof. Those pictures. Of course, the other ones were haunting. But for me, having spent a lot of time in the Dome, covering sports, as a sports fan as well, those were the ones that allowed me to understand the enormity of what was going on here.
For the Edge, it triggered memories of U2's Super Bowl 36 performance at the Superdome in 2002 and how, in a twist of fate, being in New Orleans for that gig saved most of his key instruments from being lost in a flood that swamped the band's storage facility in Dublin.
Edge: So in some ways New Orleans saved my most precious guitars and amps because had I not been there performing at the Super Bowl in the Superdome, I would have lost them all. So here I'm looking at New Orleans and it's going through a flood and I couldn't help but think, "Oh my God. This is, in my mind and many people's minds, the city. The music city of the United States America, maybe one in the world. Maybe the most important music city in the world." What's happening here is like a thousand times worse and I just couldn't help but think about all the musicians that left their instruments behind that were destroyed in this flood.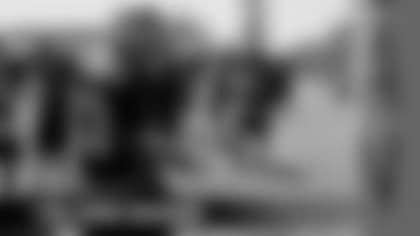 Halfway across the country, Saints players and coaches were trying to come to grips with what they were watching on TV.
Steve Gleason: The morning after the storm hit we were getting ready for practice in the hotel there near Oakland. We had the TVs on as we were getting taped up. I remember coming down the hotel stairs and hearing that the levees had broken. Everyone was trying to contact their families and figure out what the status of their houses were. It was pretty much chaos from that point and the chaos continued for several months.
Mickey Loomis: You know, we had finished the 2004 season 8-8 but we had won our last four games, three on the road. So, we went into this 2005 season feeling like, "Hey, we've got a chance to be a decent, good football team." Then all of a sudden we're practicing on a high school field. There's concern about families, about people, our friends in New Orleans and all the things that happened that were very distracting to our football team. It was really kind of an unfair circumstance for our team, difficult.
Somehow, the Saints won their first game in Carolina when John Carney drilled a winning field goal with three seconds to play. Carney's embrace with quarterback Aaron Brooks was immortalized on the cover of that week's Sports Illustrated.
Then, they went to New York to play in a "home" game against the Giants.
Jay Rothman, MNF executive producer: We meet with the team's coaches and players for every game, you know and the meeting with Jim Haslett, I'll never forget how distraught he was about not that. San Antonio welcomed the team, but the circumstances in which they were welcomed and what they had to deal with. You know, practicing on the concourse of the Alamodome, I remember. Going to a local gym to train and workout. Practicing on high school fields and never having a home game.
The team had two five-game losing streaks, with half-attended "home" games at Tiger Stadium and lackluster efforts at the Alamodome in San Antonio.
Matters weren't helped when Deuce McAllister, star running back and locker room leader, tore his ACL in a loss to the Green Bay Packers.
The season ended with a 27-13 loss to the Tampa Bay Buccaneers on Jan. 1. The Saints were 3-13. General Manager Mickey Loomis took quick action, firing Coach Jim Haslett, who had the impossible task of trying to lead a team that had no home, no real training facilities and was missing its best player.
Steve Gleason:It was a long, unsuccessful year.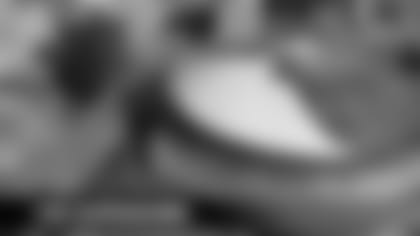 The Superdome dominates the New Orleans skyline.
The brain child of visionary Dave Dixon and the creation of the architectural firm of Curtis and Davis, the Superdome came to life on Aug. 3, 1975, a state-of-the-art domed structure that appeared had descended from outer space and taken up residence at the end of Poydras Street.
Frank Supovitz: It was just a magnificent looking structure. It was an indoor hard- walled and hard-roofed building. It was very much ahead of its time when it was built. It wasn't an air-supported dome. It just had this sense of permanence and wonder about it.
The Superdome immediately became the home of the Saints, Tulane football, the Sugar Bowl and more. And, while it was truly a multi-purpose stadium —baseball and basketball games were played under its expansive roof—for New Orleanians it was the home of the Saints.
Dennis Lauscha: It's so much more than a building. It's really a temple, if you will, for the community. Everyone comes together. There's a handful of landmarks in town, the cathedral, the Superdome. When you look up the definition of a landmark, it really is a landmark for us. Both, I think, emotionally and spiritually and community-wise."
Trombone Shorty: It's like a heart to the city, you know if you're flying from the sky or whatever it may be and looking down, I look at the Superdome as a heart to the city.
But the savage beating the Superdome took from the winds of Katrina and the resulting floodwaters caused by the failure of levee system combined with the horror experienced by the thousands of people who eventually took refuge there, caused many to question whether the building could—or should—be repaired.
Mike Tirico: I think if you're on the outside looking in, you don't know the spirit of the place, and the spirit of the people more importantly, I think you should have had doubts.
Doug Thornton: As we did the damage assessment, we realized that the mechanical systems and the electrical systems were fairly well intact. It was just the interior spaces that needed to be replaced. We brought in a team of engineers, 16 specialty consultants from around the country, took them over a month to crawl through this building with flashlights to determine that it could be salvaged. I remember the day very well. It was Sept. 30 when Paul Greismar with Ellerbe Beckett, the architectural firm we had brought in, said to me "It probably can be saved. It's going to take over two years, it will take well over $200 million, but that's assuming you don't have severe damage to your mechanical systems and that you can get rid of the mold." So that was our first glimmer of hope.
Governor Kathleen Blanco turned hope into reality.
Kathleen Blanco, former governor of Louisiana: I just kept thinking that the people of New Orleans deserved a symbol of hope, a demonstration that this city could be brought back and brought back more quickly than anyone ever imagined. I was willing to take the chances that if we invested that kind of commitment, that the Saints would also make that commitment.
That commitment was affirmed by NFL Commissioner Paul Tagliabue.
Kathleen Blanco, former governor of Louisiana: He said, "If you can get the building up for the first regular game in the 2006 season on Sept. 25," he said. "I will guarantee you that Tom Benson won't even think about leaving."
Doug Thornton: We asked Governor Blanco to sign an executive order in early December 2005 and that was critical to this project. Without that executive order, we wouldn't have been able to fast-track the construction.
Dennis Lauchsa: It was gigantic. There was so much discussion prior to the hurricane, on whether or not the Saints would be here in the long-term.
The Superdome was going to be re-built. Now the Saints had to build a new and improved team.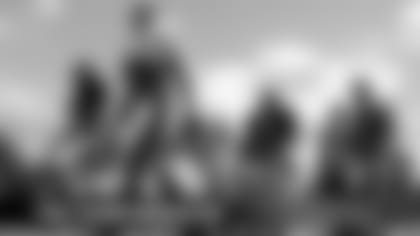 On Jan. 6, 2006, the Saints and the NFL held a joint press conference announcing plans for the 2006 season.
On Jan. 19, Loomis and owner Tom Benson introduced Sean Payton as the franchise's 10th full-time head coach.
Tom Benson: Well the organization, where he was, they were praising him so much, I was a little concerned.
While Payton came with a strong endorsement from Bill Parcells no one knew if the fresh-faced offensive play-caller would work.
And the hire almost didn't happen.
Payton: At the end of the season I had an interview with Green Bay and then had spoken to Mickey about taking an interview with the Saints afterwards, and then I was going to Buffalo after New Orleans.
Mickey Loomis: That was an interesting process we went through because first of all, there were a lot of jobs open that year, 10 as I recall, and you know if you lined up in order of attractiveness, we were probably 10th given the circumstances. But I knew we needed a lot of energy so I felt like we wanted to go with a young coach that had a lot of energy. I was looking on the offensive side of the ball. We had dinner and it was a quick three-hour visit and yet I remember after that meeting, 'This is our guy.'
Once Payton came on board the real work began— hiring a staff and building the team. Gary Gibbs was the first hire as defensive coordinator. Then veteran Joe Vitt signed on to be the assistant head coach and oversee the linebackers.
Sean Payton: There's a scene in Jerry Maguire where the main character Tom Cruise leaves the law firm and grabs the fish and he says "Who's coming with me?" and it was like crickets. It's quiet. Then at some point, Renee Zellweger says "I'll go," it was a little bit like that.
Mickey Loomis: There were a number of coaches who saw the condition of the city and didn't want any part of it. Yet, there was a number who wanted to come and felt like, "Hey, this is not just coaching a football team but there was a little higher purpose in coming to New Orleans and helping the city recover.
With the staff in place the next order of business was finding a quarterback to replace Aaron Brooks. Payton and Loomis quickly focused on Drew Brees, who just had his shoulder severely mangled in the final game he played in the 2005 season for the San Diego Chargers.
With his shoulder—which had recently been repaired by noted orthopedic surgeon James Andrews—Brees had a limited market. The Saints and the Miami Dolphins, coached by Nick Saban, were the only two serious players.
Mickey Loomis: Well, we were really concerned and we had a lot of doctor's reports. We did a lot of due diligence on that. Not just on the injury but on Drew himself and what we found was a young man who always defied the odds to be successful. We know it wasn't going to be matter of lack of effort. He was going to do everything he could to get his shoulder back to where he could play again.
Payton was able to convince Brees and his wife Brittany to visit New Orleans. But the recruiting visit didn't go entirely as planned.
Sean Payton: I'm driving the car, Drew in the front seat, Brittany in the back seat. I'm driving like I've been a resident for 10 years and I've only been here for a couple of months. So we went over to the North Shore to look at some housing. We came back and somewhere off the Causeway I ended up, spun around. And I was heading toward Baton Rouge. Now just over and back from the North Shore would take an hour and a half. So there's that point I look in the rear-view mirror and I see Brittany kind of nodding off and I'm thinking, "I might as well drive them to the airport and put them on the Miami Dolphins plane."
Drew Brees: "I remember looking to my left and seeing a house that was really just a concrete slab and no house. And then seeing another house that was halfway off the foundation with a truck upside-down in the living room. Then we had to stop because there was a tug boat sitting in the middle of the road upside-down and it was that moment where I looked at Brittany and I remember our eyes met and we knew that this was so much bigger than football. I think we both felt the calling there to New Orleans. That this was just not the resurgence of a football team or an organization, but that it was about the rebirth of a city.
With a quarterback in place that made preparing for the 2006 draft that much easier. Mario Williams, an imposing pass rush specialist from North Carolina State and Reggie Bush, a Heisman Trophy winning tailback from USC, were the top two non-QBs on most draft boards. A day before the draft the Texans announced they were going to draft Williams, leaving the dynamic Bush available for the Saints at No. 2.
Paul Tagliabue, NFL Commissioner: Reggie Bush
Sean Payton: It was a 9.0 on the Richter scale.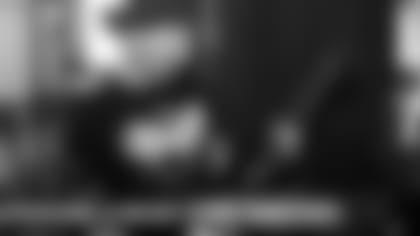 While the Saints were putting their team together, the state of Louisiana, SMG and a small army of contractors were working nearly round-the-clock to rebuild the Superdome. The state and SMG had re-financed the Dome's debt and used that extra money, along with FEMA and insurance payments, to make sure the re-built Superdome wasn't going to be the same-old building.
At the same time the NFL was working on plans to make the pregame entertainment before the re-opening game Super Bowl-worthy.
Charles Coplin: There was a guy that was working for me named David Saltz, he was a consultant, and he kept saying to me, "I can get U2 to do this." And I was like, "If you can get U2 to do this, I'll put myself on a line and basically, and say to everybody we're getting in the way, we're going to interfere because we think we can do a much bigger show."
Ezrin, a legendary music producer, became involved because he and a group of his friends in the music industry had formed a charity, Music Rising, to help all of the New Orleans musicians and bands who had lost their instruments to the flood waters of Katrina. The group's immediate goal was to raise $1.2 million to help replace instruments for 1,200 musicians.
Bob Ezrin: A few weeks after the flood, U2 are coming through Toronto they were actually playing and I was there. So we were there and I was sitting next to the Edge and being the brazen guy that I am, I said to him, "Hey, look we're going to be replacing a lot of instruments that were lost in the Gulf South, do you have any guitars you don't need?" I figured, rock star. He's going to say, "Sure" and then I'll never hear from again but he said, "I can do better than that." I said, "Here's my home number. If you come up with anything, give me a call." Sure enough, that weekend, just a few days later, I got a call from Edge, he said, "Okay, I've spoken to Yamaha. I've spoken to this one. I've spoken to that one. I've spoken to Live Nation. I've gotten these people to agree to put this money in, this company to agree to sell us instruments." He kept saying, "We, us, we." And I thought, "Okay, partner, here we go."
Edge: We started Music Rising and we're very proud to say within six months we'd started to get a lot of equipment replaced and lot of musicians back to work which was our original phase one, the music had to continue. Not just because, where music is, hope abounds. If the music is silenced it just feeds into people's sense of desperation.  So bringing back music had an important role to play we felt in the regeneration of the city, but it was also the continuity. We just wanted to make sure that this wonderful tradition and music culture of New Orleans was maintained, supported, that it survived and we didn't look back in 20 years and say, "Well, the great music culture of New Orleans pre-Katrina and then afterwards had been dissipated."
Bob Ezrin: So both Edge and I made separate trips in the fall and winter of 2005 to see what was going on and it was astounding. Honestly like visiting the dark side of the moon when you went down to the 9th Ward and beyond moving. It strengthened my resolve that this was something that we had to fix. And what our thought was, was, "If they play it, others will come." If the music is playing, people will come back. Without the music, there is no heart to the Gulf. So that became our mission, put the music back.
And then Ezrin and Edge were approached by the league about playing the re-opening game.
Edge:So the initial idea was that they'd like us to put together an event that was inspired obviously by New Orleans and the music of New Orleans but might include some international artists. I thought on this for a while and said, "Well, definitely we should do something." I'm not sure what it should be at first and then Bob says, "You know maybe we could bring in a guest or two and you could perform with maybe another singer. Maybe Billie Joe from Green Day might do it." I know Billie Joe so I reached out and said, "Would you be interested?" It's a kind of pretty amazing opportunity to perform at such an event. So Billie Joe reaches out and says, "I'm in. Great. What are we going to do?"
Bob Ezrin: So Edge came up with this song called "The Saints Are Coming" by a little known band called the Skids, a little known punk band. I vaguely knew the song but the minute I played it again, I went "Oh, my God this is perfect."
Edge:  I thought for a couple of days and then it just came to me. This song. My favorite song when I was like 17 years old, written and performed by a band called the Skids from Ayrshire in Scotland was this song called "The Saints Are Coming." I thought, wow that's obvious because Billie Joe was so inspired by music of punk rock and we started out as a band kind of post that musical movement so a lot of our roots are punk rock roots. It's the perfect combination for us to sing that song.
So I called Billie Joe and said, "What about the 'The Saints Are Coming?'" I'd sent him the song and he loved it. So that was our first idea and we're very happy about that. Then I was playing the tune and I shared this idea with Bono and Adam and Larry and the idea, "Well you know, maybe we could get the whole band to come along. That would be really cool." So I asked them what they thought. …  They said, "Okay, it sounds like it could work."  With one of these things it's kind of once you get one little piece of the puzzle in place, you can start to get the other things. I talked to Billie Joe, I said, "Billie Joe, I think maybe U2 might come on board. What about Green Day? What about the whole band?" He said, "I think that would be really cool. Let me go and check."
So bit by bit, we got everyone on side for this idea. Then we happened to be recording in London at Abbey Road with Rick Rubin so we looked at diaries and it turned out that Green Day were free. So they flew over and spent like three days in Abbey Road in the same room that the Beatles recorded all their most important studio recordings and we had two days of amazing time playing together and recording. Of those sessions, that song was the strongest thing that we came out with. It seemed like at that point a no-brainer to lead with that track and of course we made it a benefit for Music Rising, so it earned a lot of money for our charity. Then that came out to a lot of attention and we knew then that was absolutely had to be part of our performance at the Superdome.
Quint Davis was brought on board to help stage the production and legendary Grammy's producer Ken Ehrlich was hired to run the TV production of the performances.
Quint Davis:We had two or three days of run-throughs to stage because we had this giant thing that we built that had to roll in and out. We didn't just have U2, we had U2 and Green Day. And then we had like Trombone Shorty and Kermit Ruffins. We had two whole brass bands. We had two whole Social Aid and Pleasure Clubs.
Charles Coplin: This was one of those shows where everybody was pushing in the right direction. Everybody's hearts were in the right place. And seeing these musicians on stage and the way things were being planned and the music that Bob Ezrin, the producer, put together, the rehearsals were really, really special. When Bono started to improvise "Beautiful Day" and after the flag and the colors come out, you really started to get goose bumps.
Edge:You know, it's funny, we showed up at the Superdome and I think we were all kind of a little nervous because there was so much that had to be done in that rehearsal you know, integrating Trombone Shorty and the other musicians and two bands that hadn't really played together that much so the sound check and all was quite a high, an intense moment.
Trombone Shorty: I don't think I ever captured that emotion again, years later, it was just a monumental thing – that moment let us know that if we had any doubt of coming back to New Orleans, we are here now and from this moment we can build and make sure this city is OK."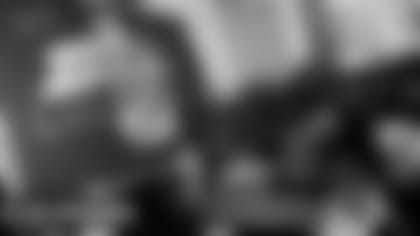 The 2006 Saints gathered for training camp at Millsaps College in Jackson, Miss., about three hours north of New Orleans. Practices were hard, temperatures were hot and the Saints looked like a team a long ways away from being a playoff contender.
Sean Payton: Obviously, it was going to be a tough camp. We were going to try and to really challenge the players and build a foundation and really create an environment where toughness was going to be what made it. There weren't many restrictions then. We were going two-a-day. It was hot, obviously. I would say it was one of the more difficult training camps in our league's history.
Drew Brees:You could maybe relate it to the weeding out period of a boot camp or of a military training where you are trying to find the best of the best and you're trying to set the tone and you're trying to break everybody down and to a point where you can build them back up together as well as a unit and truly build a foundation on what will be our organization moving forward and I think that was the vision that Sean Payton had in his mind when we went to Jackson.
Mickey Loomis:Man, it was tough but the players that came through that I think they would all say, "As tough as that was, it made us better."
Sean Payton: Honestly, the season started off in training camp and I would say average to poor. We struggled in some of those preseason games, Deuce was still recovering from an ACL. Drew still wasn't 100 percent.
*Drew Brees: *We were abysmal during the preseason and listen, a part of that was because we were gassed. That training camp was so physical and so tough and so long and so draining, by the time you got to the games, you didn't have anything left. Guys were fighting for survival really. In general terms, you were each day, at some point during practice, you just went in survival mode, which is like how do we get through this?
The Saints started the season at Cleveland and scratched out a victory.
Sean Payton: That was an important win, it was a low-scoring game. Then we go to Green Bay and we fall down 13-0, but we bounce back and are able to get back in the game.
Mickey Loomis:I felt like that Green Bay game was pretty important to us.
But nothing was going to be more important than the re-opening game, which pitted the Saints against their longtime rival, the Falcons, also undefeated.
Drew Brees: I think one of the best things Sean did was he took the entire team to have our Friday practice which took place on a Saturday in the Superdome prior to the Monday night game. This, for many of us was our first time in the Dome, ever and certainly post-Katrina for the guys that had been there. It was a bit eerie and we got through the practice and sitting there just imaging all that had taken place over the past six months or certainly year. Then, at the end of practice he calls us all up and the lights go out and then up on the JumboTron he plays a video for us just kind of documenting the storm, the devastation, what had happened in the Dome. Then what this game represented for so many people and there wasn't a dry eye amongst the team as we watched that video. We all knew right then and there that we were going to win this game because we had to.
Sean Payton:I remember our focus being just on the routine and making sure players knew how to get to the stadium, more than 50 percent of the team hadn't played the year before. And so, we had valet parking, we had the hotel we were staying at, making sure they beat traffic. There were all these steps in place just to make sure on Monday they were ready to play the game.
Steve Gleason:The two things I remember that were unique to my experience were, they wanted every player to use the red carpet valet service that was right in the middle of the arriving crowd. I didn't want to do that. So, I drove in the back entrance and parked in my spot. The other moment was during the National Anthem, minutes before kickoff. I vividly remember looking across the field and seeing the Falcons and looking up at the crowd in the Dome and seeing the fans thinking, 'It is impossible for us to lose tonight.
Sean Payton: It was only going to be a special night if we won. In other words, we did not want to have the re-opening and the nationally televised game and lose the game. It had to be with us winning, because it was one of those once in a lifetime moments that was much bigger than the sport itself.
Mike Tirico: Never seen a stadium for a regular season game like that, a Super Bowl-type energy in the building. But it was different because it was real passion. It came from the heart. It wasn't just hey our team is playing. No, our city is playing.
Frank Supovitz: One of the things that I thought was important was to do some form of a reveal. Something that said, "Okay, now the Superdome is open," and we did that with the big banner reveal on the outside of the building.
Archie Manning:I get a call; I don't recall if it was from the Saints or the Superdome people. They were going to have a countdown; people were going to be out there. They weren't going to open the dome until 5:30 or something. "We're going to have a countdown, we'd like for you to get up on this big deal and count it down." I said, "Shoot yeah, I'm honored. I'll be there."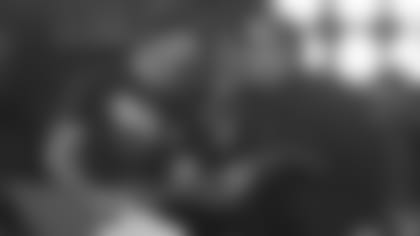 Frank Supovitz;Once inside when the preshow started, pregame show started, the U2 and Green Day performance was just one of these things where even during the rehearsal, when we were watching rehearsal, we were looking at each other and saying, "This was an important thing to do. This is not something you even have to pay us for, I would do this for free."
Robin Roberts: Now, please welcome two of the world's greatest rock and roll bands, U2 and Green Day, ushered in by some of New Orleans' finest brass musicians.
Bob Ezrin:Billie Joe comes out and starts singing 'House of the Rising Sun.' And of course this a room where just one year before people had been dying and the smell of that was still in the air.
Keith Spera:When Billy Joe Armstrong sang, 'There is a house in New Orleans, they call the Superdome,' I mean I still get chills when I think about it now. Incredible, how they tailored that moment and it couldn't have been more effective and more powerful."
Bob Ezrin:Then, the came the statement of defiance: the saints are coming. And everyone had come to this Saints game. This was, in a way, this was New Orleans standing up. This was New Orleans getting off its knees and standing up and saying to the world, "We're back."
Trombone Shorty:You can hear when we're walking up, the people that ran on the field, oh my God, this is amazing to play with U2 and Green Day and represent the city and that part, when he mentioned the names, that wasn't part of the rehearsal, so I had no idea that he was going to do that. But, I do remember being on stage, all of those people and when he mentioned each one of our names, you can hear like a big roar in the crowd and that was a very, very proud moment for all of us to be able to be representatives in our hometown on that stage.
Edge:I think when we saw the response of the crowd at the event, I think we realized that this was a coming together of so many things and it was, it's significance started to dawn on me particularly. After the show, it was really getting out and talking to people. The locals, Quint, Trombone Shorty, his cousins and musician friends and guys from Preservation Hall started to realize that this actually, this is big. This is big, bigger than I thought.
Dennis Lauscha:It was almost like an alarm clock. For the last year, year and a half, since Katrina had hit, we'd been living in a nightmare and the alarm was going off. The song was waking us up.
Bob Ezrin:When the show was over we had a big gathering in the dressing room of U2 and Bono, unaccustomed as he is to public speaking, gave a little speech about the meaning of this thing. And acknowledged everybody that was involved and there was a feeling of kind of solidarity in the room. We had just made history.
Charles Coplin:Another cool thing was* *when the show was over and pregame was over, I remember just walking towards the stage and Larry Mullen, the drummer of U2 who I had not spoken with at all, slapped me five and I slapped him five and we went on our way.
Edge:And well I had no idea was that the song "The Saints Are Coming" was going to be adopted in the way it has been and I have to say that I was very proud to realize that that has happened. It was great fun to talk to some of the guys from the Skids and kind of explain to them because they were like had no idea what was going on so suddenly for them to have one of their songs be such an important part of a sports team on another side of the world. It was kind of mind-blowing for them.
Music: are coming. I say no matter how I try I realize there's no reply. The saints are coming.
Sean Payton:We were in the locker room when that took place. So now when you see the video of it and you hear it, you just think of that night. I think every one of us felt fortunate and blessed to be in a position to be a part of the recovery. If you didn't at the beginning, you quickly got on board and recognized this was more than we got into this sport for. I wanted to become a coach, but this was about a bigger thing than just winning games.
Two of the main icons of New Orleans music, Irma Thomas and Allen Toussaint, came onto the field to perform the anthem.
*Irma Thomas: *Normally I do the anthem acapella, but this particular time they decided to pair me up with along with Allen Toussaint. We did a quick rehearsal backstage, well backstage as the Dome is backstage, and that was the first time I actually sung it with accompaniment.
Irma Thomas:Oh say can you see, by the dawn's early light.
Sean Payton:One of the challenges for any artist singing a national anthem was you got a lot to lose and not a lot to gain. We hear about the mistakes made during anthems. Every once in awhile you hear about Whitney Houston hitting out of the park. Irma Thomas hit it out of the park. At that moment, that was the person who should have been singing the anthem. You have goose bumps, you're numb, you're trying to stay in the moment, but it was special.
Irma Thomas:And the rockets' red glare, the bombs bursting in air.
Irma Thomas:It was odd because once finished singing it, normally they start applauding, but for some reason on that day, if there wasn't a good 30-second pause, which 30 seconds on TV is a long time, a good 30-second pause before everybody started applauding.  There wasn't a dry eye in the house, including mine. For some reason it just meant, we were home. There's a big difference when you realize you're in a place where you think you would not be and it hits you. For 30 whole seconds, we just stood there and went wow, we are home.
Trombone Shorty:She was singing from a different place. She was singing to make sure the city, this was the beginning to us rebuilding. You can hear it in her voice how touching it was for her to be able to be there and represent at that level. And then for us to come along, it just captured everything that New Orleans has from football to music to the queen of soul.
Drew Brees:It still gives me chills to hear the U2 and Green Day 'The Saints Are Coming 'and it's awesome. So many New Orleans legends in and around that as well. Like you said, Irma Thomas and Allen Toussaint. We knew that it was going to be a spectacle. We knew that "Monday Night Football," two undefeated teams, the re-opening of the Dome, I mean just all the festivities that come along with that and yet there was a laser focus on our team and we knew we had to take care of business and we knew we had to start fast, too. And I don't think we could have started that game off any better than we did.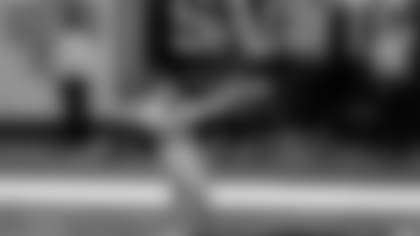 Mike Tirico: A moment, almost unimaginable 13 months ago is here. The NFL, the Saints, back in New Orleans. Back in the Superdome. Russell from the five. And a nice return to the 25-yard line. That brings Michael Vick and the Atlanta Falcons out to the field. Vick lost the football! Goes out of bounds, New Orleans did not have possession. It's still Atlanta ball, but it's fourth down. Fujita came in and freed it out of Vick's hands. 
Sean Payton: The plan wasn't to rush the first punt. I don't know if we had a plan in regards to when we were going to rush the punt. Typically, you rush six. When you rush it you rush eight. John Bonamego, our special teams coordinator, just as third down had been run, he said, "Do you want to rush this first one?" So my reaction was "Yeah!" But it's not like we spent all week deciding that we were going to rush the first punt. But where the ball was on their side of the field, we did and Steve did a great job. He timed it up.
Steve Gleason:I was a little surprised to hear the block call after the first series, especially in the field position, which usually calls for a return. The scheme is an interior stunt where I cross from the right A-gap to the left A-gap. Sure enough, the Falcons had some confusion on their assignments. They tried some bizarre slide scheme which I'd never seen in eight seasons. So, I actually didn't hit the A-gap like it was drawn up. Because they used the slide technique, I actually ended up unblocked and the B-gap opened up for me.
Drew Brees:I remember we had it in the plan and it was one of those, hey right moment and hey we got the look that we wanted on that first punt. So as I'm standing there, I'm trying to act cool. It's kind of one of those acting jobs where you don't want to act too excited about what's happening down there with the punt, you know I kind of look like I'm getting locked in for the drive but in the back of my mind I'm thinking alright we've got the punt block on. Come on Steve-o, come on Gleason. And then sure enough it sets up perfectly and he blocks that punt and it was like a shotgun blast.
Mike Tirico:to punt and it's blocked!*It's rolling inside the five and it's going to be covered by the Saints for a touchdown. Oh baby! What a moment, just listen to this croud! *
Mike Tirico: In the back of my mind I had thought later on that afternoon as I was kind of going to the game that if the Saints do score the first thing I want to say is 'Touchdown New Orleans.' It wasn't 'Touchdown Saints,' it was a New Orleans moment. With the energy that was in the building, it had built up through the music and then that play, it was just the perfect time. I remember saying 'Touchdown New Orleans.' I've done that in other places, just kind of put my hands out to make sure nobody said anything. There was nothing any human alive could say that could be better than that moment.
Jay Rothman: I give Tony Kornheiser credit because words in the moment were priceless, I thought.
Tony Kornheiser: You could not have scripted this any better than it just happened for the New Orleans Saints. Everybody thought that the wave of emotion would come in with the Saints. If you were the Falcons, the first thing you had to be afraid of was being swept away in that particular wave of emotion and that is exactly what happened. Now those people that look to the New Orleans Saints as something that would uplift them, uplift the city, uplift the entire Gulf region, they just had it.
Zach Strief:But that moment to me was the defining moment in the city's rebirth. It was a belief that the city could be better than it was before and that is such a rare and unusual thing to be part of as an athlete.
Quint Davis:It was transcendent. What happened, in our experience, was that what we did in the music and the song was tied to the punt block from 'The Saints are Coming.'  They came. They blocked the punt. They scored a touchdown. They won the game.
Sean Payton:I just remember the noise. I remember Curtis DeLoatch scoring and spiking it. But I can't recall Steve's reaction because it was just so loud. It was kind of a we scored. We aren't going to get shut out in this game. Scoring first with that crowd was significant in that, it was as loud a stadium that night that we, that I've ever experienced.
Mickey Loomis:You're just pumped up and excited and the crowd has never been that loud ever. Then, there's tears being shed. Man, it's just a perfect play at a perfect time.
Kathleen Blanco, former governor of Louisiana:I don't think I've been to any ballgame or any other event with a crowd of people that were more joyful and just shouting for joy when Steve Gleason blocked that ball.
Dennis Lauscha:All of the times that there seemed to be that we could have turned a corner as an organization and we went the wrong way. For some reason, that night it felt like we finally turned the corner and we were heading in the right direction.
Jay Rothman:It's the most impactful, it's the most impactful game I've done on literally over a thousand events, not just football – baseball, basketball and just because of the responsibility we had that night and the meaning. The meaning of what that game was for the people. The game was secondary to the event and the rebirth of a city. So that made that night, more than anything, super special for all of us.
Steve Gleason:There was so much emotion and passion in the Dome that night. The people of New Orleans had spent the previous 12 months being devastated and frustrated and angry. This was their chance to release all those emotions and to let the world know the city of New Orleans was back. Because I had been in New Orleans for the previous six seasons, at least to some degree, I understood the culture and mentality of New Orleanais. I was dating, and would later marry into a New Orleanais family. I also endured the chaos of the previous 13 months. As a result, the significance of the block, even in the moment immediately after the play, was not lost on me.
Drew Brees:Complete elation. It was an eruption. It was such a bang bang. If you didn't know that we were going to win prior to that moment, then you knew that there was going to be from there on in and basically it was a resounding, not only are we going to win this game but New Orleans, we are back.
Sean Payton: I can't split this ball up five hundred thousand ways. I can't do that. I can't cut it up into five hundred thousand pieces to give to everybody in this city. But, this game ball is going to everybody in this city. This city is getting this game ball from our organization, this team. This game ball is going to the city of New Orleans.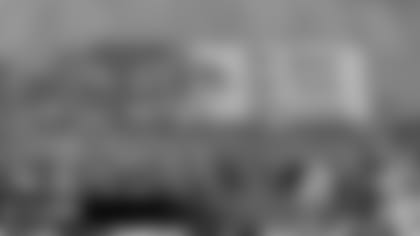 The impact of Sept. 25, 2006 – the performances of U2 and Green Day, Irma's national anthem, Steve Gleason's block – still resonates today, 10 years later.
Irma Thomas:To be at the Dome, back in the Dome, no matter what the situation was outside. It was a way to get away from thinking about, "Well I gotta get my house together. I gotta do this, I gotta do that." You can forget it. For whatever time you were spending in that Dome, all of that just went away for that moment. It was a come together. It was just special.
Trombone Shorty:It was bigger than the football game for us, for the city, for the team, for the musicians, it represented more than just football.
Kathleen Blanco, former governor of LouisianaI think that a lot of credit goes to the Saints. Drew Brees was fairly new at the time and he took the city to heart, he became the symbol of a winning team and that was the other thing that happened. The Saints transformed themselves, from a team on the margins to a winning team. That elevated the whole state.
Sean Payton:You didn't realize it at the time, but all of a sudden you found yourself in this event at this period of time, that you realized it was going to be something you remembered long after you were here.
Dennis Lauscha:I think it was a sign that hey, we can do it. We can be a championship organization. We can deliver a championship. We can be a championship city. We can be a championship community. We are different. That's what makes New Orleans so great. We do things a little bit differently, but that doesn't mean we can't be successful and can't be champions. That night again was the first step in our journey to winning a championship and it was one heck of an experience.
Edge:Well, I have to say for me personally it's probably the pinnacle because this was an initiative that I started. The idea, the genesis of this song was something that came to me in response to that request to perform so you know, it was very personal to me. In the sort of U2 context, I think it's way up there because it's everything that U2 are about as a band. You know, we were so proud to being able to give back in this way. And so the fact that the song lives on in this way was totally unforeseen and just an incredible, I would say an honor.
Brees:I'd say my lasting memory from the Monday night game, the re-opening of the Dome, the Atlanta Falcons was just the feeling that we can really accomplish anything. I mean who would have thought, a year earlier after everything that had transpired, that we would be sitting here doing this? Certainly just go back six weeks prior to that during training camp. Who would have thought that we would be sitting here having this moment? I mean, we felt like we can do anything, we can accomplish anything. I'm not just talking about the team, scoring touchdowns, winning football games. I'm talking about the city, the people, like New Orleans is not just going to come back, we're going to come back stronger than ever."