The New Orleans Saints (2-4) will travel to the Rocky Mountains to face the Denver Broncos (3-3) after an important 35-28 NFC South win over the Tampa Bay Buccaneers at Raymond James Stadium on Sunday.
New Orleans will be looking to extend their current winning streak to three games. The Saints enjoyed four– and eight-game win streaks in 2011 to catapult them to a 13-3 record and the NFC South title.
The Saints have enjoyed a substantial amount of recent success against AFC opponents, winning seven of their last eight games outside of their own conference. They haven't dropped a road game against an AFC opponent since a loss in Denver on September 21, 2008. In facing QB Peyton Manning for the first time since the Saints defeated he and his former team, the Indianapolis Colts, in Super Bowl XLIV, New Orleans will be trying to beat the Broncos for the first time since 1994.
The Saints initially fell behind the Buccaneers 14-0 and trailed 21-7 in the second quarter Sunday, before QB Drew Brees and the New Orleans offense rallied for three touchdowns in just over nine minutes to close out the first half, taking a 28-21 lead. Brees tossed for 313 yards and four touchdown passes in the first half, the third time he has thrown for at least 300 yards in a half of play.
Brees finished the contest completing 27-of-37 passes for 377 yards with four touchdown passes and a 130.1 passer rating. WRs Marques Colston and Joseph Morgan, RB Darren Sproles and TE David Thomas were recipients of his scoring throws. WR Lance Moore led the team in receiving with nine receptions for 121 yards.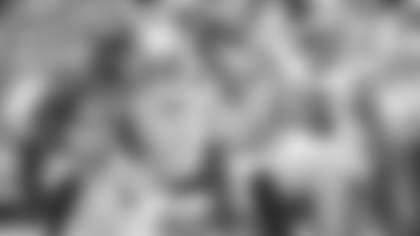 Although the New Orleans defense surrendered 513 net yards, they made important stops when they had to. None were more important than when S Malcolm Jenkins chased down Buccaneers WR Vincent Jackson at the conclusion of a 95-yard pass play, one yard short of the end zone in the third quarter.
The New Orleans defense would then deny Tampa Bay on four consecutive attempts to get into the end zone on the goal line stand. Jenkins led New Orleans with 11 tackles (nine solo). DE Junior Galette also added a sack.
While the Saints have traditionally struggled against the Broncos, they will bring with themselves on the road the confidence of recent success in prime time, nationally televised contests. Including an NFC Wild Card Playoff win, the Saints have won their last six evening contests.
They will rely on this extensive experience on Sunday night, followed by another prime time contest when they return to host the Philadelphia Eagles at the MercedesBenz Superdome on Monday, November 5, as they seek to continue to move up in the competitive NFC standings.