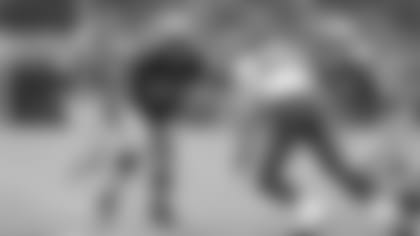 Texans Head Coach Gary Kubiak
(on Andre Johnson being taken out of the game) "Andre, when he went up to catch that ball that last play that he played, it looked like he fell on the ball to me. He's a little sore, so we took him for some x-rays just to make sure that they all came back fine. He's fine. He's just sore."
(on the play of the offense) "We were explosive. Our quarterback was excellent. He has had a great camp. I think he was 15 of 18. We might have dropped a ball or two. He was special in the game. We were rotating our receivers, which was our plan going into the game. Obviously, the biggest problem is that some young guys turned the ball over. Keshawn (Martin) had two of them. Trindon's (Holliday) got one. It just goes to show you that you can play as good as you can play, and we're down 17-14. We were playing about as good as we could play. Because of turnovers (we were down). At the same time, you have to be able to come back just like they did. I was pleased offensively with the way that we moved the ball. I was not pleased with the turnovers."
(on the running game) "I wanted to throw the ball a little bit tonight. I think it's probably obvious when you look at the stats. I think Arian (Foster) has had a good of a camp as any back that I've been around. I wasn't going to go out there and hand it to him 15 and 20 times. I was going to split it with him and (Ben) Tate. When Tate went out, the split left me. Arian did finish the half and ended up playing (more)."
(on Trindon Holliday) "Obviously, if you spot a team seven points on special teams, that is not a good thing. It was disappointing. I was disappointed in another decision that he made. I did not like what I saw from him tonight from that standpoint. Yeah, he had a big return, but if he is going to be our guy, we can't turn the ball over. I have no excuses for those things. I won't allow excuses for those things."
"I like the way that we got turnovers. We made plays. Obviously, they (the Saints) moved the ball too well on us. They are good. They are going to move the ball on you, so you've got to step up and make some plays. We did that. We did step up and get some big turnovers and get some big plays. I think overall there are a lot of positives with the ones that we can draw from. There is obviously enough things there to keep us good and humble as we get ready to go play Miami in a couple of weeks."
(on tonight's game) "We executed at a high level, especially in the first quarter, as far as an offense making plays. We had some mistakes; obviously we had some turnovers. We have to clean those things up. But we played at a high level although we still have some things to work on."
(on his team's readiness for the regular season) "I felt good. The guys around me were making plays. The offensive line was playing their tails off. You had some guys in the secondary making plays. We got some good runs in there early. Everything was working well. We were seeing things clearly, guys were making plays. Obviously there are some things we need to clean up for the regular season."
"I thought we were crisp, I thought we were sharp. We made plays here and there. We took advantage of some opportunities in the red zone, getting some sevens. Last year when we were here we settled for some threes, so that was a positive. There's some things we need to clean up, but we are ready to go."
(on crowd noise) "It's a tough environment, especially on third down. It was very loud but we stayed poised and executed well. We just need to improve a little bit on those opportunities."
(on hit he took in first half) "I got hit pretty hard out there and when I got up I was a little out of breath. But after I got my breath back I felt fine."
"We were very comfortable with what we were doing. When you have an opportunity you try to do the best you can. And that's the way we were doing it early – making plays. We tried to go out there and do the best we can, to the best of our ability."
(on turnovers)"I just try to tell the younger players to hold onto the ball tight. That's all you can do to remind them about that know. It helps a lot to get that out of the way early. As long as that (turning the ball over) doesn't happen during the regular season we'll be okay."
"If we could have taken care of the ball better, it would have been a different game, especially in the first half. But that's part of the game."
"Gary Kubiak, to me, is one of the best offensive minds in the game. And for him to make a comment that I am having a great camp and doing great in the preseason just makes me want to work harder. I appreciate him for seeing something in me to keep me here in the first place."
"You saw it when we first stepped on the field. I mean, to play in a place like this; it's so loud and the energy is crazy; for us to come in here and perform like we did early says a lot about our football team. We just have to sustain that for an entire game."