New Orleans Saints' Head Coach Sean Payton was interviewed by Saints Radio Network/WWL Radio's Bobby Hebert and Deke Bellavia Monday afternoon.
Below are some highlights from the interview:
On formulating the roster:
"Well, I think two-fold, the number one purpose of the rookie camp that we just had is really to evaluate the players we just drafted, the free agents we signed after the draft, and just as important, to evaluate correctly the guys that are in here just on a tryout basis. It's one thing to say 'we need numbers at these positions heading into training camp.' More importantly, are there players here on a tryout that we feel like are good enough to eventually make the team someday.  
"You have a short period of time to do that and the three days we had gave us a really good opportunity to look at some young guys.  We also had our players from the practice squad last year participate in it. So I think we got that done, there are a handful of guys that made a pretty good impression, and I think it worked out well."
On setting expectations for rookies:
"I think we have to be very cautious about coming to any conclusions one way or the other. Over the years, there are a number of examples like Marques Colston where a player comes in and maybe he's not in the best of shape, but there is a reason for that. I think, more than anything, (this) is really teaching them how we practice, how we teach, how we install, and then making sure they understand that they are behind, all these guys, regardless of if they have been drafted or not. The rest of the team has been in here for five weeks lifting and running and they know the system for the most part.  
"So getting them up to speed is something that takes more than just three days, it's going to be a process that goes all the way through the month of July and into training camp where they ultimately have a chance to win a position on the roster and find a spot. You get a short period of time. It's always exciting because you get a first look at these players and the first time you get your draft picks in here and you have a chance to see how they learn and see if they can transition it over to the field. I would say the group we had in, the five guys we drafted, all did very well. I thought this rookie camp that we just had was one of the better ones we've had in a while.  
"I know Ryan Pace, Rick Reiprish, the guys involved in personnel, Khai Harley, really did a good job not only facilitating the guys that we signed and our draft picks, there were close to 40 other guys that were in here really trying to open up an opportunity for themselves.  That's how we signed Billy Miller a number of years ago, he was here on a three-day tryout. So once they get here, it doesn't matter to us how they got here. I think just explaining that to them, you can get caught up in the politics of our game but I think our locker room understands that we are going to keep the best 53 and if it's Pierre Thomas instead of a fourth round draft pick or if it's Billy Miller, we are pretty selfish, we just want to win."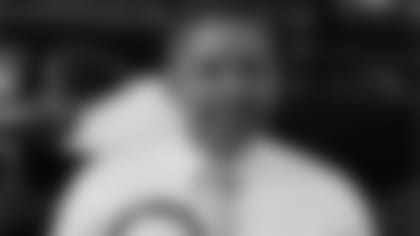 On a player that fans might not know about yet that he is eager to see more of:
"I tell you what, there are a slew of guys, not only that the fans aren't familiar with, I'm just barely getting familiar with. I think a handful of our practice squad guys that went to this past camp, for me it was the first time in three years that we've had this, that I've been involved in this camp, last year I wasn't here and the year before was the lockout. So, I don't know if anyone is going to jump out, I think all of these guys understand the importance of special teams and the first way to get on this team, if you are a backup, is in the kicking game.  
"Now there are a few of these players competing, maybe, for an opportunity to play, not just to become a backup. We have had some of the tryout guys, we signed three or four of these guys after the workout, and they did enough, really opened our eyes up enough that we felt like it was worth bringing them to our mini camps and our OTAs to see if they have a chance to compete for this roster. We are able to keep 90 on our roster right now, take 90 to training camp and then begin the process of cutting down.  
"I think you said it in the beginning, it's just trying to find the right 90 and that might mean a couple of guys that you sign after the draft may not be as good as some of these guys that were here on a tryout so you kind of adjust some of those spots. I thought Ryan Griffin did a good job, right here from Tulane, he's in a system he is very familiar with because it's the same offense, from a terminology standpoint, that Curtis Johnson is running at Tulane. As a quarterback, you change from high school to college or from college to the NFL level, I mean it's really a whole new language, so I think for him that transition was smoother, he understood a lot of the little nuances. Mike Neu has taught him, he's been with us, Curtis has obviously been with us, so he is someone that seemed comfortable and you wouldn't have looked at him as a rookie based on his learning curve and taking it to the field."
On balancing the passing and rushing game:
"We have looked closely at what's been our formula. Each year is a little bit different, but certainly we had balance and our most success when we have had a good run-pass ratio. When it gets tilted heavy to one end, it's hurting more than just your offensive production; it begins to weigh on the defense and other elements of your team. I think we had that balance in '06. We were a different team then. Certainly in '09, when we also had the turnovers which were critical and had balance offensively.
"Even in the years following (2009) up until last year, we were able to win a lot of games and keep opponents off balance. I thought last year, especially in the early quarter of the season, we were talking about a team that was last in the league in defense and rushing. There were a lot of things we weren't doing well. I think we have the position group and the personnel to be effective running the football. I know all the other elements of the game that that can help. It helps the quarterback's production by helping him become more efficient and you become a better defense. It also helps you control games when you want to. There are times in games when you want to have control, and when you are able to rush the football you have a little bit better sense of that than if you are not able to. That is certainly one area that we have to be better at."