New Orleans Saints Head Coach Sean Payton
Media Availability Transcript following OTA #3
Thursday, May 23, 2013
Opening Statement: This is our third OTA this week in the first week of them. We are still in kind of a lifting and meeting mode also, so these guys are splitting up, half going into the weight room, half going into meetings and we switch that around.
What is the status of Charles Brown?
We're working through a little offseason injury from weightlifting, nothing significant. We'll keep monitoring it. He received some work in the walkthroughs. We're just being patient with it.
How much this week is guys adjusting as opposed to you guys evaluating, especially on defense?
This is our first go at it this week. There was a lot of learning going on and we're getting installation done in three phases. We're installing offense and defense and the same in the kicking game. There are a lot of new faces and a lot of learning. I think that's the primary purpose here, making sure that number one we're doing a good job in the weight room and we're getting ready for training camp. Number two, from a mental aspect, we're getting ready for the installations and guys are getting the first run of it here and we'll repeat it when we get to training camp. It's the same type of format in regards to teaching.
How has it been working with Rob Ryan?
It's been real good. Those guys on that side of the ball are working hard. Obviously they're putting in a new package and getting players acclimated to new positions, so from that standpoint, it's going real well. I said it the other day, that when you make a move like this from a position standpoint, there are a few guys that are playing different spots. I think as you work through these practices and get into pads in training camp, you begin to sort some things out.
With the receiving corps missing a veteran presence such as Devery Henderson, how much do you feel like Drew Brees is going to have to spend with these guys to teach them the ropes?
First off, I think we do have a veteran presence. Marques (Colston) is here for year eight. Lance Moore, Jimmy Graham at tight end (have experience). That being said, there are some younger players. I think that's the case every year. I think it's a deep group right now from what I've seen with some guys who can run. We bring them up to speed. It's a good opportunity for those guys.
Should anything be read with Jabari Greer working with the second unit today?
No, we're going to rotate guys all around this week, so you really can't read into who's out there with the first, second or third group. We're rotating by practice, by drill. You're going to see a ton of different players (taking reps in) the first five (plays), second five and third five.
What do you see from Keenan Lewis so far?
He has good burst, he's smart, has good length and he can run.
Can you discuss Malcolm Jenkins' status?
He's just staying off his hamstring. We hope to have him sooner than later. He's fine.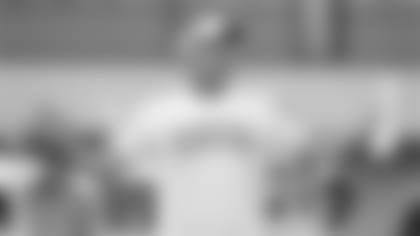 Can you discuss the feeling of being back out here coaching, doing what you've done your whole adult life?
Like anything else, you get in a routine and you go through an adjustment. It's good to be back and working and more than anything else, being around the players and coaches, guys that you work with on a daily basis. Just from an interaction standpoint, it's been great.
Can you talk about the learning process for a young player like Terron Armstead?
He has a big learning curve, because of the position that he's playing, but he's demonstrated that he can compete at a high level. He's real athletic and has good size. The challenge for the linemen during the spring is that we're not really in pads. It becomes a little bit more mental than it does physical, but I think when we get into training camp and all of a sudden he's in a situation where we take on live rushes, I think that's when you do begin to see more. He has an opportunity to improve right now in just getting the calls down and getting the offense squared away.
Can you talk about your enthusiasm to see Akiem Hicks up close?
He was just one of a handful of players. I'm able to see him in the weight room and see these guys in the facility, but he has real good size and explosion. I think he's real smart and he's someone that's real eager to play well. That's a good combination.
Are you just resting Jonathan Vilma and David Hawthorne right now?
Yes.
Can you talk about the competition at backup quarterback?
It's a process. We have a couple veterans and then the young guy, Ryan Griffin. I think with Luke (McCown), he's had technically half a season with us last year going through the preseason. With Seneca (Wallace), he's another guy who has veteran leadership. Both of those guys have played in games and started in games. Ryan has some background in what we do offensively coming over from Tulane. It's a good group right now. We're getting them a lot of reps, a lot of work and a lot of meeting time and we'll continue to do that and see how they progress.
Did you see Ryan Griffin's recognition of everything?
I think so; it's noticeably different than most first-year quarterbacks coming in and trying to pick things up right away. There's a lot of things that are familiar so that's a big plus for him.
Can you see a third quarterback this year or are you staying with two?
We'll see, shoot it's May.
As a head coach dealing with the new guidelines regarding OTAs and the offseason program, how much of an adjustment is it for you?
Not really a big adjustment at all. I cut practice short a little bit today. I thought we had a good week. I think the rules adjustment is when you begin the process of offseason conditioning. But from an OTAs standpoint we never used all of our fifteen OTAs anyway, so we are down to ten now and we may not use all ten of those, so I don't see it being a big change.
With Rob Ryan, we all know about his personality. Do you like his energy as well as his tactical ability?
Absolutely, I like his passion, he is someone that I spend a lot of time researching and arriving at that decision, guys that I know very well that have worked with him, I like how the players respond and I think he is a perfect fit for what we are looking for.
Are you hoping he makes it very competitive for the offense in training camp?
Yes, I think you expect that.
Can you talk about Jose Maltos?
He's got a live leg (and) his get off times are good. I think early on he has been real solid, so I am anxious to see how he performs once we get going in team drills, but he is doing very well.
Can you talk about your top draft pick Kenny Vaccaro?
He's doing well, obviously the young guys are getting a lot thrown at them, and he is handling it. I think he is someone that is real smart, so he has picked things up quickly. He is playing at safety, you see him playing at nickel, so he's playing a bunch of different spots.
On the subject of passion, some of the players are saying you are more passionate than ever before. Do you see that as the case?
I don't know, I think the number one thing for me is just be what I'm used to as regards to coaching, whether that's an extra Red Bull or not, I don't know. It's good to be back around these guys and I think the attitude and the work has been there. That's encouraging. We have been at 100 percent (participation), which in my eight years here has never happened at this point in time, six weeks in, every player, every workout, considering they are optional.
You talked about being back with your team and old habits. Are you still suspicious about certain things? I saw you shake your head when you saw that helicopter fly by.
Yes, listen, it flew by the second time and I looked up. It's a process a little bit.One thing I'll say, (is that) when you go through a normal offseason, you have a draft class and a class of free agent players, and we had that a year ago. And then you go through this offseason and we had a draft class and a class of free agent players and there's a point that I was making in the meeting and I asked the guys to raise their hands if they weren't here in 2011, and there were 45 to 50 hands of the 90 up and so there are a lot of new faces for me, really two classes if you will, last year's draft and free agents and this year's draft and free agents. So, getting used to and seeing who these guys are, how they carry their pads, what they do well (is new to me). (It) is something that I'm going through now and hopefully the quicker the better.
What is the biggest challenge for Will Smith and your defensive position switch with him to outside linebacker?
I think, number one, physically you are leading a three point stance in the base, and you are in a two point stance (at other times), but outside of that, a lot was written about it this week him playing that position, I think that's the natural spot a 4-3 end would go to if he moved to a 3-4 front. Most of the time he is going to be rushing and at times you drop in at coverage, but I think just two point, three point, some of the fire zones, some of the coverage assignments when you are not rushing, we still view him as someone that will rush, not only in the base, but when we get to our sub situations and we get out of our 3-4 front. More than close to half the snaps will be in a nickel or some type of substituted defense, so I think that adjustment for him will be pretty smooth, maybe compared to other positions.
Were the absences of Jonathan Vilma, David Hawthorne, and Kenyon Coleman injury-related?
We just didn't practice them, but (there are) no significant injuries.