In a 90-minute news conference that was at times reflective, emotional, humorous and poignant, Sean Payton stepped down after 15 seasons as head coach of the New Orleans Saints on Tuesday, Jan. 25, ending the longest-tenured and most successful run as coach in franchise history.
Payton, with a 152-89 record, nine playoff victories including Super Bowl XLIV in 2009, three NFC Championship Game appearances, seven NFC South Division titles and nine 10-win seasons, took over the Saints in 2006 after Hurricane Katrina and transformed the franchise into a perennial contender and free agent destination.
Payton said he had no immediate plans, and didn't rule out coaching beyond the upcoming season.
"Honestly, as I sit here today – and this is OK – I don't know what's next," he said. "I read the reports; I've not spoken to anyone from a media outlet relative to doing television or radio. Maybe that opportunity arises. But every time I read something that says, 'He's in line for this job,' I call my agent, Don (Yee), and I say, 'Don, did you hear something because I've not heard anything.' And that's OK.
"I think I'd like to do that. I think I'd be pretty good at it. So stepping outside, like in the cold weather today, and being a little uncomfortable professionally or from a career standpoint, is OK.
"I don't like the word 'retirement.' Mr. B. (late Saints owner Tom Benson) didn't like it either. He always said, 'Retirement is overrated.' We get sold this whole image of retirement by these investment groups on TV. I still have a vision for doing things in football and I'll be honest with you, that might be coaching again at some point. I don't think it's this year, I think maybe in the future. But that's not where my heart is right now. It's not at all."
Payton's announcement was a seismic one, coming 16 days after the completion of the Saints' season. New Orleans won the NFC South four consecutive seasons before finishing 9-8 in 2021 and missing the postseason when San Francisco beat the Rams in the regular-season finale.
Likely, it wasn't as seismic as the imprint he left on the franchise. Before Payton was hired, New Orleans had won one playoff game and totaled five 10-win seasons in 39 years. But his impact immediately was felt on the franchise.
But his impact immediately was felt in New Orleans.
The Saints won the division and advanced to the first of their three NFC Championship Game appearances in his first season – the only three in franchise history – and emerged as an NFL power.
The franchise also became a desired destination for unrestricted free agents (quarterback Drew Brees and linebacker Demario Davis top the list) due to Payton's vision early on and then later because of its on-field success and player-friendly amenities. And throughout the development of the program under Payton, the coach smoothly adapted to the times, whether that meant social media engagement to offer humorously pointed commentary, or battle rapping to take on a rookie player during training camp.
But he said 2021 felt like the right time to step away.
"I just felt like this season – it was challenging for everyone – but man, I felt like it was time," Payton said. "I kind of knew maybe heading into training camp, but you don't share that anyone. You think, 'Well, let's see how the season goes and we're working hard.' I thought the time was right for me. I thought the time was right, and it's something I'd been thinking about.
"You'll have close friends in the industry, I've lost a few close friends in this industry in the last two or three years. And also – forget football – there's other things, spending more time (with family). There's a lot of sacrifices you make and so, not many get to choose their terms. And I looked at it as an opportunity also to see my kids more, to travel some more, to get in better shape.
"It was a personal decision of feeling like, it's time. Like, not with any regret. There's some excitement, like, all right, what's next? And I honestly don't know what's next."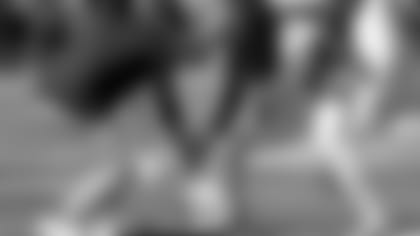 During his tenure, Payton's confidence and swagger was embodied in his teams and also permeated the city in which those teams played. New Orleans morphed from underdog to Super Bowl contender and was considered the latter more than the former in the majority of his seasons, in large part due to the record-breaking offenses he crafted that were led by quarterback Drew Brees.
Brees was among the myriad players, coaches and front office personnel that Payton thanked during his news conference. Brees, owner Gayle Benson and Executive Vice President/General Manager Mickey Loomis, particularly, were highlighted.
It was Brees who headlined an offense that led the league in net yards per game in 2006, '08, '09, '11, '14 and '16 – the only six times the Saints have led the league in offense – and finished first in scoring in '08 and '09.
In team history, the Saints scored at least 45 points on 25 separate occasions, with 21 of them under Payton.
And Saints fans basked in the success, giving New Orleans a home-field advantage that was rivaled by few in the NFL, and unmatched for longevity in the history of the franchise. The Caesars Superdome became a facility of dread for opponents, who combated record levels of crowd noise as well as a contending team, and a house where Saints fans exhibited the creativity that shapes the city.
"It's not often, you as a coach, have that opportunity to possibly leave," Payton said. "And it was something that certainly I hadn't really thought about over the years. We coach, we coach, we coach and at some point, they tell you to leave.
"I don't know what's next, and it kind of feels good."