New Orleans Saints head coach Sean Payton** Media Availability Transcript following OTA #6
Thursday, May 30, 2013
Opening Statement: "We have gotten through our second week of our OTAs.  Next week our schedule (on) Tuesday, Wednesday (and) Thursday is minicamp. Three guys that we held out of practice today (are) Malcolm Jenkins, Ryan Steed and Benjamin Watson. Those guys (statuses) are just injury-related. We will see where they are at next week. Hopefully they will be able to participate.  In regards to Joe Morgan's situation, I have had a chance to visit with Joe, the club is on top of all the specifics and I am going to leave it at that."
What is the challenge of a situation like Morgan's?
"I just think each team is faced with it at some point, hopefully less than more. It is what it is in regards to the lesson you hope the players, including Joe, learn from it.  It's our job to keep reinforcing the importance of being smart and making right decisions and it's something that we really try to pride ourselves in since we began here in 2006."
Some teams might let go of a guy when things like this happen. Do you take it case by case?
"Again, we look at each individual case and kind of leave it at that."
As far as Benjamin Watson, is it serious?
"No, we will have him back.  He will be fine."
You have Cameron Jordan at one defensive end spot, but for the second position, how much is it a battle between several players?
"I think you are seeing a lot of guys competing to play the other end spot and we have some flexibility.  I mentioned this last week, we are in a base 3-4 front less than 50 percent of the time, so we get into all the nickel and dime packages.  So, guys are competing, obviously in the base when it comes to the end position. As it converts to the sub-packages, they are competing to play inside as a pass rusher or outside."
What do you expect from Rob Ryan's unit?
"Just to see improvement each week as we practice and get ready and prepare for the start of the season."
How do you feel about left tackle having Charles Brown back?
"Charles is getting work now.  We have three guys over there competing for that spot, so it's one of those positions that I think you don't receive much information on until we get into the pads, start playing the preseason games and getting into the live practice settings.  But all three of those guys bring a different skill set and obviously have different experience playing that position."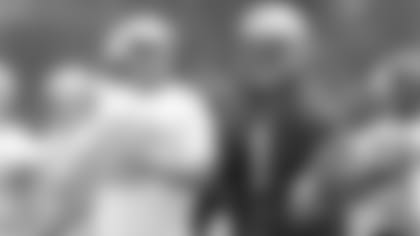 Is there something you like about Jason Smith?
"I think oftentimes, you take a peek at a player that was selected as high as he was and graded out as high as he was. He is a tremendous worker and has athletic ability, so it's another opportunity and it's oftentimes you are able to get a player maybe his second time around or third time around, that can come in and find a niche."
What feels different about this offseason for you?
"It's different for me in that I'm here, but I think I mentioned this last week, that it's been a while since we have had a normal offseason when you really look at the schedule. Two years ago with the lockout there wasn't much going on, and a year ago it was certainly different.  It's back to guys lifting weights and running and that's the most important element we feel like in this time and then us working on offense, defense, along with the kicking game.  Guys are handling it really well. Our participation is really good. I think it's just good to be out here in the spring and get some of the nuances worked out and also developing the competition you want."
How do you view Travaris Cadet right now?
"It's interesting with him and I am just getting a little more familiar with the player. Seeing him last year was one thing, but he is someone that catches the ball really well in the backfield.  I'm anxious to see how his running skills are, because Darren Sproles is a guy, as good as he is as a receiver, we feel like he has a running skill set that suits what we want to do in our one-back runs.  I think in Cadet's case, it's year two and he is learning what specifically is the role (for him). Obviously he is a guy that is comfortable in the passing game, and I think it's going to be important that he can protect. I think he is big enough and smart enough too. It's just a matter of getting repetitions in learning who he is blocking and the technique on how to block.  Those things will allow him then to be a little more versatile, and it's not as predictable when he is in the backfield as a guy that is just going to go out in the routes."
The 'Do Your Job' poster that Mr. Benson put in the indoor facility, what did you think of that and why did you take it down?
"That was a year ago and I understood the message behind it, but for obvious reasons we took it down as we are starting the upcoming season."
Can you talk about the competition between the safeties and what you have seen on tape of Isa Abdul-Quddus and Rafael Bush?
"I've had Abdul-Quddus. Bush was someone we acquired a year ago. I think for all of those guys it's critical, and we talked about it yesterday in the meeting, that special teams factors in the equation in regards to earning a spot.  Both of those players are guys that have had experience playing in our league.  They are different in some regards and I think that kind of depth and competition in that position along with bringing Kenny Vaccaro and Jim Leonhard in and there are a handful of other guys that we feel like have a chance to develop there (and it) will work its way out in training camp. But (these players need to) give us the competition we are needing for not only defense, but competition in covering kicks, playing on punt coverage and as a core special teams player."
What has stood out to you about Nick Toon?
"I'm just trying to get a handle on what we think he does well. "I know he was injured and I kind of look at him as a young player, as a rookie right now because this is his first season that he is healthy.  We have some young guys at the receiver position out of the initial two or three guys that have had a lot of experience.  All of those guys are competing for spots and playing time, and I think again, can they factor in the kicking game? That will be important."
Toon has a bit more size than the others, how much does that help him?
"I think we always would value someone with size at the position, and the key is going to be production consistency. Does he know what to do and is he doing it on a consistent basis?"
How is Jonathan Vilma transitioning to the new system at this stage?
"I think smoothly. We get in the nickel (where) he is very comfortable and then we get in enough under defense at the 3-4 which protects him on the weak side, so he has handled the transition well."
What has stood out so far about what Rob Ryan is bringing to the table?
"I think any time there is a change made like that, and you come off a season like we had, there is a little more energy as guys are trying to prove themselves.  I think we have had good competitive practices and I think that's been encouraging."
Last week Rob Ryan talked about Joe Vitt being able to coach the linebackers instead of having to focus on the whole team. What do you think about that?
"I think that's a big deal because you are getting guys in places where it is their strong suit and where we are familiar in having them.  So, a guy like Joe Vitt who has coached as long as he has in our league is invaluable.  He does a tremendous job of teaching these guys, he cares about the players, is a huge piece of our staff and a really important piece for me as a head coach.  So, I think that is an understatement."
How do you view Roman Harper' and Malcolm Jenkins' obligation in bringing along Kenny Vaccaro. Could that be awkward?
I don't think so.  I think players' personalities really dictate how they handle young players coming in.  Knowing Roman and Malcolm, those guys are team players and so they are looking to (help), and I think an important element when you bring in a rookie, is who is in front of them. So when you have guys like Roman and Malcolm, guys that have experience, but are also solid guys, I think that helps the transition."