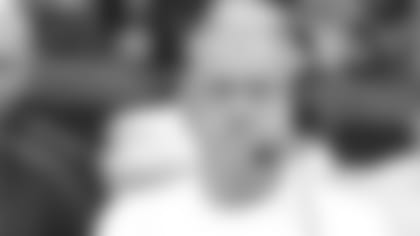 ASSISTANT HEAD COACH/LINEBACKERS JOE VITT
"We had a good week of practice. Our guys were very focused and they wanted to get better from a week ago. We improved tonight. We improved on our tackling and we had much better poise on the field than we did a week ago against Jacksonville. We've got to be able to protect the ball better. Our team knows that and we will work hard on that. We still have to take the ball away a couple more times. If we do that, it will give us the chance to be the team we want to be.
"Our guys will have off tomorrow. We'll watch the storm and see if we have to get out of town early to get to Tennessee."
(on Cameron Jordan) "He's going right along like you're supposed to your sophomore year. He's got the kinks out and he has a positive routine going. He's in the (locker) room with a bunch of quality individuals. He is taking the game much more seriously. He came in ten pounds thinner. I think you see his quickness and quick twitch. I think he is doing a better job of anticipating the offensive formation before the snap and anticipating what the play is. I just think that's the proper progression for a good football player like Cam is."
"We've gone stretches of games here when we've not turned the ball over or not taken it away. It's the number one stat in football. We're undefeated when we haven't turned the ball over. We've got to keep working on it. Chris (Ivory) had a tough hit on him. We still have to protect the football. If we do that, it's going to serve us well."
(on Junior Galette) "Junior's maturity, he's grown in this system. This system is really made for a guy like him. He's got athletic pass rush ability. He can beat a lot of one-on-ones. He's got tremendous stamina. He can put his foot in the ground and change directions. He is staying on course and working hard to be a good football player."
(on Jonathan Casillas) "It was the first time Jonathan Casillas has ever played Mike linebacker, in a new system. Jonathan missed the entire OTA's because of a lower back injury. He is playing with better body control and not putting himself in awkward positions he has done as a youth that would get himself hurt. He did a nice job tonight. Jonathan Casillas has played that position for about 48 hours. He did a good job."
"We gave him about 6-10 defenses he was going to run in the game. I'll feel more comfortable commenting on him once I see the film."
"This is a good offense that we played tonight. The best play-caller in football right now is Sean Payton, and Gary Kubiak isn't far behind. He knows exactly what he is calling and he does a great job in his procession running sets. Andre Johnson is one of the top two or three wide receivers in the NFL. They have an outstanding running game that complements their passing game. We played our butts off against these guys last season in the regular season after they kicked our butts in the preseason. We're quite aware of how good this offense is. Give credit to them, and I give credit to our guys. It looked bleak early. We were down 14-0, we hung in there, forced a few short fields and our guys competed."
"I thought we were more physical tonight. I thought we were more resilient tonight. I thought we played better."
(on Monday's cutdown day) "It's gut-wrenching. There are a lot of guys that have waited their whole life to play in the National Football League. We take very seriously our exit strategy. It's going to be a tough day tomorrow.
(on how important his results with the offense were to him with these two home games) "You want to look sharp. I feel like we have been sharp for the most part. (There are) certainly some opportunities that we've left out there. I felt like we could have been better in certain ways but I think the most important thing is that we continue to make strides forward. Even though it hasn't been perfect, I think we have been pretty efficient. As we go into the season, we know that we are going to continue to need to get better. We have very high expectations for this team, for our offense. We have set the bar pretty high. I think we just know how good we can be. We want to continue to test that limit as often as possible. Even when you walk out of a game and there were 24 points in the first half and the first group was in there and we had the one turnover that resulted in a touchdown without us getting on the field but still you feel like there was still at least one more out there for the taking that we didn't take advantage of."
(on how Joe Vitt managed the preseason) "I think Joe Vitt has done a tremendous job. We all know Coach Vitt very well. He has been a part of this program since we've all been here, since 2006. So he has been a part of the highs and the lows and certainly he knows this football team. He knows Sean Payton as well as anybody. So really the job that he has done has been a combination of really just continuing to execute the plan and create the environment that Sean Payton has done since he was here in 2006.  Obviously, in his absence Joe Vitt is a very emotional guy who is extremely fiery and competitive. You know where you stand with Coach Vitt at all times. He is not going to sugar coat it or tell you what you want to hear. He is going to tell you what you need to hear and we appreciate that and we love him for it. We're going to miss him during his time away. He has certainly put us in the best position that he possibly could going into the season."
(on what it was like with Aaron Kromer playing a more extensive role on the sidelines and if it was different) "No, everything seemed to be very, very smooth. I haven't really had a chance to talk with Krom (Aaron Kromer) after the game just to see how he felt about everything. I felt like the mechanics of him continuing to carrying on his responsibilities with the offensive line like he normally would, as well as some of the little things, head coaching responsibilities so to speak. I feel like we have done things the right way throughout this whole process. Naming (Aaron) Kromer as our interim head coach this week to get him at least two games under his belt where he is walking the sidelines as a head coach prior to week one here (is beneficial). We are trying to work out some of the kinks and put ourselves in the best position to succeed once we get to week one."
(on the excitement of going into the regular season) "We're excited. We are very excited. Obviously, next week a lot of the ones aren't going to play at all, if very much. So this was our last real dress rehearsal, before we go out there for real in two weeks. In fact, we are opening up at home in the dome. I think we are poised. We are ready. We have a lot of work to do between now and then but we have two weeks to get prepared. This is what you play for, this opportunity."
(on the passing of Neil Armstrong) "I actually met him for the first time a year ago. We brought a few astronauts back to Purdue for a scholarship dinner that I was a part of for about ten straight years at Purdue. I'm in awe of these guys. You talk about some pretty courageous stuff. Obviously, a lot of those men are as well-known figures as anyone, or certainly deserve to be. They were part of some of the greatest moments of American history with space travel and being the first man on the moon. And of course the iconic words that Neil Armstrong said."
(on offense tonight) "Our main goal going into this game was just to play better than we have been playing, obviously produce more on offense.  We had a couple turnovers early and spotted them some points.  So we wanted to make sure we got the ball going, made some positive plays and definitely put our team in a position to be the leader or at least tied up at halftime.  We did a pretty good job of that."
(on his touchdown) "I mean it's just one of those trust plays.  There was pretty good coverage on the play.  Drew just kind of threw it up there and he has that trust in me that I would make the play."
(on going into regular season) "It feels good to play as well as we played tonight.  Like I said, we need to hang onto the ball a little bit more, a little bit better, obviously.  But for our offense to move the ball down the field and score right before halftime in a two minute drill was huge for us to get that in live action before the season starts.  We feel pretty good. (We need to) Just try to get better this week and prepare for Washington next week."
(on the final preseason game) "I don't know.  They really haven't said too much to us.  We don't know who's playing and who's not playing yet.  We are just going to try and get better and see what happens after that."
(on the offense tonight) "We are just looking to get better every down, every game.  Today we definitely did that.  To go down early and to fight back, I think that's Saints football. That's what we do out here.  We are never out of the game, especially with a guy like Drew Brees leading us.  We were down two touchdowns, but then Drew just rallies us up, and then we got two quick scores and tied it up."
(on the tight ends for both teams) "I guess, I don't even remember.  I had a catch or two, they did their thing. It was a good night for us. I mean for me, I'm just going to get better. I had two kind of slow first games so this game I was really looking to show Drew and the coaching staff that I can still do it and that I still have it. I think I took a step forward and I'm looking forward to getting better these next two weeks."
(on the regular season) "I feel great about it, especially after a night like tonight.  This night felt like so many nights like we had last year.  Tonight was exciting.  The guys were playing physical, everyone was into the game.  So for me, I can't wait to play Washington, that's all I'm thinking about right now just taking these two weeks getting better at the little things. I need to work on defining my routes more for Drew.  I'm also going to work on my footwork as far as blocking, just doing that with confidence because I've been a little sloppy lately and it's only going to make me better.  Drew stays on top of me about always getting better, about always looking at the things that you can do to improve because nobody is done improving.  It doesn't matter how old you are (or) how many years you have been in the league, you can always find something to work on."
(on what Coach Spagnuolo told the defense for the club's second drive after giving up a touchdown early) "Really, we just needed to settle down. We knew the Texans had an explosive offense. They made some plays on the first drive and we played conservative. (He told us) just to settle down and get after them with pressures a little bit and it turned us around. It helped that we got a touchdown on the kickoff."
(on how the team feels with preparations coming up for the regular season) "I think practice this week is going to be huge for the starters. We will get a little bit of rest in film and work during practice but the things that we've seen that we made mistakes on today, we will have to really address in the next week and a half of practice because we won't have the preseason game to correct it. It will be most of the young guys. I think the importance for us is getting after it in these practices and not letting up."
(on the forced fumble) "It felt great. I felt really loose. I just wanted to go out there and make a play, so it felt great."
(more on the play) "I got cracked.  A guy hit me, I hit the floor, so I had to get up really and the first thing I did was find the ball carrier. I tried to get my head across and I ended up getting my head on the ball and the ball popped out."
(on 2012 vs. 2011 and his performance) "The game has slowed down a whole bunch.  Last year I was a rookie and my eyes were all over the field.  So I'm trying to make a play but I don't know what I'm looking at.  Now I know where to look and I know where I have to be. I'm a lot more comfortable."