Sean Payton    New Orleans Saints    Head Coach
Obviously it was a hard fought win. I was proud of the way our guys fought. You get into a game like that in the division, momentum swings in the second half, we were battling a lot. There were some calls that went against us and we just worked our way through it and came up with the stops we needed defensively and the plays when we needed them offensively. It was an important win for us and obviously an exciting win.
Re: Patience on the final drive
We got in a rhythm. We struggled with the one drive when we were three and out, I think it was the one three and out we had all day with a couple of runs early on. Drew made some really good plays for us, we converted a third down or two...I thought we adapted well up front and did a good job of protecting the quarterback and kind of minimized some of their pressures. Drew was outstanding. I thought we had good balance today. We had some success running the football. We just found a way to win this game, and that's pretty important. You learn a lot about your team in that type of environment. The one call switches the momentum of the game, third down and long, they call roughing the passer and all of a sudden they are at midfield. That's when the momentum shifted. Carolina scored on that series and we were three and out. They ended up getting the ball back and going ahead, but we fought through it.
He's got good arm strength, he can run and he can do all those things. He's a real talent to see the progress he's making.
Re: Cam Newton keeping plays alive
I thought defensively we came up with some big plays ourselves. The first interception led to seven points. That's huge. Needless to say it's a big win for us.
Re: If he got an explanation from the referees about why no flag was thrown before the field goal
No. This crew does a really good job. Maybe later in the week, we try not to belabor it. We just keep going. That kind of becomes contagious. Then all of a sudden you are just bitching every call, upset about the first unnecessary roughness call, that's third down and all of a sudden it's first and ten and I was upset with the call. I was really upset with it. So, you just have to keep playing.
Re: If they explained the roughing the passer call
It's that contact to the passer.
Re: The chippy-ness of the game
I thought our guys did a good job of composure. We hung in and we weren't going to let that become an issue. We were going to be smart and understand that what's most important is winning. It was a good gut check for us. It was a good game to win. That momentum shifts like it does, it's pretty common in our league when it does shift, and we were still able fight back despite it. It was a good stop there at the end defensively and I think that last drive offensively was significant.
Re: If Jimmy Graham is becoming a go-to-guy
Yeah, absolutely. If you are watching the game, absolutely. It's happening right now. He's doing well.
Re: If this is the healthiest the team has been five games into the season
I don't know. We're missing a few starters. Our center has been injured, our right tackle has been injured, but I think that is pretty normal in the course of the regular season. Hopefully we get those guys back soon than later.
Re: Impressions of Cam Newton
He's exciting and very talented. He's got the poise and you don't feel like he's rattled. He's a really good player. I think Drew (Brees) said it best earlier in the week, we're going to see a lot of him. He's another good player added to that team. I think he gives them, more than anything else, confidence and a chance each week when they play. I think you clearly see the difference right now.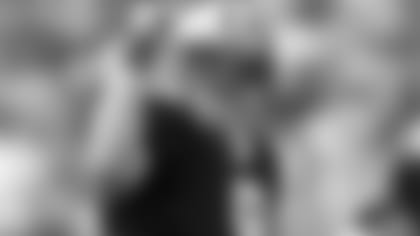 *Drew Brees         New Orleans Saints    Quarterback    *
I just remember looking at the clock and knowing there were a little over seven minutes left. I knew we were down by four and needed to go down and get a touchdown and win this thing. It was methodical. One play at a time. It was a good mix of pass and run and getting everyone involved. We had to convert some pretty critical third downs, which we did. Some were long-yardage and some were short-yardage. All in all, I thought it was a very effective drive. One in which we had all the confidence in the world that we were going to go down and score. Obviously you are trying to manage the clock, because you want to score and give them as little time left as possible. Sure enough, we scored with 50 seconds left and our defense did a good job of coming out, stopping them and winning the game.
Re: Jimmy Graham's third down catch where he was hit
He's a big body. A lot of times defenders have to come through him in order to get to the ball. If they hit him early it's pass interference and if they try to time it, it's still a big body. That's what tight ends are for. You put it on them and hope that they're strong enough and have the wherewithal to know they're getting hit and secure the football.
Re: If Graham is close to a go-to guy in the offense
I feel like we have a lot of go-to guys. Typically, the tight end will get favorable matchups because it's a safety or linebacker covering. In some cases, they have defensive backs covering him. Then who's going to cover Darren Sproles? Who's going to cover Lance Moore? Devery? Meachem? Marques? You can only have so many DB's on the field at a time. I feel like with our personnel and the way we use different formations and personnel groups, we really try to dictate to the defense the tempo of the game. We want to spread it around enough to where you can't just key on one guy. Everybody knows, going into a game, that this might be my day to have 10 catches for 100-plus yards and a couple of touchdowns.
Re: Pierre Thomas' fourth-quarter performance
He's a gamer. He's a ballplayer. He made a great catch on that screen play. He got knocked off-balance a little bit but still he was able to grip that ball with one hand and made a big play. That really kept the momentum going for us on that last drive. The touchdown play was great execution all-around.
Re: Stepping up in the pocket in the final drive
There are times as far as pocket movement goes, where you're just trying to find a lane where you get vision and press the defense a little bit. A couple of those were third downs where you're stepping up and now you're a threat to run and you stress them a little bit. We were able to get some major conversions that way. Our guys up front did a great job. It's physical up front, both in the run and pass game. There are those times where you have to step up and make a play.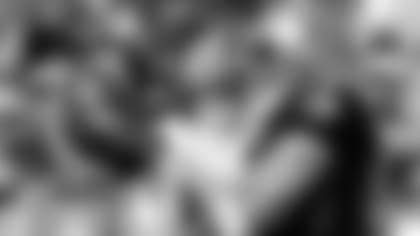 Jimmy Graham New Orleans Saints Tight End
RE: Emotional on the field?
Definitely. There's a lot of emotion in this game. Division rival, at their house and the game has been close so many times. We have a lot at stake. It was getting a little chippy out there, but that's football and I wouldn't have it any other way.
RE: Was anything said before the drive starting from the 11 yard line
Not that I recall. We just knew we were going to march down (the field) and get it in there.
RE: Playing against Jeremy Shockey
It's different seeing him in that jersey and seeing him with No. 80 on. He's, as far as a mentor, the ultimate teacher and he really did teach me a lot. He talks a lot and I talk a lot so it really was a great game. It really was.
RE: Not letting emotions escalate
We talked about it at halftime. We said no matter what anybody says or anybody does do not get a penalty that's going to cost us this game. Sean (Payton) harped on that. Coming out of the half we were very conscious of talking back, just not moving forward.
It's pretty cool. It's awesome that Drew (Brees) has so much faith in me. It just puts more faith in myself. It just makes me feel more confident. Hopefully we can just keep this streak going when we play Tampa next week.
RE: Importance of driving down field at end of game
Very important. They are a very good team and we're going to see them again. They can march down the field. Cam Newton is a special player. They have a lot of weapons over there. We know we're going to see them again. It's an ultimate win for us and now we've just got to keep moving forward.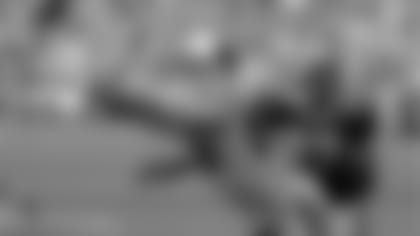 Malcolm Jenkins            New Orleans Saints   Safety
RE: Turnaround from first half play
We killed ourselves with a lot of penalties. They did make some big plays. We knew coming in that coming into the game that this was one of the most explosive offenses as far as big plays, they're right up there at the top. We're blessed to have a game like that and fight back and we're excited. To have the type of guys we have on this team to God the glory and we came out with a victory. I was always taught to never underestimate a win, especially in this league. We're 4-1 right now and it feels good.
RE: Your involvement with the Roman Harper /Steve Smith tangle up
We're in this thing together. We're always preaching if they get a play make them pay for it so we're just in this thing together.
RE: Chippiest game you've been in as a pro?
Probably. Since this is only my third year, yeah this was probably the chippiest.
He's a competitor. I don't think any of us like losing. He's still our guy. We still love him. He had some great plays on the field. He's a great competitor.
We take each drive one at a time. We killed ourselves early in the game and they earned some things. That late turnover put us in a bad situation but when the game's on the line we rose up. Our offense gave us a chance to win the game and we came up big.
RE: On the play of Patrick Robinson
Oh yeah. We're excited about him. He's night and day from where he was last year. I think he's finally starting to get it and starting to turn that corner. He's been playing well for us. We're excited about where he's going to go. We just take it one week at a time.
RE: The final penalty on the Panthers
It was big because it backed them up and took them out of field goal range. They wanted to try to get something quick and then it took them out of the range of his arm. We pressured a little bit and he (Newton) really didn't get a chance to set his feet when he threw it so that penalty was really big for us.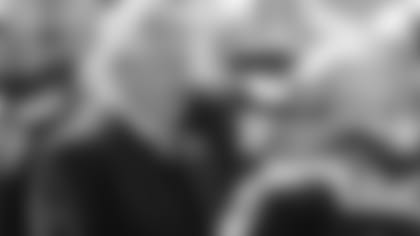 *John Kasay  New Orleans Saints  Kicker     *
Re: His emotions walking into the stadium
It was very comfortable. I was here for 15 seasons here in this stadium. I know the way things work. So it wasn't a huge deal from that standpoint. This was a big game for us. The Saints have been as kind and gracious as they could possibly be. It's a real privilege to be able to play for a team like this.
Re: Where this win ranks in this stadium
Rankings are impossible to pin down. The cool thing is this takes our team to 4-1. We are in a good position and when we're able to close and finish at the end, it's remarkable. They are a good team. I'm real pleased at the way it ended.
Re: Fans talking to him on the sideline
They pretty much yelled non-stop. It was positive. Everyone has been very kind. That was one of the things that made it very comfortable to me. People were very kind and welcoming. Words cannot express how thankful I am.