"Thank you Governor Jindal, President Nungessor and President Taffaro for inviting the New Orleans Saints to Buras today to lend a hand to the great people of the Gulf South."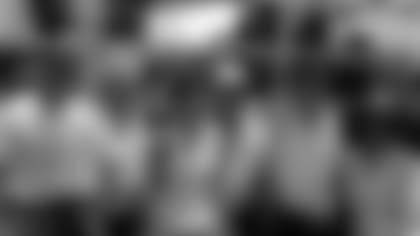 "To pay witness to this environmental, economic and cultural disaster is truly heartbreaking. This horrific experience touches the lives of all of us in the Gulf Coast, but none more so than the amazing residents of this region, people that have roots to this region dating back over hundreds of years."
"Our Coastal Waters, Marshes and the Great Gulf of Mexico are indeed some of the most cherished natural resources in the world and we all stand together asking that our country not forget about the people of this region and the troubles they are experiencing today, but that we realize we must also endure for the foreseeable future."
"It is often said that the very area of land and water that surrounds us today is filled with not only some of the most colorful and hardworking people in the world, but also people that would never give a second thought to calling anywhere else home. We proudly stand with you today, tomorrow and into the future, just as we have been proud to call you neighbors before any of this oil spill ever occurred."
"Our patience and resolve is being tested in ways that none of us could ever have imagined possible. But through the darkest days the brightest of lights will shine upon us and return us to the glory that just two months ago we experienced on a daily basis."
"We will not be quiet, we will not forget and we will not let the United States of America move on from this plight. We are proud of your tireless efforts, your determination in overcoming this monumental challenge, and of striving for a return to the rich and fulfilling people that these regions so thoroughly enjoy."