The immeasurable bundle of unrestrained energy that is Cam Jordan has somewhat been harnessed by self-quarantine, leading the New Orleans Saints' All-Pro defensive end time to refine his culinary game.
With a little help from his friends.
"Hold on right now!!" Saints Coach Sean Payton playfully advised Jordan on Twitter last Saturday, after Jordan lamented that his sweet and sour crockpot chicken needed thickening, and asked Twitterverse what was the difference between cornstarch and corn syrup.
"Stop!!" Payton continued. "Somebody please send this man some chicken gumbo. I'll buy."
Ultimately, Jordan said he got it right.
"I've been doing nothing but in the lab," he said. "I was trying to figure out sweet and sour chicken, I was like, 'It can't be that hard.' And then they hit me with the cornstarch. I was like, 'As a thickener?' I've always used flour. For you to say cornstarch, I was like, I've got corn syrup to make candy, but that can't be the same thing. I'm like, 'Let me just Twitter-check this.' And then I got crucified over it. But, you live, you learn.
"That chicken was a banger. It's good the corn syrup wasn't supposed to be in there. That chicken was a pure banger."
It's not out of the ordinary for Jordan to bang around in the kitchen ("I'm very active in my cooking, I'm not so much active in cleaning. It's a downfall."), but due to the coronavirus, with more time at home than he likely ever has had during this time of year, count him among those who are sharpening old hobbies, investigating new ones or simply being involved at a different level in life around the house.
"It's been very nice being at home and not having to keep a schedule," said punter Thomas Morstead, who has allowed an inside look at the comings and goings of the Morstead clan on social media. Morstead and his wife, Lauren, have four children.
"I can tell the kids have all enjoyed it, having extra time at home as well," he said. "So it's been nice."
The children aren't yet old enough to be in school – the oldest is in kindergarten – so there's flexibility as to what the family has been able to do.
"So the school sent some materials down to them, but I wouldn't say we've stuck to that exactly," Morstead said. "We're just getting them engaged doing different things. We've been doing a lot of play time outside, riding bikes and things like that, playing basketball.
"And then, we have started learning Spanish all together, online, so that's been something fun and engaging that they can do on the computer. I was a mechanical engineering major at SMU, and so I'm kind of a math guy. That's an easy thing for me to kind of take over. And we do a ton of reading already, so that's kind of the language side of things – just reading, reading, reading as much as possible with the kids."
Previous years, Morstead would be immersed in honing his skills as one of the league's best punters. After the season, he doesn't punt until April but, still, there's work to be done for the man whose appearance suggests he's the fittest punter in the league.
"I'm normally at the Saints facility training year-round, but I've been unable to go," he said. "I went and grabbed a few essentials that I needed to have, so I'll be in training in my driveway most days now."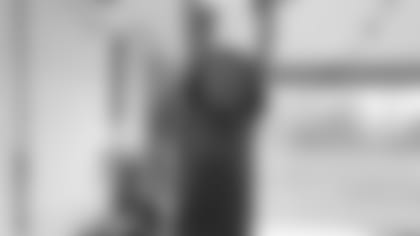 Yes, the driveway. As opposed to inside a neighbor's garage, which was his first "fitness center" until the number of people considered safe for a gathering dwindled more, and more, and more.
"People know that I've trained in my neighbor's garage, so I'm sure they won't be surprised to see (me in the driveway) either," he said.
Jordan, recovering from offseason surgery, ordinarily would be traveling. But there's nothing ordinary currently about restrictive travel and social distancing. So he, his wife Nikki, and their three children are finding ways to stay engaged while confined.
"We're doing all types of activities indoors," Jordan said. "I had to get grocery the other day. I go by the park and there's so many people in the park. I'm like, 'That is not social distancing.' I don't think they understand what social distancing is. But, I was also envious. I was like, 'To be around people.' "
And for those who don't have a good understanding of who Jordan is, just know that interaction with people – anywhere, everywhere, almost nonstop – is a significant part of his DNA.
That interaction has turned inward, into the Jordan home.
"I've never even heard of 'Twister' breaking," Jordan said. "But my son destroyed the arrow pointer on the 'Twister' game board, and I was impressed.
"We've made ladders from tape. We've made it into a punishment, like, if you're not listening, that's what you have to do. You have to do ladder drills. So these kids are going to be elite athletes by the age of 4, 3 and 1 if they don't get their act together. We've got everybody in the house doing pushups and situps and wall squats. We're all going to be in the best shape of our offseason lives."
He also won't be engaging in another offseason activity: Attending New Orleans Pelicans games.
"This is the first year I finally sprung for tickets to the Pelicans," he said. "Normally, I buy per-game. This year, I'm like, 'I'm all in on the season.' And then, of course, the season is postponed. If they restart, like, June or July – if they restart in July, like, I can't (go)."
The uncertainty of everything is at the crux of the pandemic. But that uncertainty, and some of the isolation that it has caused, are reasons why Morstead said he has been as active as he has on social media.
"I think there's a lot of people maybe that don't have family or don't have kids that are in an isolated environment," he said. "That can be very hard and difficult. So for some people, it may just be a little something to keep up with somebody else.
"Also, I think people like to see you enduring the same struggles that they may be enduring, as far as home schooling and just keeping track of them 24/7. And so hopefully, that'll just encourage people that they can do it too. And, honestly, it's just been fun to kind of document a unique time for everybody. I don't know that anybody has been through anything quite like this before.
"I've never been through anything like this. What's unique about it is it's ongoing. It's not like a hurricane that you shelter in place for, and then the storm passes through and you assess the damage. The storm's still happening and we don't know how great it's going to be and how long it's going to be. It's just a lot of uncertainty.
"I know for me, I'm a planner by nature and not knowing if OTAs are going to happen – things that are kind of our normal part of the year. Everything is up in the air right now; the season potentially is up in the air as far as changes to that. It's just a lot of uncertainty and I think that's hard for most people to deal with."