On September 21, Saints quarterbacks Drew Brees and Chase Daniel prepared in the team meeting room at the Saints facility, anticipating their upcoming contest against the Houston Texans.
Late into the study session, the quarterbacks were surprised by some unannounced visitors: Brees' wife, Brittany, and their two sons, Baylen and Bowen, walked in the room.
Baylen's eyes lit up when he saw the podium at the head of the room. The energetic two-year old grabbed the mic and started singing Kenny Chesney songs.
"He literally thought the stage was for him," Brittany joked.
Along with sharing his father's stage presence, Baylen also simulates another one of his father's hobbies: film study.
"We have two Chesney concert DVDs and he will watch those over and over again," said Brittany. "He will just mimic anything Kenny does."
The impromptu performance is not an unfamiliar one for the Brees family.
With the countless hours that Drew spends at the Saints facility, Brittany will bring Baylen and Bowen to the facility on a regular basis to give him time to see them before they go to bed.
It's not unusual for the quarterbacks to take a study break and pull out Guitar Hero instruments to let Baylen rock out.
"Drew knows if he needs to stay late at work, then the kids can come see him," said Brittany. "We work together on trying to find that balance with getting your work done and family time."
That balancing act has been the key to Brees' success on and off the field.
The Saints signal-caller says there are four priorities in his life: faith, family, football and philanthropy.
Along with being a franchise quarterback and father, he runs the Brees Dream Foundation, works with multiple marketing partners and was recently named the U.S. National Ambassador Against Hunger for the United Nations World Food Programme, which is the world's largest humanitarian agency fighting hunger worldwide.
"There is a definite balance to everything in my life," Brees said. "How can I balance my priorities out to where I am giving the appropriate amount of time for each? There is a challenge with it. That is why I think routine is so important."
It took a few years for Brees to formulate his routine.
Drafted in the second round of the 2001 NFL Draft by the San Diego Chargers, Brees backed up veteran Doug Flutie during his rookie season. At 22 years old, he and Brittany were engaged and living in an apartment by themselves. Drew would get home around 5 or 6 p.m., and the two would go out and grab dinner or see a movie.
"In college, I was a full-time student, while playing football on the side," said Brees. "Now, football is a full-time job, yet as a rookie, you still have no idea what it takes to be a great player in the NFL. You are trying to watch the people around you. The amount of time I spend now is so much greater than when I came in as a rookie just because I didn't know."
Ten years later, Drew and Brittany live in a house 15 minutes from the team facility with Baylen; Bowen; Brittany's mom, Kathie; and two dogs, Sidney and Alexis.
Brees' goal each day is to get home before his kids go to bed so he can tuck them in and read them a book. Bowen turned 1 last Wednesday and is on the verge of learning to walk.
"When you have two mobile kids – that's just a whole new ball game," Brees smiled. "When I get home, I am exhausted from my day, and Brittany is exhausted from her day. Yet, we have to rally because we have stuff to do around the house, with the kids or our foundation. I want to know how her day went and hear about the boys. She wants to hear about my day.
"When we are done with everything, it's typically 9:30 or 10 and I am getting up at 5 a.m. you just feel like the days go by so fast – where do they go? We make it work and the routine fits us well."
Brittany says that Baylen loves going to the Saints facility because he gets "the best of both worlds." He can play football with "Dada" or he will go inside and sing.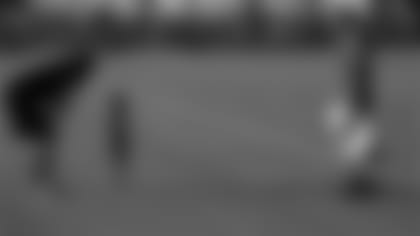 In a field that is unforgiving to quality family time, Drew and Brittany find ways to get the family together.
"If I get a meal on the table for him when he gets home, it's a great day," said Brittany. "He loves coming home and just being a dad. He will wrestle with the kids and spend some time with them before they have to go to bed."
During the week, Brittany is working on projects for the foundation. She will attend meetings in the New Orleans area; go through a number of calls and emails with Drew's marketing agent, Chris Stuart, to plan the foundation's next venture.
The foundation has raised more than $7 million dollars to charitable causes and academic institutions in the New Orleans, San Diego and West Lafayette/Purdue communities.
"The more time I spend with football and being the best that I can be for this team, Brittany's role has increased with the foundation and motherhood," said Brees. "To watch her role change and continue to evolve as a mother and her responsibilities with the foundation is great to see."
Brees helps balance his priorities by finding ways to include his family and fans in different ventures he does with his marketing partners.
He has filmed a Pampers commercial with Brittany and Baylen, as well as a Walgreens commercial with Brittany. He is currently promoting a campaign with Vicks NyQuil/DayQuil to search for the "Most Dedicated NFL Fan."
The contest asks fans to submit their best rally cry or their team for a chance to win a VIP trip to Super Bowl XLVI.
Stuart says the family-and fan-oriented marketing projects are as much about Brees' input s they are with his partners knowing "what Drew stands for."
"His marketing partners will set up those types of projects because they know that is what Drew is about," said Stuart. "It works because it's real. Fans know Drew is a great football player, husband and father and they relate to that."
Even when Brittany was pregnant with Bowen last year, Drew engaged his fans by posting this message to his million-plus social media followers:
"My wife is due any day now with baby boy #2. We have a few names picked out but haven't decided yet. Looking for "B" names. Suggestions?"
That post ignited thousands of responses, calls to the Saints facility and even notes at the gate of his house.
"It kind of almost turned into, if you make a large donation to the Brees Dream Foundation, you could pick the name," joked Brees. "Honestly a lot of the [name suggestions] were good."
Saints Offensive Coordinator Pete Carmichael Jr., who has worked with Brees since 2002 during their days in San Diego, says with any aspect of Brees' life he tries to visualize what is going to happen before it happens.
"From the beginning, he has always been a routine guy," said Carmichael. "He figures out how to maximize his time, minute to minute. He leaves no stone unturned with any aspect of his life. In his mind, he has to have all the answers that could happen in any situation."
Stuart, who has worked with Brees since the tail-end of his time in San Diego, echoed Carmichael's assessment of Brees' approach.
"Whether it's on the football field, working with a marketing partner or his foundation, it's very rare he is faced with something he wasn't prepared for," said Stuart. "He thinks of all the possibilities so he knows how to react."
Brees phrases his analytic approach as "learning to be pro."
As much as Brees sees himself as a student of the game, he is also a teacher.
Chase Daniel has backed up Brees for the past three seasons. Daniel spends as much time with Brees as anyone and embraces his "learning to be a pro" approach.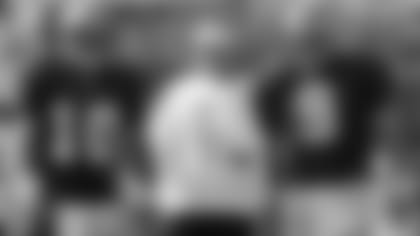 "Drew has taught me so much on how to be a pro and how much work it takes each week to win," said Daniel. "His time-management skills are out the window. A lot of people have great time-management skills, but how he separates himself from others is once he is on something, he has complete focus on that task right away."
Following the Texans game, in which Brees led the Saints back from two fourth-quarter deficits to a 40-33 win, the Saints captain was back on the gridiron.
In what has become a tradition for home games for Brees' family, Drew and Baylen threw the football on the field while Brittany and Bowen watched from the sideline.
A week full of practice, film study, late-night meals, early wakeup calls and even a little Guitar Hero couldn't have ended better as Team Brees bonded on the Mercedes-Benz Superdome turf.
Brees said despite his accolades and 10-plus years in the game, he seems to find himself spending a little more time at his craft each season.
"What's amazing is how you adapt to different roles as you go through life," he said. "You would think the more experience you have, the less time you spend at it, but I am afraid I will lose my edge if I do that. I constantly try to challenge myself and add a little bit more to my routine each year."
Brees still hasn't mastered his long-tested routine, and he never will because his desire to succeed in his four life priorities – faith, family, football and philanthropy – knows no bounds.