"I feel great, I feel amazing," Freeman said. "I'm excited, especially being in Black and Gold. It's like a dream come true."
Freeman spent six of his seven previous NFL seasons in Atlanta, one of New Orleans' NFC South Division rivals.
"It's like, when I was in Atlanta, this is our biggest rival," he said. "(But) I love the colors, I've always been a Saints fan. Just to be here, there's so many greats to come out of here."
Freeman also said that he and Saints Coach Sean Payton long ago resolved any issue that might have resulted from a verbal exchange the two had during a Saints-Falcons game in Atlanta a few seasons ago.
"Me and Coach Sean, we talked about it the next day," he said. "Two guys, we're out there competing. You understand that. The very next day, we talked and we laughed about it. It was cool."
Freeman proved to be a quick study as he smoothly took reps Monday, joining the team for its fourth training camp practice. He played 10 games against the Saints with the Falcons and in those games, Freeman ran for 691 yards and four touchdowns on 133 carries, and caught 34 passes for 319 yards and three scores.
New Orleans added backfield help because it was one short at the position, Payton said.
"It started with Ty Montgomery," Payton explained. "Ty's played running back and receiver for us. We want to focus a little bit more on his reps being at receiver. We were one spot too light at the running back position.
"Now, when it comes to Devonta, he's someone we're obviously familiar with having played against for a number of years in Atlanta. He's got good versatility in the running and passing games. I've been a big fan of his. We've seen him a lot.
"I think it's a good addition to the running backs room. I really think there's some versatility he brings and I'm excited about that."
Freeman said he has studied how the Saints use running backs, which makes New Orleans a good destination for him.
"I always admired the way he used his backs, getting them in space one on ones," he said of Payton. "Just utilizing the talent in the right way is one of the things I always admired about him."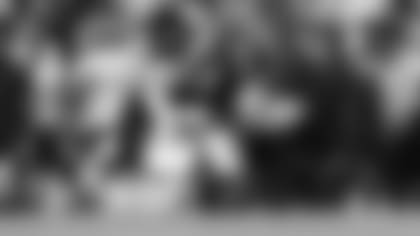 NEW FACES: Freeman was one of four players signed by New Orleans. The others were cornerbacks Prince Amukamara and KeiVarae Russell and guard J.R. Sweezy. New Orleans waived defensive lineman Lorenzo Neal and defensive back and Lawrence Woods and placed tight end Dillon Soehner on the reserve list. Amukamara has 99 starts and 10 interceptions in 113 regular-season games, and plays a position Payton labeled a "must" last week.
"(Cornerback is) an area where we were one spot too short on our numbers," Payton said. "He had a good workout. We definitely felt like we needed to add a corner to our group, and we'll see how he does. He's long, he's what we're looking for as far as his size, and he's got a good, tough makeup."
PICK SIX: Running back Alvin Kamara again wore a No. 6 white jersey in practice Monday. But he was joined by Amukamara, who wore a No. 6 black jersey on defense.
Kamara also wore the jersey Saturday at practice – it was his number at Tennessee – but practice will be as far as it goes, at least this season. If he were to change to the number for this season, he would have had to buy out the NFL's inventory of his current number, 41; if he puts in notice of a number change for next season, he would be able to do so without financial ramifications.
PAD UP: New Orleans will have its first training camp practice in full pads Tuesday. "We'll add a few different periods in," Payton said. "It gets a little more physical.
"We spend so much time coaching how to practice without them, which is a challenge, especially with new players and guys that aren't used to the tempo yet. It becomes a little easier from a tempo standpoint relative to what you can and can't do. It's about carrying them and getting used to them because that's how the game is played."