A Pro Football Hall of Fame Class of 2012 finalist, T William Roaf established himself as one of the NFL's top offensive linemen during his 13-year playing career, nine with the New Orleans Saints and four with the Kansas City Chiefs.
During his NFL career with both clubs, Roaf started all 189 regular season games and three playoff contests he appeared in with both clubs. Extremely durable, he started the first 57 games of his career, before suffering an injury that caused him to miss three games at midseason in 1996. This was a club record for a Saints offensive player until it was broken in 2009.
During his NFL career, Roaf was named to the Pro Bowl 11 times. These 11 nominations are tied for the most ever received by a tackle. The other players at the position to accomplish the feat are former Cincinnati T Anthony Munoz, who was enshrined in Canton in 1998 and former Baltimore T Jonathan Ogden, who will not be eligible for election until 2013.
No Saint has been elected to the league's all-star game as many as Roaf's seven, while his four invitations as a member of the Chiefs are the most nods by a tackle in their franchise's history.
As a Saint, Roaf is the only player in club history to have been named to the Pro Bowl seven times, as he was selected for seven consecutive seasons from 1994-2000. He is a member of the Saints Hall of Fame and both the Arkansas and Louisiana Sports Hall of Fame.
Having received one of football's highest honors by being named to the 1990's All-Decade Team by the Pro Football Hall of Fame, Roaf was also named an All-Pro choice by the Associated Press eight times, four selections with each club. The son of a dentist and a state of Arkansas Supreme Court Justice, Roaf enjoyed a prolific career at Louisiana Tech, where he was a finalist for the Outland Trophy, awarded to the nation's top college lineman as a senior.
Roaf would not have to leave the state of Louisiana to continue his NFL career, as he was selected by the Saints with the eighth overall pick in the 1993 NFL Draft, the first offensive lineman taken. Roaf was the second-highest pick that the Saints had used on an offensive lineman. He was also the first and is the only player from a Louisiana college taken in the first round by New Orleans.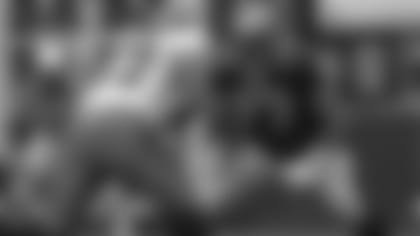 In his first season in New Orleans, Roaf started at right tackle, the position he played his senior year in college and played in every offensive snap. Roaf was one of only two Saints linemen to open every game, the Saints first rookie to open every contest since 1989 and the first Saints rookie lineman to start every game since 1982. He also was named to several all-rookie teams.
For his second season in 1994, Roaf was moved over to the left side, where he once again played every snap. Roaf's move was a success as he started a 12-year stretch as one of the game's dominant left tackles. New Orleans' NFL offensive ranking moved up nine spots from 21st to 12th as they had the eighth-ranked pass offense in the league, were ranked ninth in points per game and surrendered only 24 sacks, the seventh-lowest NFL total. Roaf was named a Pro Bowl starter and first team AP All-Pro for the first time in his then-young career.
Roaf repeated both honors in 1995, as he became the first Saints lineman to be voted to the all-star game more than once. The Saints line gave up only 28 takedowns, the eighth lowest total in the league and had the league's tenth-ranked passing offense.
In 1996, Roaf made his third consecutive trip to Honolulu and received second-team All-Pro honors, despite missing three games with a knee injury. He spearheaded a line that gave up only 22 sacks, tied for third fewest in the league.
Roaf continued to be named as a starter to the Pro Bowl from 1997-99, despite a variety of changes at quarterback and running back. However, the fortunes of himself and the Saints significantly improved in 2000, when the Saints captured the NFC West division title and won their first playoff game in franchise history.
Roaf anchored a line for offense that finished eighth in the NFL in yards per game and had their first top-ten overall ranking since 1979. The Saints averaged 22.1 points per game to rank tenth and he made his seventh consecutive trip to the Pro Bowl, both as a starter and overall, as he was an AP second-team All-Pro.
Roaf started the first seven games for another top-ten New Orleans offense in 2001, but he would miss the second half of the season due to a knee injury.
In the offseason, he would be traded to the Kansas City Chiefs, having played in 131 games for New Orleans, the 19th-highest total in club history. He would start 58 more games during four years with the Chiefs, as well as one playoff game.
A healthy Roaf would return to his Pro Bowl form as he was named to the all-star team and as an AP second-team All-Pro, anchoring the line of a Chiefs offense that led the NFL with 467 points and set a team record with 6,000 total yards.
In 2003, the Chiefs reached the postseason for the first time since 1997 and their offense led the league with a club-record 484 points. Roaf was again selected to the Pro Bowl and was an AP first-team All-Pro for the first time since 1996.
The Chiefs offense continued to roll behind the blocking of Roaf in 2004, as they led the NFL in offense for the first time in club history, rolling up an average of 418.4 net yards per game. Roaf reached double figures with his tenth Pro Bowl selection and was also an AP first-team All-Pro.
In his 13th and final NFL season, Roaf started ten games at left tackle, missing six due to a hamstring injury. Despite the missed time, he was named to 11th Pro Bowl, tying him with Munoz for the most selections among a tackle and was named an AP second-team All-Pro selection.