S Roman Harper, WR Lance Moore, LT Jermon Bushrod and LB Scott Shanle all agreed to terms to return to the Saints on Friday. After Saturday's practice, the four discussed their decision to continue to represent the black and gold.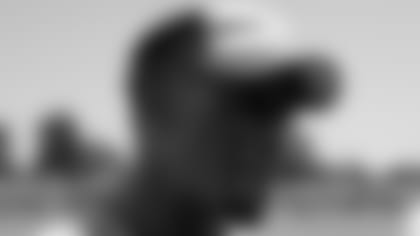 How does it feel to get a deal done and have that longevity in your contract?
"There is definitely a sense of security, and now I know where I'm at. It has been a crazy offseason, but I'm glad that it's over. I'm out here with my teammates and my coaches while still enjoying what New Orleans has made home for me."
Does it feel weird not practicing and not being able to get out there?
"Yes, especially without having any injuries. I'm perfectly healthy, but I can't do anything. I can't work out in the weight room and I can't run. It's definitely different but it's cool. I am getting a lot more mental rest."
Has it hit you yet that you are set for life with this new contract?
"No, not really. I guess when I get the first check it may hit me then, but other than that I'm really happy, my family is happy, my mom was extremely happy, and my dad was happy. I'm just happy I can do little things and stay humble while continuing to be who I am and it has really paid off in the long end."
Was there a lot of contact from the front office to get a deal done?
"We were contacted during last season, but I didn't want anything done then, I wanted to wait on it. I didn't want anything on my mind during last season, I just wanted to go out there and play. So as soon as everything ended they were immediately contacting me to work on a deal."
How close were you maybe not to come back?
"I had some teams come in real late and really make a strong push at me. It made things a little more interesting down the stretch. It's always good to be recruited and it takes you back to high school when colleges were recruiting you. It's exciting."
Were the Saints in the running the whole time, and then you were getting close and some other teams tried to jump in late or was it consistent?
"It was kind of consistent at first and then I had some other teams jump in at the end that were really trying to push for me.  I'm just glad I'm here.  I don't have to move or relocate.  They took care of me and I'm happy."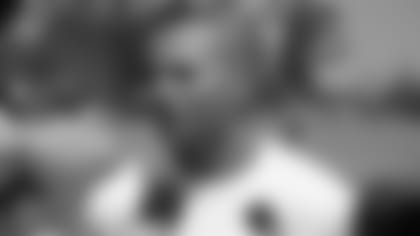 How does it feel to be on the sidelines and not practicing?
"I feel like the odd man out. People are looking at you, wanting you to get out there, and I want to be out there just as bad as everyone else does."
Right now you are all smiles just talking about getting out there.  What can you do instead of not practicing?
"Well we have to find a place to work out on our own, but we are good to go to all the meetings, help coach at practice, but we can't play any ball for a couple more days."
*What's that like for you, knowing the road you traveled from being an undrafted rookie free agent to solidifying yourself as one of the top slot receivers in the NFL right now?  *
"I feel good, but the work isn't over for me. It's not like I got to this point and I'm going to stop doing what I do. I love what I do. I love working hard and I love proving I'm the player that I am each and every Sunday. It's not over for me so I'm going to keep going and hope for more good news to come."
I saw you coaching some of the young players out there.  Is that a different role for you?
"A little bit, but those guys know that I know the offense pretty much like the back of my hand, so if they have any questions for me I am definitely there to help them and help them try to make this team."
All the fans go crazy for you.  How does that make you feel?
"I love it. That was a major part of my decision making on where I wanted to play this year in remembering the Who Dat Nation and all the love they showed me for the last six years."
What are some of your personal goals and offensive goals for this year?
"Personally I want to get back on the field and do whatever I can to help this team win. Offensively, I think the sky's the limit. We have a bunch of guys returning and a bunch of guys coming in and hopefully we can get it together and be at the top of the league."
What do you think about Darren Sproles?
"He will definitely help.  Anytime you lose a guy like Reggie Bush, you are missing something that maybe not the other guys have.  But to have a guy like Darren come in and add what he adds to the table as far as returning and receiver skills, he will definitely help us out."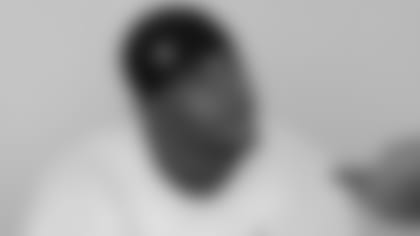 Are you happy with the deal that was made for you to stay here?
"I felt comfortable with it. I was just excited that we could work something out. It came down to it, and I made the move. It was a quick and hectic decision, very stressful, but a good kind of stress."
Teams were fighting for you right?
"Yes. It feels good to have people fighting for you. I felt wanted and it's a great thing just to have an opportunity to make a hard decision like this. I'm very happy with where I am."
"It was just the whole opportunity that brought me back here, to come and continue to get better daily and having the opportunity to be back in the same position for two years. My agent and myself felt like a two-year deal would be one of the better things if you can't get something long term. You have to try to do what you do for the next couple of years and continue to get better and be back here longer. The plan is to be here longer, but for me it's just to continue to work on things and be more consistent. We are just going to have to let the rest play itself out. I'm not going to put too much emphasis on worrying about what's going to happen the next few years, all I'm going to do is come out here and continue to get better, work together. I'm itching to get back out there with the team. I love where we are going here. I love our front office, our leadership, and our team. We have a great locker room. I just thought it was the best opportunity for me. I'm just excited. I really am. We have guys out here who are dying to get out here to practice. It's a good feeling. We all just can't wait to get back out here."
Does August 4th that feel like a long way away?
"It is a long way away. It's, what, Saturday? All we can do is to continue to soak in things mentally, and then the physical aspect is going to come here (at training camp). There's no turning back. Hopefully we get the deal done how we need to get it done by August 4th and it'll be time to go."
Are you itching to get back out there and are you ready to go?
"Yes.  I haven't really put the pads on at all since the end of January.  I'm excited to get back out there to see where I am, to continue to get better and to continue to get some W's."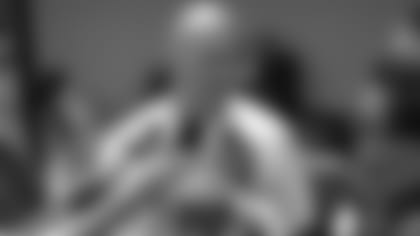 Is it weird not being able to get out on the field?
"Yes. It's not like we are standing out here for one day or two days, it's more like a week. A lot of it is mental reps which are still hard because it's been so long since we had physical reps, but you just want to get out there and run around."
Even though they recertified the union today, you still can't practice until August 4th?
"Yes. We still have to wait till August 4th."
I know the St. Louis Rams were hot and heavy on you.  What made it fit here for you?
"Early in the process, the Rams showed a lot of interest. I also talked to the Bengals. But in the end, the two teams it came down to were the Saints and the Chiefs. The Chiefs came in at the end, and obviously I have a great relationship with coach Gary Gibbs who I played with in Dallas before. It's close to home and it was really worth my consideration, but when I sat down and talked to my wife, we went back and forth. I weighed the positives and the negatives, and the positives just kept piling up to stay with the New Orleans Saints. It really wasn't a hard decision."
Talk about the linebacker position this season.  Are you just going to focus on the strong side?
"Actually, I don't know. The way coaches Gregg Williams and Joe Vitt go about it is that they are going to put their three best players on the field. They don't care who lines up where. I would envision them to do that again. You have to let this abbreviated preseason training camp play itself out and find out where everyone is going to fit."
What do you expect from Jonathan Casillas this season?
"He was a young player last year that was having a great training camp and was earning himself a position on the weak side. Unfortunately, he lost the season to an injury. I'm looking for him to pick that back up, and if he can do that he will be a contributor this year."
Did any of your teammates try to reach out to you while you were going through this process?
"Yes.  I think anytime you go through this process and other people catch wind of your talk about other teams and a chance you could leave.  I have so many great relationships here, not only with linebackers and defensive players but I go back with guys like Devery Henderson because I've been here with him since '06, Drew (Brees), and Pierre (Thomas).  It feels good to see them excited that I came back."