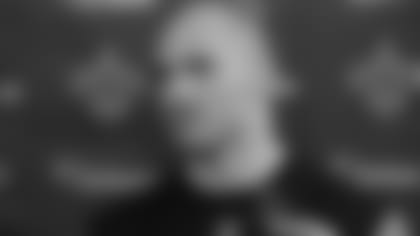 New Orleans Saints LB Scott Shanle
Coach Spagnuolo seems more calmer than Gregg Williams, yet he coaches a violent game. Is there a paradox?
"He's definitely intense when he talks football. You can tell by the way he speaks, he's very forthright and very detailed in what he wants done. I think it just goes to show you, there are coaches that are successful with varying styles. You look at Tony Dungy and he was very successful. Lovie Smith I played for as a rookie. He never used a curse word ever. They had ways to get their message across. Obviously Gregg was a different style for three years. I think that part of the approach is who they are and that if it's not a fake or façade, every player will respect them."
What has this defense learned about itself after two days against the Patriots?
"It's been very good competition going up against their personnel. I'm impressed with how far we've come in that amount of time, what we want to be. The good thing is we have a long time before we open the season. We have guys who their intent is to get better and master our defense."
What did you see yesterday that you would like to correct?
"A lot of little things. I think our guys are playing hard. That's not an issue. We have smart players. There are little intricate details and defenses that we have to work out. The game moves fast. The more repetitions you get, you can smooth those things out."
The defense seemed to do a better job today in containing the Patriots offense?
"Yes, I think we had a little bit of different things. We ran a couple of plays yesterday where we were very basic, but I think it just goes to having a little bit more confidence and what kinds of matchups are out there and understanding them a little bit better."
New Orleans Saints WR Devery Henderson
Media Availability Transcript
Wednesday, August 08, 2012
"I just have to get the treatment to help it continue to improve."
Is it your ankle that is bothering you?
"That's it. I was able to go today and I'm pretty much just being smart, not trying to do too much too early."
Did you see Jimmy Graham go down?
The sense on the outside is that without Coach Payton, Drew Brees is taking ownership of the team, but with all the leadership he has already provided how much more can one person do?
"He's doing a great job. That's one of the things we expected in camp of guys stepping up. Drew's a guy that always steps up and he's doing a great job. Offensively as a group, the players and coaches are all stepping up and coming together."
What makes him such a great leader and how does he control the huddle?
"He does a good job of just knowing the game, not any one area, but being on everybody and taking that approach and knowing what you have to do. What it all boils down to is that's the type of guy he is"
New Orleans Saints DE Cameron Jordan
Wednesday, August 08, 2012
Can you talk about the joint workouts?
"Maybe I'm an inexperienced player, but it's great to be able to look at different fronts and different looks Coming up here gave us a nice break from all the humid weather down south. It's sort of lovely with the beautiful breeze and weather we've been having. We got some work, especially today and we will be better prepared for tomorrow."
Can you talk about the subtleties of playing inside and outside and your preference?
"I like it. It's just a mentality that you have to be prepared for. Outside you have a little bit more space for contact, whereas inside, it's right there, right now. Then when you get to that nose technique, it's another mentality. You have possibly a three way wall to collide on you. That's like facing a tidal wave. There's so much you have to strike."
Where has your game grown from year one to year two?
"I sort of understand my coach's language so far as what he wants me to do, just the way he communicates and how we communicate together. That's just a heck of a lot in terms of bettering my techniques and learning more about what we want to do."
Defensively what are you looking to take away from tomorrow night?
"It's always time to learn, add experience. That's what the preseason is for, to get tuned up, geared up and get ready for the regular season. Hopefully we will continue to play more efficient and be more effective."
Were you a little disappointed that there wasn't as much contact at the joint practices?
"As a lineman, there's just a different way of life that they have here and it works for them. The Saints have a program that works for us."
Martez Wilson had a big game on Sunday. Did you see anything from his performance that you could maybe use to get to the passer?
"Martez is an explosive, fast player. He does his job well. That's the type of player that he is."
What is your dad doing these days?
"My dad is a simple engineer, construction worker for the Bryan companies of Arizona. He's a VP of the company, sort of a genius, so it took two sons to do what he did. I play football and my father is in construction now, so it takes both sons to do what my dad does."
Has he talked to you about Brown before?
"Of course he does. He always discusses his children going off to Brown."
Did you consider it? Did they chase you?