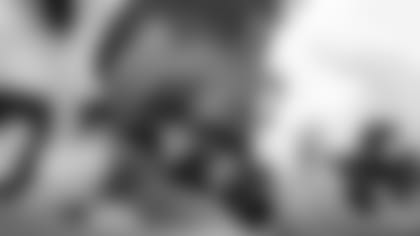 New Orleans Saints G Jahri Evans
For a guy who's been in the league for as long as you've been, how do you like not having to do two-a-days in training camp?
"I told these guys that came in that they're lucky because two-a-days are definitely brutal. The new schedule I think is going to keep guys healthier and will allow you to do certain things like get your technique down before you get in pads."
How does it feel to finally have Drew Brees back with you guys?
"I don't think anybody thought it wasn't going to happen. Drew (Brees) is a phenomenal quarterback. He's definitely the best quarterback in the league and he's definitely our leader on the offensive side of the ball. We're glad that they got it done."
It seemed like he hadn't missed any time and it was just back to normal.
"With his work ethic, he puts in the time off the field to make sure he's going to be the best quarterback in the league. He does that whether he's here or if he's home away from the facility. He makes sure he's going to get it done."
How has Ben Grubbs been able to fit in with the offensive line?
"Ben's doing a good job. He's looking good and picking up things quickly. We're doing a lot of talking and communicating with the different calls that we have. He's picking things up very fast."
Have you noticed anything with Sean Payton not being here on the offensive side of the ball?
"Not really. Like I said, a lot of our guys have been together for a long time, so everything is pretty fluent with us and smooth motion."
Was Drew Brees doing a lot of catching up with you guys?
"No, not really. A lot of guys were here before we got started, so we had plenty of time to do that before we got down to business with practice and stuff like that. We always talk via email, text messages or stuff like that."
Where would you rank Brian de la Puente as far as all the other centers you've played with in terms of communication and things like that?
"It's going great. Last year, he was kind of just thrown in there and he did a good job of picking things up. He's a fast learner. He communicates very well both on the right side and the left side, and getting things across from the right side to the left side. He's doing a great job and I expect him to be even better this year with a year under his belt."
How are you doing after some minor injuries during mini-camp and OTAs?
"Pretty good. I'm ready to go. I'm out here every day, working hard every day, rehabbing here with Scottie (Patton), putting the hard time in rehab so I'll be ready to go out here. It's feeling good."
What did you think about those great catches some of the wide receivers made at the end of practice? Did you get a chance to look at those?
"Yeah, I did look at those. Those guys are definitely going to get the ball. The quarterbacks are putting the ball there and those guys are running fast. That's what we want – short drives and getting in the end zone quickly."
Can you see a difference in Coach Spagnuolo's new defensive schemes, especially with the defensive line?
"It's definitely different. It's two totally different systems. You see the defensive line getting a lot more pressure here. There's not a lot of blitzing or anything like that. They're definitely coming. We don't have pads on. We'll have pads on later on in the week, so you'll get to see a little bit more live things, but they're definitely two different defenses."
Did you think there may be any rust with Drew Brees from him not being on the field with you guys in some time?
When you look top-to-bottom, what do you expect to see from the NFC South this year?
"Since I've been here, the NFC South has been very competitive. Each year, everybody is pushing to get to the playoffs, so I think we have a lot of young guys in the South. But we're here to win all the games. We're here to win all of our division games. We're here to win every game that we have on the schedule, but we know we have to take it one game at a time and that's the way we have to approach it."
New Orleans Saints DT Sedrick Ellis
"Yes, it was. There are a lot of new guys on the team and a lot of veterans coming back and we are trying to mesh together."
What about this new defensive scheme? Is it defensive linemen friendly?
"Yes, I believe that it is. We are back to a true four-man line defense which is similar to what I was raised and came up in. So I'm excited to see how we do when everyone gets familiar with each other and plays together for a bit and see how it pans out."
What are you personally looking to improve on?
"Constant skill development, as Joe Vitt always says. We are really looking forward to getting out pass rush going and rely it on lot more than we have in the past. It will give the defensive linemen an opportunity to showcase what they have."
A few years ago you had six-and-a-half sacks. You have to be thankful to have Remi Ayodele back, because that's when you had the success?
"He and I are good friends on and off the field and I'm glad he's back after taking a little time away from us to go to Minnesota, but he's back and he's looking pretty good and did well on the conditioning test, so yes, I am excited he's back."
How would you grade last year for yourself individually?
"Last year wasn't my best year admittedly, I think it was a combination of things that factored into that, whether it be injuries or scheme and different things, but like I said, we have a new defensive coordinator and I think this scheme is perfectly suited for the players that we have on this defensive line, as opposed to maybe last year."
Was Vilma's court hearing distracting to you at all today?
"No. (Jonathan) Vilma's a very good friend of mine off the field as well as on the field. So, when I first came into this league he helped me out with things like where to line up and help me do my job, as well as his job. I just wanted to do what I could do to help his cause today and I think it went very well. Hopefully we will have him back on this team because we all want him and need him."
New Orleans Saints Safety Malcolm Jenkins
Should the new defense help you in playing the safety position?
"I think so. I'm still learning the defense with it being a new scheme, playing things like quarters and being down in the box, things I've never done before or in years. I'm still learning a lot of new things, it will be a learning curve at camp."
Was the play with Lance Moore at the end possibly the play of the day?
"Yes, I thought I had the interception. Lance played some good defense. He ended up with it."
Wasn't he kind of playing defense back on that play?
"Yes he was for a minute. I guess he got an interception. "
How good was it to get out here today?
"It feels good, just to get into this game after the whole offseason to get back out here with the guys playing football and starting something new is huge."
Coach Vitt was talking about the battles between receivers and defensive backs today. Can you talk about it?
"They made some good catches out there today, especially the young guys. You had Andy Tanner going up and making a great catch with two DBs on him. The one on me was a battle and he (Lance Moore) came up with it. The DBs have to do a little bit better job of competing at the top of the route. We had some exciting plays at the start of camp where guys were beat going for the ball."
How comfortable would you say the defense is at this point with Steve Spagnuolo's defense scheme?
"I wouldn't say comfortable. We're still learning it. The good thing is we're putting in a lot of the hard stuff early. There will be a little confusion. But it will get easier. I think everyone's trying to learn and settle into what their roles are. I think guys have a good understanding of it and will continue to learn the ins and outs of the defense. Right now everybody's trying to get lined up."