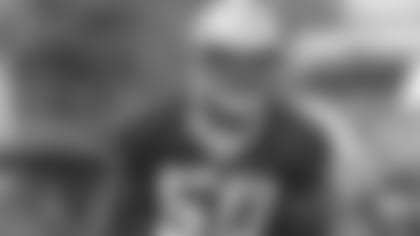 New Orleans Saints Linebacker Curtis Lofton
What can you take away about the defense's performance from the first two preseason games? What have you done well and what do you need to improve on?
"Some things that we are doing well, (are that) we are stopping the man in our seven-man fronts and I feel like we are starting to tackle well. Some things that we are not doing well, some leaky yards after contact. We would like to see more balls out and get to the quarterback a little more."
Was that emphasized today with your drills?
"Today was more of a short-yardage emphasis and just doing all of our heavy packages, getting to the ball, over-populating on the ball, first guy there stopping him with the second guy in trying to strip the ball."
What has been different about New Orleans than about Atlanta as far as training camp preparation?
"Everything. One thing is the same, in Atlanta, they have good guys in the locker room and we have great guys in this locker room. It is hotter down here. New coaches, new system, really nothing is the same."
Do you remember going up against anybody or fighting with anybody on the Saints that is now your friend?
"No. Usually I don't talk too much, I let my game speak for itself. There is a ton of respect between the two teams and there are a few guys that after the game we would talk. I would talk to Roman (Harper), Jenk (Malcolm Jenkins), and (Darren) Sproles and those guys have become my good friends."
Where does that ball awareness come from that you showed against the Patriots?"I am just hungry. As soon as I step on the football field, I feel like I have something to prove. I want to improve and I want to be the best. Whenever the ball is on the ground, I want to be the first one to get it. If the ball is in the air, I want to get my hands on it. I am hungry and want to continue to be the best that I can for this team."
What kind of backlash did you get from Atlanta teammates or fans when you chose to come to New Orleans?
"Ex-teammates. Most of them are happy for me. At the same time, I have been called a traitor, every name in the book, they don't want to see me, but it is all in good fun. Everybody knows this is a business and they just want to see me be happy and I am very happy right now."
Would your situation change on this football team if Jonathan Vilma returns?
"Not at all. I came here and one of the first things I did was call Vilma. We talked about it. We want to win. Whatever situation, however it plays out, I will do that."
What was the bigger factor in you decision, the money offered or because you knew the division and the team?
"Money, for me, really didn't play a part in it. Of course I wanted to be financially stable but at the same time, I want to go win a championship. I want to play with great players and go to a great organization. When I came here, it was a perfect fit for me. I love all the coaches, had a great meeting with Mickey Loomis, coach (Sean) Payton, Joe Vitt, and coach Spags (Steve Spagnuolo) and it was the best fit for me."
New Orleans Saints Wide Receiver Courtney Roby
Post-Practice Media Availability
Talk about how you have grown as a receiver.
"Just working hard. The four or five years that I've been here, I just continue to work on my craft, pick the quarterbacks' (brains), and see what they are thinking. We have a great group of receivers that have been here for a long time, so (I'm) just working. That's the main thing."
Is there anything you did in the offseason?
"I always work on my craft in the offseason. It's the time to work on the things that you feel you need to work on before camp starts. I just put in the hard work, go into summer and continue to build."
Is playing on special teams or playing wide receiver your top priority?
"Everything is top priority. This is a team sport. All three phases are important. We work together for a common goal and that's to win."
Did you look at Robert Meachem leaving as an opportunity to improve your status here as a wide receiver?
"Any day you are out here is an opportunity. Any day you are out here to show these coaches your value and the work you put in to help this team is an opportunity. It's one day at a time, one game at a time. You just have to take that mentality."
How hard is it to balance the two, as a gunner and a receiver?
"I don't look at it as a challenge, I look at it as an opportunity. Whether it's on special teams or wide receiver, just showing what I can do. I take pride in that."
When you watched the film of the first two preseason games what did you see?
"There were some things that I did well, and there were some things that I need to work on. Anytime you are able to go back, watch the film and see the things you need to work on, that's what you come out to practice for. To work on those things and just keep it moving."
New Orleans Saints S Jonathon Amaya
Talk about the progression of the defense, three weeks into training camp with the ones and the twos.
"I feel like the ones and the twos are coming along well. We are really starting to install a lot more of the defense as the days go, but we are really just taking it one day at a time, one game at a time. That is going to be our philosophy this year."
Coach Vitt was talking about the versatility of the safeties. Is that one of the things that you like?
"Yeah. I think it is important to know both (free safety and strong safety). In anything that you really do, it is important to know what your partner is doing. Everyone kind of functions together."
Are you guys anxious to get into the regular season now?
"Like I said, we are going to take everything one day at time. We don't want to look too far ahead. We know that the Redskins are typically first on our list but one game at a time. We have to get through Jacksonville first."
New Orleans Saints Quarterback Luke McCown
How are you coming along in this system?
"Very well. I feel comfortable in it. Being a nine-year guy, having been through a system similar to this in (Jon) Gruden's in Tampa, it comes pretty naturally. Obviously, there are some things you don't get if you aren't getting the reps. What I feel good about mentally, I would love the opportunity to continue to build on with some reps. That is where experience comes in to play, when you rely on the way you have done it in the past. That way, when you get an opportunity to go out and play you feel comfortable with it."
Are you in a difficult quarterback situation here?
"My goal in this camp is to come in and put my own spin on the offense. Provide maybe different perspective having been in a similar system and having been around the league in a few other systems and to provide any kind of niche that I can, add value to the quarterback room not that there needs to be with Drew (Brees) and Chase (Daniel), those guys are great. Just to add that extra experience of nine years and of having been a day one starter and having won some games in this league. Being able to provide a different perspective, maybe a different idea, or a new idea. There are always ways you can contribute to a team whether you are in a competition or not. There are always ways, it is just a matter of the effort you put into it. I have a lot of goals. I come out and compete every day for a spot. I want to work myself into a position where I am in a position to play if called upon and that is my goal every day."
Are you looking forward to Friday's game?
"Absolutely. It is always fun to get out and play. Every opportunity is a blessing. To get out and play, you never know how many more opportunities you are going to get. You make the most of them. Like I said, this offense is special. It fits my idea of how an offense should go. The team that I had the most success with was Tampa with this type of offense. I am looking forward to building on the opportunities that I got and keep getting better."
Do you have any thoughts about facing you former team?
"It is going to be fun. It is going to be a lot of fun. I feel like I know a lot of those guys real well. I'd been with them three years, especially on the defensive side of the ball (players still there). There is a lot of continuity there still and a lot of carry-over. I feel like I will at least know some tendencies. I know they have changed some things up and I have great respect for Mel Tucker and the entire defensive staff. They do a great job over there. I am looking forward to seeing them, they are a lot of good friends. I am looking forward to playing against them and it will feel like old days."
New Orleans Saints Wide Receiver Lance Moore
Post-Practice Media Availability
Talk about the offense performance against the Patriots.
"We need to get a lot better. Obviously, we only scored six points in the game. Preseason or not, we want to put up numbers. We want to put up points, and when we don't, we're disappointed. But that's why we are here. Today was a tough day, as they always are when you come back from beautiful weather to the heat and then you have a couple days off. Our goal is to try to get a little bit better each and every day and build on that."
What is something that you feel you need to work on this season?
"I think the most important think to do this time of year is to fine tone your skills. Coaches always say you try to get a little bit better each and every day and that's definitely important. Usually it's not one specific thing that guys need to work on, it's their total game as a whole. If we can do everything a little bit better, that's going to make what we do on offense move a little more fluidly and enable us to make more plays."
Talk about what you have seen out of Courtney Roby and how he can take advantage of the opportunity.
"Roby is a guy that doesn't talk too much, period. As everybody has been seeing, his play has spoken loudly. He is making plays each and every game and I have to say he is our leading receiver in this preseason so far. It's great for him because he hasn't gotten a lot of reps offensively here, he's been more of a special teams guy, but he's shown that he can step in here and make those plays. The more guys we have, the better. For him to finally get the opportunity in the game has got to feel good for him. He's doing a great job. It is definitely familiar from a couple of years ago when I was getting a lot of balls in the preseason, but that's the name of the game. (When) You get those opportunities, you have to take advantage of them, and he's doing just that."
You go up against this new defense everyday, what have you noticed that's different or that stands out?
"They have a lot of moving parts. Gregg Williams did a lot of things, but he didn't do a lot of things differently. With Gregg Williams, you knew what you were going to get. You were going to get a lot of man-to-man, pressure, and blitzes. With this defense, you are going to get a combination of everything. They are going to play zone coverage, man-to-man coverage, and they are going to bring pressure every now and again. They are just going to switch things up so you can't really key in on one specific thing, and I think that's what's been their reason for success so far for this preseason. It's fun to go against them because it's different and it can only make us better."
It is only the preseason but would you like to get in the box score?
"Want to rub it in? Of course I would like to have a catch. If the ball comes my way it's my job to catch it. If the balls aren't coming my way then there are obviously no catches to be made. We all want to touch the ball, but we all understand that the most important thing for us to do is go out there and just try to get a little bit better even if we aren't touching the ball."
New Orleans Saints RB Pierre Thomas
What are your thoughts on Travaris Cadet? He said you have somewhat brought him under your wing and mentored him since he's been here?
I think he's got a lot of talent. He's showed he has a lot of talent and skills and the talent that we need to possess on this offense. And he's been doing a great job, he's a quick learner and he's been progressing to do better and better each and every day and he shows he wants to do better each and every day.
Does this situation remind you of your own coming in undrafted, where no one really talked about or knew about you just like him this time?
Yea, definitely, he's got a lot of talent, he was undrafted and he's showing everybody it. I told him my side of the story and how I made it and I don't know if he's using it to carry on. But he's using his own ways to get better to show everybody that he can be a part of this team and help out.
What do you see in this new defense?
I see a lot of new things, especially blitz wise. They're doing a great job of putting a package together that is confusing this offense. I know as a running back core we all have to look at so many things because they disguise it so well. It's hard to pick up on it, so they're doing a good job of competing with us. And you want that in your defense, you want a defense that it going to compete with you and want you to do your best in practice. Because practice makes perfect and you know if they keeping doing this in practice, it's going to turn out great to be in the game.
How does Coach Ingalls still challenge you at running back?
He always challenges with a lot of different things. He sees our flaws in each and every one of us. He puts us in a position where we work on them and get better. He always works on the fundamentals, the little things, knowing in pass protection we work on that a whole lot. And then in individual we go together against our linebackers and he looks at our techniques and we watch over them in film. We keeping watching film, he looks at all the little things each and every one of us to work on and get better. He always points it out and tells us what we're doing with our flaws and how we can get better from there.
Everybody has flaws. I have flaws, every one of us has flaws. We just have to keep working on it and get better.
What does Coach Ingalls say about you?
I know in pass protection I need to keep my head up most of the time, because I know I like to put my face in there to take on some of that pressure. I know if I have a shifty guy I can't do that because if I lunge I know he's going to get me. I know I have to sit back a little bit and get a good pop. So it's something I have to work on. Practice, practice, practice, that's all you got to do. Keep practicing.
In pass protection, what linebacker gives you the biggest problems?
Everybody has a different style. Curtis (Lofton), he's got a bull rush shift style. You have to be aware of it, because you never know what they're going to throw at you. I know (Scott) Shanle has a shifty style but he also has bull rush. Jonathon Casillas has a real good shifty style. He could (look) like he's going to bull rush you and then at the last minute do something shifty. All these guys are different and you never know what they're going to throw at you. You just have to be aware, you have to move your feet. You have to learn the techniques, the skill of picking up the pass protection. There's a lot to go with it and you really have to read the opponent and that's where film really comes in handy. When you really get the chance to read your opponent see what type of rusher he is whether he's a shifty guy or more of a bull rush guy.