New Orleans Saints Wide Receiver Lance Moore
Talk about how it seems that the offense hasn't missed a beat.
"Our job is to get a little bit better each and every day. There are a lot of guys that have played a lot of football together before. For us to get back out here, all together, it is fun. It is great to see Drew (Brees) back because we haven't seen him all offseason. (We are going to) try to get that timing back and just make as many plays as we can."
How does facing Steve Spagnuolo's defense help you as a receiver?
"Anytime you can get different looks than the looks you have gotten for years at a time, it is going to help your offense out. Especially early in camp, they are going to hit you with different wrinkles and things that you haven't seen in the OTAs and mini-camps just to throw you off a little bit. Each side of the ball wants to get the edge early on. I think we are going to go back and forth with it."
How rewarding was it to make that catch yesterday over Malcolm Jenkins?
"First and foremost, we are paid to make big plays. Anytime the quarterback has faith in a receiver to have a guy running step by step with him and still throw the ball up there, that goes to show he has trust in me and I've got to do whatever it takes to try to make that play. I knew that if I popped that ball up a little bit, I would have a chance to make a play and fortunately, I did."
What is your reaction to the new Sean Payton banner inside the practice facility?
"It is a little bit creepy. If you look at that face, that is Sean. It is funny every time you look up there. You are going to laugh a little bit. Everybody is trying to remember exactly who it is that he was giving that look to. We had a couple of people in mind. I won't say those names right now. It is a little bit creepy. I feel like he is looking right at me."
Can you talk about Patrick Robinson's performance so far through training camp?
"The thing that people don't realize is that Pat has been a pretty good player for us. He is going to be a solid starter over there on the defensive side of the ball. What he has done the last couple of days are things that he is definitely capable of doing out there each and every Sunday. The better he gets, the better we are going to get. You love to see that, a young guy getting that opportunity and making those plays."
What have you seen from Adrian Arrington, Nick Toon, and Joseph Morgan?
"The best thing that guys in that position can do is play ball. Make plays. Not worry about numbers or what coaches are going to think. Not worry about what the other guys are doing. The moment you start thinking about that stuff, it is going to get to you a little bit and you can't perform the way that you normally would perform on the field. I think he is doing a great job of making plays when the ball is coming his way and you got to keep it up."
Talk about this quiet group of receivers and how you operate?
"I think it is the mentality of this whole team. We always put the unit before each and every individual. The success of our group is more important than any one guy's success. If one guy is playing well, everybody else better play well. You have to jump on board. We are an unselfish bunch. We care about the next guy's success as we would our own. I think that is what makes us such a special and unique unit."
Are you the most flamboyant receiver on the roster?
"Yes. I am out there a little bit. I try to contain myself at times because it is about the team, it is not about me. We work hard at this game; we have done it for a long time. If you don't enjoy yourself out there, you are in the wrong business."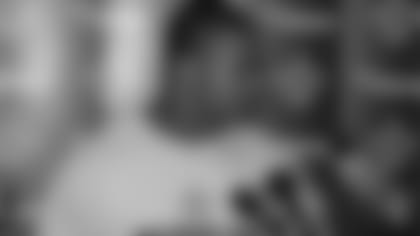 New Orleans Saints RB Pierre Thomas
Post-practice media availability
Did the offense win today too?
"Oh yea, we always want to try to do better than the defense, keep them up with us, do their job out there. The defensive line is doing a heck of a job out there especially when we had 9 on 7 earlier. They did a good job of slowing us down especially the run game, but when we put pads on, it'll probably be a different story. But since we don't have pads on, we'll give them that."
Are you guys chomping at the bit to get pads on?
"I definitely am, just to see what everybody has. It's a different story when you got soft pads or are just going out there with jerseys and playing. But when you put pads on it's a whole different story. You really see the skills that these guys have, some of these younger guys especially. And that's what we want to see-what kind of skills these guys have."
Have you noticed any difference in the tempo of the offense without Sean Payton calling the plays?
"I mean there really is no difference. If Sean was here we'd be doing the same exact thing that we're doing now. Joe Vitt is doing a great job of running this team. He's been setting up a great schedule for us. And we've been doing our job to keep getting better and better for the season."
What do you think of the poster?
"Scary. He doesn't look happy. I don't know, why would you put a big photo up there of him looking mean? I wouldn't say that's a nice picture. But those words, 'Do Your Job', that's something that he always said. You know, no matter what goes on out on that field, as long as you're doing your job, you're okay. And that's what he always emphasizes, do your job. You go out there and do your job, you can't lose."
Talking about doing your job, Pierre. Here you're a veteran now, coming out of nowhere being picked up as a free agent. Drew, Coach Payton, Coach Carmichael can trust you to be an every down back in knowing your assignment. What do you have to work on to produce even better or do ever better?
"I mean, there are ways to keep getting better just like the rest of the guys. No matter how many years you've been in the league, what you know on this offense, what you know on this defense, there's still room to improve. No matter what. For me, I say routes. And also still picking up on the defense a lot more. I'm good at picking up the defense, but there's still room to get a lot better. You know, to see what's happening before the snap and know where I have to be at at all times. Reading my schemes on the run plays, how the offense is going to take on the block, or which way a defensive player is going to take on our offensive lineman, because I have to take the cut off. There are a lot of things out there that I can improve upon. One of them is especially pass blocking."
Especially, to attack a zone dog scheme like Coach Spagnuolo?
"Exactly, with this defense now, it's unbelievable. It's a great defense, I mean, he's got a lot of tricks up his sleeves. I mean I'm still learning a lot of new things with these safeties and linebackers. There's so much that he's putting together out there to confuse our offense. We said it as a running back core that he got a good defense right now. He's really mixing it up and it's looking real nice and he's making us work out there."
I know some years there has been a question of your health, you seem almost in  midseason form out there, is that something tried to get into before the season started?
"Well, you know I want to be well-conditioned by the time the season starts. I want to be at a good condition where I'm at a good speed, and see if I can play at a good weight.  Right now I think I'm at a good weight. And I want to try to keep it. And doing all this and practice, my weight starts to go down. For some guys their weight don't go nowhere, but for me, my weight starts to go down. I want to maintain a nice steady weight, which I think will work for me this offseason. And just keep getting better and better. I still condition to work on. Plays, me and (Darren) Sproles do a little half gassers, running sideline to sideline to keep our endurance up and our stamina. We want to stay in good condition before the season hits so we be ready."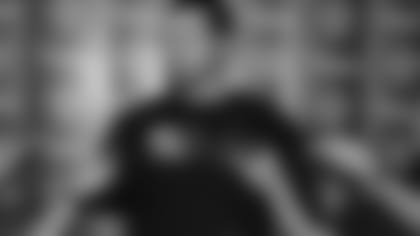 New Orleans Saints Center Brian de la Puente
Is this somewhat new to you?
"Yeah, definitely. We are out here getting better every day. This is part of it, so yeah."
This camp is a little different than last year's camp, right?
"We are focused on getting better every day. Coach Vitt and the whole coaching staff get better every day and that is what we are trying to do."
What are the differences in your mental approach this year?
"Once you start getting comfortable is when things start going wrong. I never get comfortable. That has kind of been my mentality my whole career. Now it is just to capitalize and help this offense as much as I can."
What are you impressions of Steve Spagnuolo's use of the front line talent on defense and the flexibility he shows with that?
"It definitely gives us challenges in practice but I am excited to watch them on Sundays. It helps a lot having a very smart quarterback. I am happy to have Drew (Brees) back and he makes our job that much easier. The defense is very talented and I am excited to let them loose on Sunday."
Are there things that they do that surprise you or are different than what you are used to?
"They run things a little bit differently. It is just a different defensive mentality. It is a challenge offensively. It is a different look just like every week when you are gameplanning for a different team. Right now, we are learning how this defense plays so it is a challenge right now."
Is there an alignment where they line up a defensive end in the middle of the defensive line?
"Right now, they are doing a lot of base stuff. They have a lot of crazy packages. I am sure we will see something like that."
How did you handle the adversity you faced when trying to enter the NFL?
"Just keep your head down and, like that big sign says, just do your job. That is my number one focus is to do my job. If I do my job then I know my guards are in the right place and it goes from there. My main priority is doing the right thing at the right time in the right place."
How much pride do you take in jumping into the starting lineup last season without missing a beat?
"I take a lot of pride in that. It didn't have time to really sink in last year. I prepared to be playing. Being that seventh guy dressing, I was prepared to play both guards and center. I don't know if that helped me but it certainly got me more involved in the gameplan. I had a good grasp of the whole gameplan. Moving forward, practices like this just day in and day out (are about) getting better. Maybe one technique gets better today with me and Ben (Grubbs) or the protection gets better. It is a slow process but we are getting better every day."
Did you ever expect to get the opportunity?
"I did. I knew deep down that I could play in this league. The Saints, Mickey (Loomis) and coach Payton and the whole organization believed in me and gave me that chance. I knew that is all I needed. I don't take it for granted at all. I am working harder every day."
How has the transition been from Carl Nicks to Ben Grubbs?
"Ben is an outstanding guard. Communication and getting on the same page is a work in progress. I think we are further ahead than I was expecting to be. He stepped in and he has been doing a great job. I am excited to get out on the field."
Do you have players on other NFL teams that you talk to?
"Throughout the year, Alex (Mack) and I do talk. If he is watching tape on whoever we are playing that week and they are playing them the week after, I will call him or text him and ask for some tips. The Cal family is very strong. We are scattered around the league pretty good right now. I have buddies all over the place. We definitely talk throughout the season which is fun."
How long did it take you to realize the new sign and what was your first thought?
"Right away. I think everybody has gotten that look at some point if you have been here for any amount of time. It is like having him here. I like it up there. It keeps you in check. The eye in the sky is literally right there."