New Orleans Saints Tackle Jermon Bushrod
Media Availability
Tuesday, June 5, 2012
How are you working with Ben Grubbs and getting used to him playing next to you?
"It is going to be a little different because I played the last three years with another player (Carl Nicks). He is a Pro Bowl player. He is good. He understands the game. I think we have done a good job communicating and trying to have success. That is really what it is all about at the end of the day."
Does he ever ask about what Carl would have done in a situation?
"No, because he has to find his own way and figure out how we are going to do things. We have different techniques, our different calls, our different protections, and our different run schemes. He is going to see how other people do them. It is all about how we work together. It is a good thing, when you have somebody new coming to the line, these OTAs and Mini-Camp are a great way for all five of us to really gel together and figure out how we are going to get this thing done this year."
Is it helpful to not have contact right now while you are getting used to working with Ben?
"Yes. I think it is very important that we get our footwork down. We definitely get our technique down, get our scheme down, and know how we are going to play different looks. He is a very smart, cerebral player so I am definitely excited about the situation at hand."
New Orleans Saints Guard Ben Grubbs
Media Availability
Tuesday, June 5, 2012
How has the transition been here? Has it been tough?
"It has been fairly easy. Anytime you change locations, there is some change to it. I know what I expect from myself. I set my standards high. I think I bring a lot to this team. I am trying to gain everybody's respect, learn the plays and technique, and when that ball snaps, go to work."
Was it an easy decision to come here?
"Yes. This is probably the best situation I could have put myself in. I am blessed to be here, close to home. I came to a winning team and a good group of guys. The coaches and my teammates are great. I am glad that I made this decision."
Is it helpful that there is no contact right now while you are learning?
"Yes, definitely. By the time we put pads on, everything should be slower for me. I am glad that we have this time. Last year, during the lockout, we didn't have this opportunity to get better. I am glad that I am starting out from step one and working my way up. Even though I am a six-year vet, when you go to new scenery, you have to rebuild your train of thought. What I knew then is not the same now. I just have to build a new muscle memory and everything will be good after that."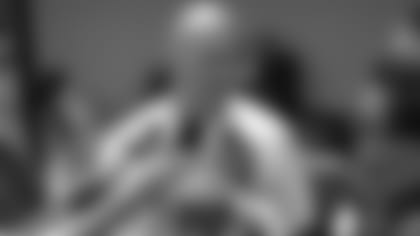 New Orleans Saints Linebacker Scott Shanle
Media Availability
Tuesday, June 5, 2012
Is it odd practicing without Drew Brees on the field?
"It is weird, especially for guys that have been here since Drew has been here in 2006. We are confident that Drew will be there this year on Sundays and that is when it really counts. If anybody can take this much time off and excel, it is Drew Brees."
Does he miss out on team-building?
"I think for some of the new faces, to get to know Drew would help. A lot of the pieces he is going to be working with on offense are a lot of the same pieces he has worked with. They know what he brings to the table and he knows what they bring to the table as well."
What is the new dynamic at linebacker?
"It is definitely different. There are a lot of new faces. It's a lot of guys who have played a lot of good football in the NFL. There is instant respect there as far as I'm concerned because I have seen these guys play a lot of football over the years. They are great guys and they fit in to our locker room well which always makes a huge difference. It will be exciting."
Is the plan to mix and match you guys in different positions?
"Today was the first day I went at Will. I had been playing Sam. I think it is just one of those things that we found out last year because of the injuries, the more you know the better. You really don't want to peg guys into one position at this point in time and through training camp. Then, when an injury happens, guys aren't versatile enough. It is not a bad thing to learn this right now."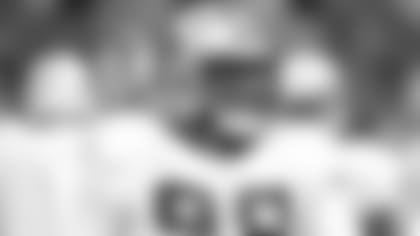 New Orleans Saints Defensive Tackle Sedrick Ellis
Media Availability
Tuesday, June 5, 2012
How is the new defensive scheme shaping up so far?
"I like the way that it is going. We have smart players on this defense. It should be exciting to get out there and see how we make this thing run."
How much can Brodrick Bunkley help working alongside you?
"He has proven himself in this league with what he can do. Great in the run and he does some great things in the pass game also. I am looking forward to playing with him. He is a great teammate and really vocal on the line of scrimmage which is great for his teammates. It should be exciting."
With a lot of changes, how much of an adjustment is this for you?
"It's not much adjustment, it is just learning the new scheme. As far as who I play with, that will all work itself out in time. Like I said, I am excited to play with these guys. They all seem really smart and anytime you have players like that beside you, it should be a good thing."