New Orleans Saints Safety Malcolm Jenkins
Media Availability
Wednesday, June 6, 2012
How are you working with Roman Harper as a tandem?
"Every day we get a practice together we grow tighter as far as working things out on the field and being problem solvers. We work together on a lot of things. From a bonding standpoint, we have gotten better each day. From our performance from last year, we won't know until the season comes. Right now, we are working on this new scheme and figuring out how we both fit into it."
What specifically do you want to work on for this coming season?
"I think the biggest thing I wanted to work on was my some of my tackling. I feel like I tackled well last year, but there were a few times where I was inconsistent. And playing the ball and being able to get more production with interceptions. Those areas will be my focus this offseason as well as learning the defense, being a leader and being the quarterback of the secondary."
How different is this defense for you guys?
"It is a lot different but I think we are learning fast. I think we are starting to get the hang of it. Our guys are starting to make plays and get closer to the ball. The more and more we get familiar with it, it will do well for us."
What is coach Steve Spagnuolo like?
"He is not too animated but he is all about business. He lets us know what he expects of us and he treats us like men. He has given us a lot of freedom in the defense. He has a lot of faith in us in problem solving on the field. He has given us a ton of install and things that we can use on the field on our own and I think we like that."
Is that Boston accent ever a problem?
"I am from New Jersey so he is not from that far away from me. I see a lot of guys. Roman (Harper) struggling with understanding what he says half the time."
Does it give you more incentive to perform with some people questioning if this is a playoff team?
"No, I think we know what we have already. We have a playoff caliber team. We can talk about it all we want but we have to go out there and get better and perform on the field. That is what we are focused on. We have been in the playoffs the last three years. Usually, you don't have those opportunities in the NFL, to be in the playoffs year in and year out.  We know that window might not always be open so we are trying to take advantage."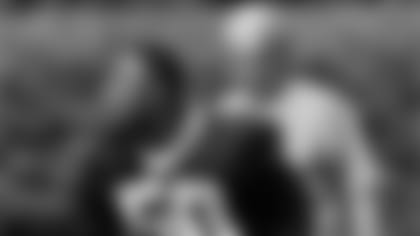 New Orleans Saints Linebacker Curtis Lofton
Media Availability
Wednesday, June 6, 2012
How is the process of learning this defense going?
"Coach (Spagnuolo) has put a lot on our plates and all of the guys handle it well. We just have to take it one day at a time and keep improving."
What is it like under the scheme with Spags?
"There is a lot on my plate as the middle linebacker. It is definitely challenging. I am really growing as a player throughout this system. I will keep continuing to get better."
How has the learning process been?
"We're handling it pretty well. We haven't had any setbacks. Guys are taking home playbooks to study and are committed to getting better every day. That's how we're going to get better as a defense."
What is it about this defense that fans will like? What are you guys going to be able to do with this defense on the field that will lead to success?
"We do just about everything. We are very multiple with everything we do. Offenses have many packages and we have everything that can go with that."
What do you like most about this defense with Spags?
"I really like his aggressiveness. I feel like it puts each position in the best place to succeed. As a linebacker, we are aggressive and that is where I want to be."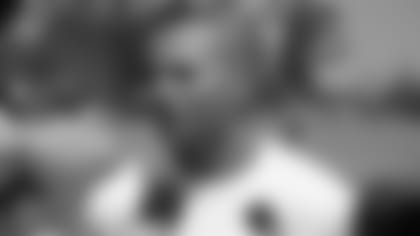 New Orleans Saints Wide Receiver Lance Moore
Media Availability
Wednesday, June 6, 2012
What is it like around camp without Sean Payton and Drew Brees?
It is different but guys are working. Our mentality is not to worry about the guys that aren't here, it is to worry about the guys that are here, the guys that are doing what it takes to get better every day. As long as we are doing that, we're good."
It looks like business as usual out there, is that the approach you are taking?
"It better be. We are not feeling sorry for ourselves or anybody else. We are here and we feel like we still have a very good football team. We definitely can do some damage this year. We are starting from the beginning now and trying to do what it takes to get a little bit better each and every day and just keep stacking those chips."
Is there more learning going on at this point in camp than in years past?
"You are always going to have a bunch of rookies and a bunch of new guys that need to learn the system and how we do things. For the guys that have been around here, it is work as usual. We are coming out and it is a routine. We have been to mini-camps and OTAs before and it's fun. We are just trying to have fun out there."
Do you keep track of what is happening with Drew Brees?
"Of course. It is not my job to worry about what is going to happen or how much money he is going to get. Obviously, we want him here. He will be here when he is ready to be here and when things are right for him. Until then, we will work and be ready when he gets back."
How do you think that Chase Daniel performed today?
"I think Chase did a great job today. He made a lot of good plays, a lot of good throws. That is our goal for him, to get him a little bit better each and every day.  Especially as a group of receivers with a lot of veteran guys, if we can do whatever we can to help him out there, that is what we are trying to do."
Are you surprised that there was a scuffle already at practice?
"No, I'm not surprised. It is hot out there. The weather gets to you a little bit. Obviously, we have been going against each other for three weeks now. It doesn't surprise me. I'm surprised it happened so late actually. It is good to see but I am glad nobody got hurt."
How do feel the receivers performed today?
"We are receivers. We are paid to catch footballs. It doesn't matter if it's one hand, two hands, or three hands. Whatever it takes, that is what we are going to do. Hopefully we will make more plays."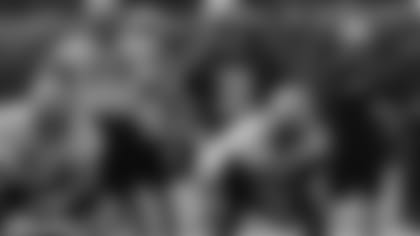 New Orleans Saints Quarterback Chase Daniel
Media Availability
Wednesday, June 6, 2012
Can you talk about how you feel in taking the majority of the snaps?
"I feel good. I feel real good now. It's running smooth. Nickel day is always a tough day because they are running a bunch of pressures, but I felt we did some good stuff. There was just one bad drill for me today in the pick on seven-on-seven to (Malcolm) Jenkins. He came down on a safety route and I didn't see him. On another play Johnny Patrick made a hell of a play. I thought it was a touchdown for sure. His leaping ability shows that he is competing for that nickel spot."
Even though you want to complete as many passes as you can, as a teammate does it make you feel good that your defense is getting their hands on balls from aggressive play?
"Yes, I was throwing the ball on the seam route and Johnny Patrick literally jumped 18 feet in the air to grab that pick. I turned away, looked back and said how did that happen? It is good to see that he's competing even though it's only his second year here. He's up there with them."