New Orleans Saints TE Jimmy Graham
Media Availability Transcript
You tried your signature dunk out at practice. When did you start doing that?
"I've been doing that ever since I've been playing. It brings a little basketball, a little fun to practice. Every time I score I have to dunk it.
How do you raise Rob Gronkowski's spikes?
"His spikes are pretty good. He has some velocity on them. I'd rather dunk it anyday."
Have you had a chance to sit down with Rob or Aaron Hernandez so far?
"No, I trained with Rob a little bit before the combine. I talked to Hernandez before the combine, but since then I've been really busy. I watch a lot of them on film and I take what I can from them and their games. Hopefully we can sit down.
What are some of the things you've been able to pick up from their games?
Gronkowski in the red zone, the way he uses his body and size, me and him are a similar size. Hernandez, the way he runs his routes. He's a technician in his routes. He really gets guys off balance with some quick false movements. Those are some things I'm trying to add to my game."
Drew Brees talked about having a better year this year than last, but maybe not putting up the same numbers from a year ago. Could you talk about that personally?
"Definitely. You measure the year on wins, so that's how you measure it in the NFL. It's not yards, touchdowns or catches. The bottom line is wins. Hopefully we can get more than last year."
Can you talk about your personal and professional and on-field relationship with Drew?
"It's steadily growing every day. He's done such a lot for me. He's hard on me. He wants me to be good. He wants me to be a lot better. I think he always tells me every day that he can see the growth in me, but he knows there is so much more room to grow, so I work every day. When you have a quarterback who has that much confidence in you, a guy who tells you each and every day that you're his guy, that instills confidence in you."
Can you talk about Rob Gronkowski? Is it a healthy competition? Talk about the relationship between the two of you?
"I really haven't had an opportunity to talk to him since we trained together at the combine. But, there's definitely a little completion there. Me and him have similar numbers, it seems like every writer and every media outlet compares us somehow, but really the competition is a friendly competition and is about getting each of our teams ready to play. That's what the focus is."
"Not really. Maybe tomorrow. I'll put on a black jersey and play a little defensive end. Since he doesn't play special teams. I can't go on one on one."
What's a defensive player have to look like to stop one of you guys?
"I don't know. Hungry. I think that our teams exploit very well. We're very similar. (Tom) Brady and (Drew) Brees they go to us in the red zone to use our size and our bodies."
Prior to your team being punished, the team that was punished the most for allegations was New England and they won all their games, set a bunch of offensive records and went to the Super Bowl that year. Is there anything for you guys to learn from that?
"Definitely. They have a great team and they've won a lot of games. They are also a class organization who handled that situation amazingly. We can learn from that, how they handled that situation and how we'll handle it going forward."
Of course they had their coach?
"Yes, but we have coaches and we still have our leaders. Drew's (Brees) still here and a lot of guys are stepping forward and we take it one game and one practice at a time."
That 2007 Patriots team was a tough team with a lot of veterans. Is this is a similar team?
"I think that's a fair assessment. If you look at a lot of games from last year, Sean Payton wasn't on the sidelines because of his knee injury and last year Drew broke records."
Did you have a relationship with Rob Gronkowski or Aaron Hernandez before?
"Yes, Gronk I trained a little bit with before the combine. Hernandez, I talked to a little bit. I haven't been able to connect with them much these first two years. I'm excited tomorrow or at the game, we'll sit down and talk to them a little bit and pick their brains for how they feel and how last year was for them and what they're doing."
Do they use their tight ends differently than how you are used by the Saints?
"No, I think they do a great job with matchups. We exploit them the same way (Tom) Brady does. Drew knows (Darren) Sproles is coming out of the backfield. He's on a linebacker and I'm on a corner who's shorter and a little slower. We exploit those matchups just like they do. I think they use the tight ends very similar."
With the way the tight end position has evolved, do you think ten years ago, you would have made the move from basketball to football?
"Definitely. That door was open before with guys like (Antonio) Gates and (Tony) Gonzalez in Atlanta. He's been doing it forever. He was a basketball prospect. If those guys hadn't laid down that foundation, I'd be playing basketball overseas or maybe in the Olympics."
Are you or Rob Gronkowski better?
"I don't know. People will compare us the next ten years of our lives and of our careers, where there will be a better assessment. I think we'll be in competition for the next ten years, because of the type of players we are."
Do you think that the tight end position has sort of replaced the fullback, especially with spread offenses?
"There are guys who do a lot of fullback. It is going both ways. Really now fullbacks are tight ends."
It seems like tight ends also go away with spread offenses. How will your position still be around?
"I think we match up well. When we play in the middle, not only can you block, you can be at the point of attack. You can stretch a defense and they have to respect the middle of the field."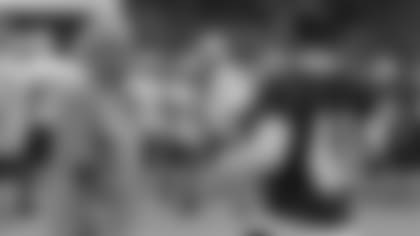 New Orleans Saints Safety Roman Harper
Do you think Malcolm Jenkins will be more comfortable this season?
"The biggest thing is that he is making plays on the ball. He is continuing to see it all the way in. It is so much different, the defense that we are playing now to where our eyes are seeing the quarterback. We can the release of the quarterback, we can see the ball come out. We can actually drive it and get some good hands on it instead of always playing man with our backs turned to it and turn our head to it and try to react to it. He is making plays on the ball and I am loving it. It is making us get some turnovers. We are all expecting big things out of him this year."
Are there lessons to be learned from the Patriots after their undefeated season after their league sanctions?
"I think the biggest thing was Dave Thomas, he was on that Patriots team. When everything first came down about Coach (Sean Payton) and everything, we had a meeting. It was right when we were starting offseason workouts and all of the players came in. Dave Thomas said he had been on that team and the biggest thing was that it will only be a distraction if you let it be a distraction. That was the motto that they really took in that locker room and we took the same thing. As long as we stick together in our locker room, which is a great one, and we don't let outsiders get in and continue to be a distraction, it won't distract us and we can continue to win games and continue to stockpile wins and see where we are at at the end of the year."
They seemed to play mad all year like they had a lot of purpose…
"I think they put up a lot of touchdowns too so that always helps. New Orleans, it is an 'Us vs. the world' attitude and the city is like that. They always think someone is out to get them but its good though. I am glad we have a little bit of a chip on our shoulders. Some of those other guys and the younger guys can jump right in. It will be fun this year, to see how we do. We have talent all across the board. The biggest thing is just trying to come together all on the same page as fast as possible and go out here and win games."
Who is a tougher matchup, Rob Gronkowski or Jimmy Graham?
"It is two totally different animals. I hate to call them animals but it is what it is. Jimmy is going to run his route. Really we should be talking about all three of them, let's be honest. Hernandez is a good one too. Hernandez has the most shake at the top of the routes, he is getting open. He will break a guy off on one-on-one coverage, no doubt. Jimmy is more of a strider. He is going to be faster than Gronk. He is more of a strider and he comes out of the break and is like 'Drew, throw it up, it is like a rebound, I am going to get it.' He is going to go get it. Then you have Gronk, he is a big guy. He is a big target. He is going to, little body action, and of course (Tom) Brady is putting it right on him. Gronk makes his money after the catch. If you look at him, that is what makes all of his money. They are three totally beast. All great players in their own."
Do those three guys demonstrate how the game has gone at the tight end position?
"It is usually the quickest target to the quarterback, somebody right there inside. When you get a good tight end, you lean on him. Most quarterbacks do. They are bigger and more athletic than linebackers and DBs, it just makes it harder on them too."
How much better are you going to be going against Drew Brees and Tom Brady in your season preparations?
"It helps. Anytime we can go against #9 every day, with our offense, it always helps us out. We always get some good looks, see what we are going to be able to do, see how we match up and it seems a little bit easier when we go against other teams. Today, Tom and those guys did extremely well. They protected Tom well. He is going to hold the ball, he is going to take his time and he is going to be extremely accurate with downfield throws. Those right there are the different looks that we don't normally get in practice so it always helps to get different looks and different feels from offenses and things like that."
Has the role of the tight end changed how your position is played since you have come into the league?
"Everybody wants to use them. Everybody wants a big, athletic tight end in the middle that is running down and is a tough matchup on safeties and linebackers. Now that you are seeing tight ends make 70-80 catches a year and that is nothing to them and catching for over 1,000 yards. Back in the day that just never happened. You had it every now and then. Tony Gonzalez was a special case and things like that. Now, you have three of the four of the best tight ends playing out here at practice today. It is changing the game. If you look at New England, they are running 12 personnel all game long."
Did you notice you were playing with a chip on your shoulder even in the game on Sunday?
"No. The biggest thing is that we have a sense of urgency when we come out on the field. We want to play fast, we want to play the way that we want to play. We aren't going to change for anybody and we are going to play the Saints way. That is how this thing was built and that is how we are going to continue to play."
Talk about how much talent was out here on the field today.
"It's not too bad. You have two amazing quarterbacks, you have three great tight ends, you have four or five amazing wide receivers. I didn't even go against the O-linemen today so I can't talk about those. And we have a stable of running backs on both sides so it is definitely tough on both defenses today, hopefully we all got some good work. It was challenging out there and it was fun to get out there against another color jersey. It is always fun when you can go out there and match up and actually not really try to kill each other but still going out there and competing and having a good time."