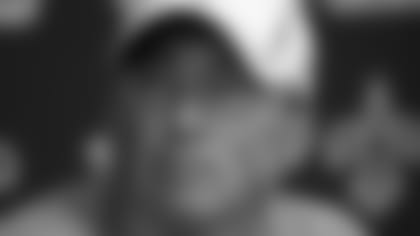 Do you feel like Chris Ivory would have played at some point if Darren Sproles wasn't hurt?
"We obviously have a good group of those guys. His opportunity came along with Darren being out. It was a nice week for us. We had a good balance and I think that's what we try to aim for every game. We'll try to do the same thing this week."
What was different to get more productivity out of the running game this week?
"I think we were really efficient on first and second down. We had a limited number of snaps overall, but a limited number of snaps on third down as well. So we were able to sustain some drives and the run game was going so we just stuck with it."
What do you hope to get out of Charles Brown in place of Zach Strief?
"We hope to get production out of him. He's been in this role before. He's started for us before, so it's the next man up. We're not going to limit what we're doing offensively, running or passing, because he's in there for Strief. We expect him to play and expect him to play well."
Is he kind of on the same path that Jermon Bushrod and Zach Strief were on because he's had to wait his turn?
"Yes, we're very comfortable with Bushrod and Strief in there. We're glad we have him (Brown) though for situations like this. And again, last year when he was playing we were real happy with how he played."