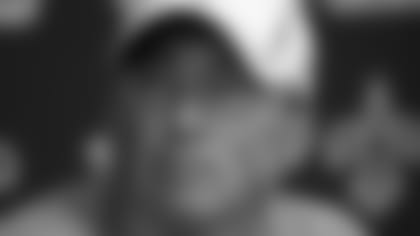 How much do the injuries at the right tackle position impact your play-calling?
"I would say this first: when you are getting ready to play the 49ers, regardless of who is playing tackle, you have to worry about that position. We, obviously, put together a game plan this week with the thought that we're going to have to help those guys regardless of who's out there playing."
How would you say Bryce Harris has reacted to his situation and being put into the starting lineup?
"I think he has responded really well. Last week he got thrown into the fire in a two-minute drill. As the game evolved, he calmed down and he played well for us."
How much use is last year's playoff game against San Francisco?
"I think when you're familiar with their personnel, that's an advantage or a plus. They have the same thing on their side. I think you study that film hard. See what their plan of attack was to try to stop you and what they did last year. Having those films when you play a conference opponent, or a division game where you're playing Tampa Bay or Carolina or something like that, those games that you played the first time are always valuable to you."
How do you think that the team played in the game last year offensively?
"I think that turnovers were the biggest issue that we had. Offensively, we weren't good enough. We had a couple drives late in the game but early on, they did a good job and credit is to them."
Against a good run defense like San Francisco, is balance absolutely essential?
"I think we need to have balance. I think that was something we got away from last year. We have to have some balance. When we have balance in this offense, that's when we're most successful."
How hard is it to run on that defense?
"They're a good defense so we have our work cut out for us."
You used Darren Sproles a lot against them last year. Was that something you thought he could be effective with?
"Well, Pierre (Thomas) went down and then we kind of got into a little bit of a throwing game on our side. That's his bigger role so that's why he played a lot of snaps and it was too many. I have to have to do a better job of keeping balance."