New Orleans Saints Head Coach Sean Payton
Media Availability
Wednesday, September 14, 2011
Opening Statement:
"Today's injury report: Garrett Hartley (right hip) did not practice, WR Marques Colston (right shoulder) did not practice, S Roman Harper (right ankle) did not practice, WR Lance Moore (groin) was limited, and DT Tom Johnson (left calf) was limited. We signed WR Montez Billings to the practice squad in place of QB Sean Canfield. We're back on our normal schedule with today being our base installation of first and second down. I thought we had a good practice. We get into a normal routine now with tomorrow being more of a nickel emphasis."
After watching what Chicago was able to do to Atlanta, how much of a challenge do you think the Bears will be this weekend?
"This is a team that's easy to forget that played in the NFC Championship game a year ago in Chicago. The last two-thirds of the season they played really good football, complementary football both offensively and defensively and in the kicking game. The film against Atlanta was definitely a good indication of the type of team we're playing. You saw them really do a good job on defense, creating the turnovers, pressuring the quarterback, and that's a really good offense they played. Offensively they capitalized on that field position and came up with some big plays themselves. When you watch it not only on offense and defense but you watch it in the kicking game, Lovie (Smith) and his staff have a formula and it's been very good to them when you look at their history. They played to it on Sunday and you can see that in their tape."
Can you talk about their defensive line being so productive?
"There's a point in that game when it became one-dimensional. Once that happened, all of a sudden the pressure heats up and it becomes easier for the defensive line to rush the passer. They play with great effort and energy. (Julius) Peppers has done a great job. The rest of those guys up front are very active. It's a really good front defensively. It's an experienced defense when you look at the returners coming back off of last year's team. They know and are very well-coached in their scheme and they know what they're looking to do with each defensive alignment that they call. They do a great job of keeping the ball in front of them. Historically, since Lovie's been their head coach, they're probably second or third highest in the league with takeaways by that defense. It's something they obviously do a grat ob of emphasizing and it shows up on film."
You haven't had much success in Chicago.  Are you glad you get to play them at home?
"A lot of those games after a while they begin to run together. There are three of them. Maybe not so much the NFC Championship game, but the other two, when you play a good team and you play them either on the road or at home there are still some key elements to what wins and loses and we have to do a better job of protecting the football when we play them this time than we have in years past. It seems like such a long time ago, and yet some of the things we just talked about happened in the Atlanta game on Sunday happened to us when we were there. We know it's a big challenge for us, and the focus is for us to put together three good days of practice this week and get as much tape-work as we can on our ourselves and our opponent and understand the strengths of this opponent."
Do you think it's imperative that your defense make something happen since their offensive line has given up so many sacks?
"I think you're always mindful of your play call balance defensively. If you're trying to get pressure, if you're not necessarily blitzing, obviously when you elect to pressure or blitz you're hoping to speed up the clock in the quarterbacks head and change up the timing. That's an important element to each week's game and certainly it's an important element to this week's game. You have an advantage to playing at home where the crowd noise gives you a slight edge in regards to the snaps, but I think that's going to be an important indicator in this game as it pertains to both teams."
You only allowed seven offensive points against the Packers in the second half.  Were there some noticeable things your defense picked up to stop them from scoring?
"I thought we tackled better in the second half and the third down numbers were better. This is a different type team that we're playing and we jump into it quickly. We had an extra work day the day before yesterday and we should have plenty of time to see the tape and look at last year's film, the preseason, the Atlanta game, and pay close attention to the scheme and the players in the scheme for Chicago."
What kinds of problems does Devin Hester present for your special teams?
"He's an elite returner, that's a problem, both as a kick returner and a punt returner. He's hurt us before. He's hurt us before as a receiver getting behind coverage up there in overtime. He's dynamic with the ball in his hands. I think he's gotten better each year as a receiver. He can be involved in a Wildcat formation when the ball's in his hands, usually a reverse, and quick screens. His speed is noticeable when you watch the tapes and I think clearly you have to have an idea of where 23 is offensively. It's easier to know where he's going to be on kick return or on punt return. With that being said, you have to have a plan with what you want to do with him as a returner."
Has the kick return element surprised you with the way it turned out in week one?
"I think it was pretty much what we thought. You're seeing some teams make those decisions. I mentioned to someone the other day that I think how long the ball is in the air has a lot to do with the decision of whether to come out. The kick that's not as high or does not have the same hang time can be brought out with some momentum at the three. It's the kick that's backing you up five yards deep that seem to be in the air a little longer that people seem to down it."
What's your rule of thumb with the kick return?
"In talking with Darren Sproles and Greg McMahon about it, and we've talked it a lot, is let's pay attention to hang time and how quickly this thing gets into your hands as it pertains to the ball flight. Whether it's in that three yard area where you feel like you're catching it moving forward as opposed to backing up where it takes a half second to after you field it, Darren's a smart player and has good instincts so between him and the blocking back they can make the decision. They're never wrong for downing it and having us start at the 20. We have to be prepared for it because at some point the lob kick is coming that's going to be fielded at the five or at the eight and you are returning it or covering it. I think it's just a matter of time before you start seeing some of that and we saw some of it this weekend."
With the new last week about Marques Colston's injury, how does that affect your strategy at wide receiver?
"It's the next guy up, and that affects Devery Henderson and Robert Meachem. Last week Adrian Arrington was up and Lance Moore was working today and looked pretty good. It's happened before with Marques and it's happened before with several of the other players. Fortunately we have a group of guys that know more than one position. They understand the scheme. They've been in it long enough. We feel pretty good about being able to fill in the next player and in the meantime continue the rehab on Marques and get him up to speed as soon as he can."
It seems like Jay Cutler has rebounded both physically and mentally from last season?
"He looks sharp and looked sharp the other day. When you have a defense that's playing as well as they played, you begin to understand that there are a lot of other things that can help you in your performance as a quarterback. I think Matt Forte has given them some of that balance that they're looking for. He has an extremely live arm. He can make pretty much all the throws that you look for and it was a good start for him."
Brian Urlacher looks like he hasn't lost a step.
"No, he hasn't. He's outstanding and he does some things in their coverage that are challenging when we all talk about a conventional Tampa two defense. He's someone that can run the middle and still play in front and downhill on passes underneath. They do a great job of getting to the ball. They're very well-coached in their philosophy and their scheme and they do a good job of getting the ball removed from the ball carriers or the receivers. We have to be real smart and we have to understand when the down is over as well."
Is Matt Forte a guy that can hurt you in the passing game as well?
"You saw it the other day. He had a big play off what looked like a screen. He has very good hands. I think he's very comfortable in the passing game and you can see that and is a true runner and has good vision. He's someone that has been a really good football player for them and I think you're starting to see him do a lot more than just play the running back position. He's a guy that has a lot of skills and you have to be alert for him not only as a runner but also as a receiver."
Do you remember how you had him scouted coming out of college?
"He was actually at the local workout being that he's from Tulane. Clearly he was a player that we were very familiar with. He's had a great start to his career and he's playing very well."
How do you prepare for a player like Brian Urlacher as active as he is and taking into account what happened personally this week?
"You prepare for that scheme and you know that he's the captain of that defense and you prepare accordingly."
Is Adrian Arrington getting to that point in his career where you're ready to see some productivity from him?
"I think we will see his snap count go up. He's someone that knows all the different positions. Certainly he starts as an X for us or that's where he initially aligns, but he can play in the slot and he can play the Z position. We have a lot of confidence in his ability whether he's playing outside or he's playing in the slot. He's very intelligent and he's a big target and he's been here and knows exactly what we're doing. The timing and the confidence level in him is very high."
Based on what Darren Sproles did against Green Bay, can you comment on what your expectations are for him against Chicago?
"I think week to week he's a player that you try to get the ball to in space. He's a player that obviously is going to have punt return and kick return opportunities. He's a guy we feel comfortable handing the ball to and throwing the ball to. You just try to mix the personnel groupings to where he's on the field. Sometimes he's in with another running back and other times he's the featured H and keep looking for ways to do that. He's very smart and he makes good decisions in space and he has a great burst. You saw that in Thursday's game in Green Bay. It's up to us each week to find a way to put the ball in his hands in a similar way that we've done in the past with Reggie Bush. That role for him is in pony, it's in regular, it's in nickel, and there are a lot of opportunities for us to get him on the field and get him involved."
Were you trying to get a substitute onto the field for Marques Colston at the end of the game?
"We did but the problem was that it was going to be hard to sub because the clock was going and so the one play he played was the next play, the pass interference. At that moment, no one knew the significance except for the one play when he had the reception it was his shoulder. Drew Brees got the formation orchestrated and we got the play off and then after that we were into a goal line set. I don't think that with the time and where it was that we were trying to sub for him as much as get the next play communicated and here we go."
Is it also his awareness that if he stays down you're going to lose ten seconds?
"We have to get a play off there. We have to get a play into the end zone and he just obviously doesn't become a primary receiver in that situation."
Was T.J. Houshmandzadeh a player that you were trying to contact after finding out about Colston?
"No, we've not contacted any receivers. I'm familiar with T.J. Houshmandzadeh and Randy Moss. We have not reached out to any receivers. We're in a position where we're deep enough and we feel good about the guys we have."
With the length of the injuries, you didn't want to bring anyone in?
"Lance Moore had a good day of work today and so we're talking about the potential of Lance coming back and losing Marques."
Was it a break or a crack with Marques?
"It was a fracture. What they put in was a small plate to stabilize it. He's out of a sling and everything now. Now it's just soft-tissue flexibility. The time frame when we announced it was four weeks and I believe the timeline is very realistic. He's feeling good. It's just a matter of getting the stitches out and letting the bone heal. The type of fracture he had was one that was fairly clean and was able to be repaired pretty thoroughly."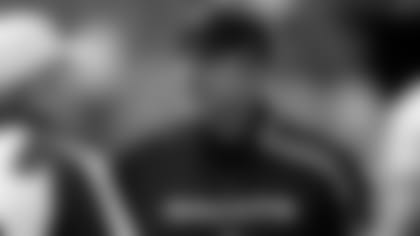 If Marques Colston stays down on the play he was injured, would there have been a runoff?
"Yes. What I think was going through our minds with me and Drew Brees was next play, get it aligned. The challenge sometimes when the clock is moving is not in the field with the two-minute offense but what happens inside when you get inside the fifteen yard line, your list of two-minute plays is greatly reduced to a couple. What we tried to do was give Jimmy Graham a jump ball opportunity to our right and released Darren Sproles and Drew kind of had him at a little angle and he escaped when Drew scrambled in the pocket. It was heads up. I don't know that right at the top of our minds we thought, 'We can't take an injury here.' I think the feeling was 'Let's get through this next play' and we'll have a chance to get it into the end zone."
The production at wide receiver doesn't seem to go down when someone gets hurt.  Can you talk about that?
"We have a group of receivers who have been in this system for a while and they have a lot of experience. Periodically each and every one of them has missed time because of an injury. Their knowledge of the system and their understanding of their quarterback and the type of system we run, there are certain reads that make it maybe a one in progression or a two or a three. The point I'm making is it's not an offense where we know that a receiver is going to get ten catches in this game. We may think that might happen. There is some position flexibility with the position group and it's a credit to those players that they study it closely and they understand the whole scheme so a guy like Adrian Arrington comes up to play X, a guy like Lance Moore has played X, Devery Henderson has played there. We have experience there and we have depth. I think that's probably a big part of it as opposed to losing a player at a position group where you don't have that experience or you don't have that depth."