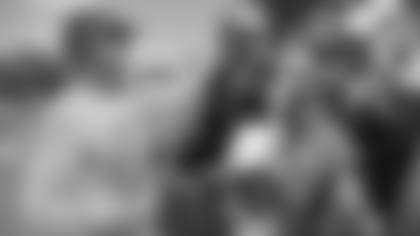 New Orleans Saints Head Coach Sean PaytonPre-Training Camp Press ConferenceThursday, July 28, 2011
Opening Statement: Let me start by trying to bring everyone up to speed with the transactions to date. The following players cannot be signed to their contracts until tomorrow at 5 P.M., but the following Saints' unrestricted free agents who have agreed to terms are: Lance Moore, Jermon Bushrod, Scott Shanle, Leigh Torrence, Chris Reis and Jo-Lonn Dunbar.
We traded Running back Reggie Bush to Miami for Safety Jonathon Amaya and then a swap of undisclosed draft picks. There are two players off of last year's team, they have not signed yet with their new teams, but have agreed to terms with new clubs: Usama Young and Remi Ayodele. Of the 2011 draft picks, the following players have agreed to deals and are present: Cornerback Johnny Patrick, Defensive End Greg Romeus, and Linebacker Nate Bussey. That leaves Cameron Jordan, Mark Ingram and Martez Wilson yet to be signed.
I don't think I need to go through the whole list, you have covered all of the undrafted rookie free agents. Obviously, it's been a busy week. A little bit unprecedented. Mickey (Loomis), Rick (Reiprish), Ryan (Pace), and Khai (Harley) really haven't gotten a lot of sleep. We have taken a pretty good workload and efficiently managing it as rapidly as we can. Today's schedule, as a reporting day, was a team meeting, which was an operational meeting, at 2 P.M. and then we had our conditioning test. Tonight, we will meet on football.
The players have gotten their physicals. They have kind of gone through and gotten their equipment and then tomorrow we will be in to a practice schedule. These first two days will be non-pads. A little bit about the challenge, it isn't until next week, and we don't know specifically which day, that the unrestricted free agents can join us on the practice field. We know that they can be involved in meetings once they sign tomorrow at 5 P.M. but they can't be on the practice field, for any reason, until next week when there is ratification. That may or may not be around 15 players. I don't know if that number is dead on.
The challenge that brings you a little bit of is, how do you practice? How do you begin practice? What we are trying to do, beginning tomorrow, is start with our install on Friday and Saturday. We get to Sunday, Monday, Tuesday, and then depending on when the rest of the players join our team, go back and pick it up and start that part again. I heard Drew (Brees) briefly at the end, I think more importantly than ever, we need to do a great job managing our time and our snaps at practice.
We have to do a good job early on at managing potential injuries. I think it is imperative that we don't try to hurry to install everything we have offensively, defensively, or in the kicking game with the idea that we lose several talented players down the road that can't pick it up and then aren't able to make the team because they don't know what to do. I think the challenge for us as coaches in the short time frame is to slow down the pace a little bit. I thought they ran better than expected at the conditioning test.
And then try to get a feel for where we are at. To get a sense of which guys we need to bring up to speed on a conditioning standpoint. We've got a good chunk of time, and we just have to manage it, maybe a little bit differently than we have in years past. It's a unique year. I know this, it's good to have those guys back in the building. Its good have these guys back on the practice field. We are all, as coaches, as everyone in the organization is, excited that this has been resolved and excited to get back to football. I think I have covered as much as I can on the transactions, but if you have a question, feel free to ask. I will open it up to questions now.
Can unrestricted free agents lift weights at the facility?
No, the rule of thumb with those players is no physical activity. It would just be meetings. It wouldn't be anything that could possibly put them in jeopardy. Those guys are in good shape. We are going to have them beginning tomorrow. We are going to have them in the meetings. They can watch practice but they can't, by any means, get involved in any of the drills.
What went into the decision to trade Reggie Bush?
Number one, you start with the salary number. That was the obvious challenge. Really, he and I spent some time in the last week, where we had a gap where we could talk to players. The challenge is that we went a long period of time without being able to talk to our players. We spoke a lot yesterday. We had several conversations.
The first thing, can we begin the process to find a way to bring you back here? He and I probably talked three different times. I think there was a point where we felt, Mickey and I, that the likelihood of that possibly happening was slim. We began the direction of talking with Miami. Tony and I talked a handful of times. Jeff Ireland and Mickey spoke a handful of times. Then, we began putting together a plan.
We're excited that he got that opportunity. I know at some point, somebody is going to ask this question about him. He is a dynamic player. Hopefully when you select players, we do this all the time in the draft, you hope  they can impact your offense, your defense or your kicking game. You hope that they can become difference makers and you hope that they can help lead you to a championship and he was able to do all of those things.
I think the challenge for him with his arrival in New Orleans, and I think a lot of you were here in 2006 when he was selected, it was going to be difficult for him ever to live up to some people's expectations. I do know this though, in the league and around the league, he is a player that is dangerous, feared, and respected. We spoke again last night, after we felt that this was the direction it was heading. We spent probably two hours on this with Miami.
To Mickey and Jeff's credit, to Reggie's credit, to Joel Segal, all of the above parties really spent a lot of time in making this happen and making this happen in a short period of time. The process might have started at three in the afternoon and then we talked again at five. This went on for about eight hours or so and then finally somewhere around midnight, we were able to reach a deal. That being said, we wish him well. He is someone that will walk forever with the 2009 team.
He is a Super Bowl winner here. His arrival here was uniquely different to any draft picks in any city. You guys that were here can remember it. We were looking for momentum pieces back in 2006. Whether it was the signing of Drew Brees, the signing of Scott Fujita, all of these were important steps. From a momentum standpoint, when we selected him, he was very important for this city. His efforts are very appreciated. Regardless of how things ended, I know he has a ton of respect for the people in this building. We have a great relationship. I know one of the things that were pulling at him last night was leaving the fans here and the unique opportunity that he got to share with the fans here. That was something that tugged at him, and we move on.
Are you looking to add a running back with Reggie's skill set such as Darren Sproles?
The skill set that Reggie had was certainly unique. Darren may have a comparable skill set. That would be a pretty good comparison. I don't know if that was something that we targeted initially. We have had a chance to speak to, in three days, more players than we ever have in short period of time on the phone. What's unique is that this is something that normally would take place in a month's time frame with dinners and visits. With the wives and tours.
Now, it's like a heated sales room in there, just talking to every one of these players. Mickey, Khai (Harley), and Ryan (Pace) going through the numbers, it was very unique to say the least. Darren is certainly a player that we evaluate just like all of these other free agents.
I don't necessarily think that we turned around and targeted a different player that would be like Reggie. I think we feel good about our depth at running back. We have plenty of them on the roster. We are always looking to find and sign players that we feel like fit the model of who we are. I think there is still work to be done. The challenge is, which is very different, it's an ongoing process as practice begins. Mickey periodically leaves a meeting, he will leave the practice field tomorrow, and he will be on the phone. There is a lot that has taken place. I think that will continue not just until Friday at five. I think there is a wave. You guys are used to the free agency period in the winter time and you know there has been a second wave.
They are all trying to gauge their interest and measure who truly is most interested. There are a handful of players that I am sure we are discussing and talking with their agents this minute. You always feel that when you are away from the phones that something may be happening and it's a little bit uneasy. I think he (Sproles) is an exceptional talent. He is very versatile and dynamic.
Did the Saints allow Reggie and Joel Segal to gauge interest in his services with other clubs?
Miami was a team that Joel and Reggie felt very comfortable with. I know Tony (Sparano) very well, having been with him in Dallas. He is a very close friend. Tony and I spoke and then Jeff Ireland and Mickey. Then we began looking at the logistics.
I can't speak for Miami. I think when they felt that they realized that Miami was a place where Reggie and Joel felt comfortable, this can allow them to deal specifically with the player. I can't tell you what time permission was given to Jeff to speak with Joel specifically. Obviously, this was a trade that couldn't happen if they couldn't agree to numbers. That had to take place. They had to feel like they were close enough and on the same page. This went on through the night. It went that way.
When did you speak with Reggie?
Just on the phone. With him, we could have talked in person but he was out west and I was in the office.
Would Reggie have been released if the trade hadn't occurred?
If he was not traded and did not want to re-negotiate his contract than it would have been hard for us to keep him on at that number.
Would Reggie have agreed to re-negotiate?
I don't want to speak for Reggie, but I think this was a decision not as much about money but about an opportunity for more involvement. This is a team, Miami, which is thin at that position. I am sure that he felt that there were a lot of players at that position here.
I think it was about becoming a player that could get more touches per game and I respect and understand that completely. We talked about it. We had real good discussions. I think it was more that than a half-million dollars here or there or where the club is. I bet he would say the same thing tomorrow, or whenever he addresses the media.
Have any players under contract been released?
We will probably have an announcement tomorrow, but nothing right now.
Can you talk about your pursuit of Will Herring?
I gave you the Saints unrestricted. I think tomorrow at 5, we can do that.
Did you have more off time in the offseason based on the work stoppage?
Two more weeks. Here is what we did from a schedule standpoint. The concern when June began was that this (work stoppage) could potentially end in mid-July. I sent the coaches on vacation the early part of June with the good news/bad news deal. If no deal is reached, than I need to see you back a week before training camp but if a deal is reached than you need to be within range to get back here within a short notice.
I would say yes to some degree. We had a lot of time to work in the spring and in the early part of the summer on whether it was future opponents or research. In a situation like this, there are some aspects, from a coaching standpoint, that you really can't control. I am sure for all the other coaches, myself included, it felt like a longer period of time.
Do you think the player organized workouts at Tulane will be of benefit tomorrow?
There are a couple aspects of why we condition and practice in the offseason. Starting with conditioning, I thought they ran well today. I think that aspect is important. You get nervous when you are away from your team for such a long time. You get nervous for a handful of the players that may have to battle their weight. I also think there is a schematic advantage with veteran players that know what to do.
I've said this before, I can't envision this happening in 2006. With all the work that we needed to have done. Going to Millsaps and everything that we have done there. That would have been difficult to go through. Certainly, the practices at Millsaps would have been different. We have real good leadership in this locker room and it was a specific time for them to take on that role. It appears that it was well thought out, well organized. Lastly, I think there is an aspect of ownership  that our team has with being together. Going through some tough work together is always beneficial for a locker room.
How did Shaun Rogers do on the conditioning test?
Can the drop-off in the team's productivity running the ball last season be attributed to injuries?
I think it would be easy for me to say that if we were healthy, we would have run the ball better. We try to be our own worst critics when we look at those cut-ups. We are going to have to deal with more injuries this year. That being said, I think there are a handful of things that we can improve on from a technique standpoint.
Not just within one position group. All of us, coaches included, are going to make a well thought out effort to improve those numbers. Having that time to study the cut-ups, you can make your notes and now we can begin to apply them as we install these plays. Aaron Kromer, who will install the run game beginning tonight, can point to specific things a year ago that we didn't do as well. That will go to the tight ends, the fullbacks, and the running backs. That consistency that you are alluding to from 2009 to 2010. Injuries certainly can impact that, but it would be too easy to say that was the only reason.
Can you discuss the health of the backfield heading into training camp?
We feel pretty good. We are monitoring Chris Ivory from the screw and the rehab he has gone through. He is doing well. He won't be ready to go tomorrow, but Id guessing if I tried to put a time frame on it. I think he's got at least a couple weeks here. He's getting better and his rehab has gone well. Pierre Thomas passed a physical and ran the test today. We just have to monitor his early snaps and take a look at him. Overall, I'm excited about the group.
Are you concerned with players returning from injuries that weren't able to work with club trainers this offseason?
I think that's a good question. Your concern is the weight and the health. There is a list, and you go through it with the trainers. I think we will know more tomorrow and the next day when we actually see them moving around. I thought they handled the running test well today.
That's an important part of getting them back in the building and being more hands on or at least knowing where they're at. It was more of an update and then trying to get them up to speed. I know this, I know when I sit down tomorrow after practice, I am going to be able to hit these injuries specifically in regards to who didn't practice and I think cover them pretty well. I think it will be a handful of players. I think there will be a few players that failed a physical and we feel like will get healthy here sooner than later.
How did Tracy Porter look in conditioning?
He ran separate. Chris Ivory ran separate. Those were a couple players that we wouldn't see tomorrow. His rehab is going well. It's on pace. He is kind of running full speed ahead right now but we will monitor where he is at.
Did every player report and were there any holdouts?
Everyone that was supposed to be here, that was signed and able to be here, was here. The drafted rookies that are unsigned and the UFA's were not.
What did you do with your time off?
Kind of the same as we always do. You spend more time with your family. I was back in the office a few times to catch up with Mickey. Staying on top of  what this free agent list was going to look like whenever  the process began that we were back in business.
There was some question as to who was going to be the group of free agents. There is a difference here with a few of these players. Really, just spending time with family and staying in touch with Mickey, pretty much like we always do.
Can you talk about excitement to see fans tomorrow?
Absolutely. It's been a while. I think the great news is that when you come off an off-season and there is so much written and talked for basically all the way up to the last few days, at least what was waiting was a ten year deal. That's pretty strong. That's a credit to the players and the league office. That is good news for everyone. All of us will be excited to be here and to see them.
Hopefully we can practice outside. It has rained, it seems, for the past five or six days. Our plans are to be outside in the mornings as we can. If something does happen, we will try to let the fans know that practice has been cancelled and we would have to go inside. We are looking forward to it.
Do you have some priorities in free agency?
Let's talk about the kicking game. The player that was involved in the trade we made last night, Jonathon Amaya, is a relatively unknown player to a lot of people if you weren't paying attention to Miami Dolphins football but he was a first year player last year, undrafted out of Nevada and a guy that excelled in the kicking game. Finding speed and finding guys that we think can impact us in the kicking game and really help us. Even in going through this process of free agents, how valuable they are in the kicking game, and the same with the rookie class.
We start by really paying attention to the personnel that we believe can help us in that aspect. We have to pay attention to the rule changes. I think kick coverage units will be a little bit different and the return units will with the ball going to the 35. We think we will see more touchbacks. So, then we pay more attention and more reps to certain aspects of the game. That being said, it's no different than the run game study that I talked about earlier. It's the notes, the coaching changes, the personnel changes, and the player changes. It's really about trying to look at it objectively, these are things that we need to do better.
Can you talk about Adrian Arrington?
There was a point last year where he really had an opportunity to go sign with another team and he stayed with us on the practice squad. We were able to get him up on the active roster. I would certainly say that if you asked him that question, he would say he is ready to step up and I think he is too.
That kind of depth and that competition is important. Today, in the conditioning run, all of the newly signed players wore jerseys because it's hard to get all of the names down. They did well, but in the receiver group, you are going to see some young free agents, as well, that can run. Adrian has certainly worked hard at his craft and is a very smart player. I've said that before. I'm anxious to see him and to see his progress.
What are the alternatives to not having as many two-a-days?
It's teaching time. You know that you are going to have the one padded practice and then the afternoon, whether its weight lifting, class room meeting, teaching walk-through, it just changes. You wrestle with how you want to use your allotted time.
There are some specifics between length of, an hour between, and those are those things that you try to map out and see if that passes the test. We have looked at it and tried to apply some of what we have done and yet we made some changes to the schedule.
Are all of the practices open as a result of the lockout?
Typically, it has been (that) outside (practice) is open and inside is closed. Obviously, not closed to the media. It is just logistically hard that if we go inside to try to bring certain fans there.
I think we figured that the morning was the time to get the practice in. We wrestled with the idea of having the meeting or whatever else we do in the A.M. but for a handful of reasons, we feel more comfortable practicing in the morning.
How would you describe the last couple days of free agency?
It's a first. The last few days would be similar, maybe, to the last few days for the national letter signing in college. A player can agree to a deal here and tomorrow at 5 P.M. sign with someone else. If you walk down the hallway, you would say that it reminds you of being in college, maybe the first day recruiting began and you're on the phone. The difference is that they weren't actually on their visits. It was done on the phone. Then you begin to utilize all of the resources that you have.
Who might know this player? How might we separate ourselves? Just like a recruiter would do. It may be a good comparison with the specific players that you target. What separates you from the rest or who is on the couch with his agent. The difference is that usually the contract does. How do you win the jump balls when it's even? It's how you separate yourself. Mickey (Loomis), Khai (Harley), and Ryan (Pace) have really gone into overdrive here. They have had some late nights. Those guys have been here for a long time now. The minute they arrive the in building, they are back on the phone with agents. Coaches are calling a player. You are trying to work the triangle of trying to secure a player or this player's commitment. That would be a good analogy. The national letter.
What is the difference in the feeling between this year and last?
I don't know. I think by the time we got to this point last year, we had turned the page. There were a few things. Certainly, the opening game. Here we are playing in that same type of game this season. I said this a year ago, there is a progression of turning the page. It's not just one afternoon or one week. It happens over a period of time. I think we handled that. We stumbled early and then we got on a run.
We just didn't play well enough in the end, in the post-season. Certainly, that leaves a taste in everyone's mouths. We hope that can build on. We certainly have an expectation level of wanting to win championships and recognizing the challenges that go into that. How do we get better? How do we run the ball better? How do we cover kicks better? Defend the deep pass better? Things that we can look at specifically and say, this is what caused us to not have the same success we had a year ago. You can look at some of them really came up with them against Seattle.
Is the defensive line a priority in free agency?
I think, for a lot of teams, it's one of the harder positions to find. Once a handful of these players sign, that's a position of need for a lot of people. Certainly we are paying attention to that. We feel really good about the group of players that we have.
Can you discuss what you think of the 90-man roster?
What is interesting is the dynamic of 90 with fewer snaps. In other words, the roster limit has expanded but the practices have changed some. I don't know if we will stay at 90 very long. We might be at 80 or 70 soon. We really have to pay attention to these early weeks and be ready to adjust. If the schedule changes, then we will announce it and all of a sudden we need to tinker with that. We just have to be flexible enough because this is uniquely different. It gives you a chance to evaluate, early on, ten more people.
It gives you a chance to get a fourth quarterback. At 80, do you want a backup kicker, a backup punter, a fourth quarterback or do we want to put those spots at the running positions like receiver or corner. Typically, there is always a hotspot position that gets hit with injuries and you have to bring guys in. I think 90 can help you in that regard. We have to make sure that we have something for the 90 to do.