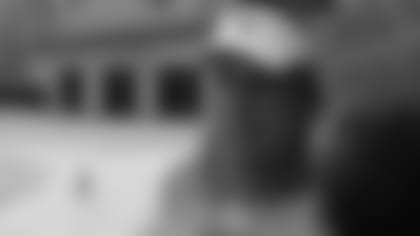 New Orleans Saints Head Coach Sean Payton
Press Conference
Thursday, December 22, 2011
Opening Statement:
"LB Jon Vilma did not practice (knee), RB Mark Ingram (toe) did not practice, G Jahri Evans (knee) did not practice, DT Aubrayo Franklin (ankle) was limited, DT Sedrick Ellis (hamstring) did not practice, and then LB Jonathan Casillas (knee) was limited, and LB Ramon Humber (knee) was limited. We kind of put ourselves on a Wednesday (today) for this week. Because of the Monday schedule, we had an additional day for our players to be off and we took advantage of that. Tomorrow will be exactly like a Thursday schedule for us."
Are you surprised that Dan Marino's passing record has stood as long as it has?
"I don't know really that anything surprises you. I think our game has evolved. I think you're seeing very good quarterback play, which is always exciting. I think you're seeing over the last 20 years colleges who throw the ball much more effectively all the way to the high school level. I think that's certainly carried over to our league in regards to a number of things. Typically I think these records in our league eventually all get broken. Some of them have a longer shelf life than others. I think that's pretty typical of sport."
After having success against a team in the first time you played in a season, how does that affect the way you game plan the second time around?
"I just finished talking to our players about that. Obviously, these two teams within the same division have a pretty good grasp of each other's strengths and weaknesses. There are little things that take place throughout the course of the season with regards to game plan and changes. There's still that identity though that each team has in regards to what they want to do both defensively, offensively and in the kicking game. It becomes I think more of subtle changes of trying to hide formations, trying to change up looks defensively, maybe a different pressure that goes in on third down than what you showed the last time. They're little things, but there are certain elements to the way each team plays, and in both cases each team has been playing well lately. That's what makes a game like this exciting. Our recent history has been such that the games have been close and hard fought games. Two of the last four have both been in overtime. I think they're subtle changes."
Mike Smith said that he didn't want Drew Brees to have the ball at the end of the game the first time you played them, but it was the defense stepping up to make the big plays.  Do you think your defense is playing its best right now and stepping up in the big moments?
"I think as we get towards the end of the season and each of these games carry that much more significance, I think clearly from a team standpoint it's critical that all phases are playing good football as you head into a big game like this. How the defenses play in this game is going to have a big part as to which team is successful. How efficient and opportunistic the offenses are, is there a play that separates the game in the kicking game, all elements will contribute to one team or the other winning."
How much have you seen Jermon Bushrod grow since he's been here?
"I think we've seen him grow quite a bit. He's a young, talented player with confidence. He's extremely athletic and he's very intelligent, so he's worked hard at his trade. I think it's carried over to the playing field. I think you get a consistent performance from him. He's one of those young guys that it's been good to see his development and his growth as a player. It's one of the toughest positions to play in our game. Typically, you're going to face the (John) Abraham's, you're going to face the Jared Allen's, each week just turn the page and he's going to see an elite player. Typically when there's no news that means he's playing well. I think in his case there have been a lot of games where he's been a big reason for us being able to have the success both throwing the ball and running the ball."
The offensive line has been playing much better in the last few weeks.  Do you think that's more because of how Drew Brees is playing or because the offensive line is starting to come together?
"I think it's probably a combination of a number of things. I think that certainly you start with the offensive line and their continuity. We've had depth there and we returned a lot of starters, and yet Brian (de la Puente) is new at the center position, Zach (Strief) is starting now his first full year. I also think we've tried to pay close attention to how we can within each game plan help with our presence on the edges and within the passing game help make sure that we have the pocket that Drew needs. Certainly Drew is a player that can get rid of the ball and can avoid in the pocket. I've said this a lot of times, he's a great foot athlete, so he's able to make subtle adjustments in the pocket and the ball can come out in a lot of different ways. I think it's a combination of those things starting with the cohesiveness of that offensive line."
Can you talk about having the depth at running back that you have this year as opposed to last year?
"It was a goal of ours in the offseason to get that depth, and we were fortunate enough to draft a player (Mark Ingram) and then sign a player (Darren Sproles) in free agency. That's really meant a lot to what we're trying to do and meant a lot to us being a better team running the football this year than in 2010. There are games where what you're seeing (where it) defensively dictates a little bit more of the running game, and then there are times where you want to run it regardless of what you're seeing. I think we're more efficient than we have been and I think that's helped us."
Was your success at running screen plays last week a reflection of how well the offensive line has been playing?
"I think one of the things the screen helps us with is maybe offset the pass rush. When you're playing a team like us, trying to affect the quarterback in regards to pressure and trying to change his launch point and trying to alter his timing, the screen kind of allows you a play that can combat that. Last week, we were fortunate where the first two we called were into blitzes. As they pressured, we were able to execute and come up with some big plays. I think we have some pretty good screen runners and it's something that no different from a draw, it adds an element to your offense when you can be effective in the screen game and it can slow down the pass rush some. I think it's important for us each week as we go into a game as to what are our best screens this week and how can we execute them."
When you look at the playoff picture, what's the biggest difference between having a first-round bye and having to play in that first week of the playoffs?
"I think the focus really shifts to this game this week. We kind of always try to approach things that way and it has served us well. There's a lot at stake in this game. When you start the year, you start by putting up 'winning the division' as a goal, and that's at stake this week. I think the other stuff kind of takes care of itself. Certainly you pay attention at this time of the year to a lot of the other things that are going on with the framework of our league, but the focus this week is on Atlanta and a big game at home here on Monday night. We'll have a great atmosphere. We have any time we've played at home, especially in night games. I think that's what we've tried to point all of our energies to."