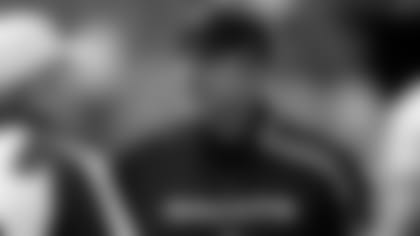 New Orleans Saints Head Coach Sean Payton
Media Availability
Wednesday, October 05, 2011
Opening Statement:
"I'll go through the injury report for today's practice. These guys did not practice: C Olin Kreutz (left knee), T Zach Strief (right knee), TE Dave Thomas (concussion), LB Will Herring (left hamstring). The following players were limited: LB Martez Wilson (shoulder), LB Jon Vilma (knee), and WR Devery Henderson (calf). One practice squad transaction: we signed T Fenuki Tupou, #72, and released QB Sean Canfield. So we switched those two guys out. Most of today, as always on Wednesdays, was spent on our base first and second down."
What exactly is Zach Strief's injury?
"It's his MCL. He's probably two to three more weeks we feel. His progress has gone well and we just have to reduce the swelling and strengthen it and get him healthy."
When you see an offense that is doing as well as in Carolina but the wins aren't there, what do you say to your team?
"I think we really try to look closely at the team we're playing. We look at what they're doing well. Certainly, philosophically they're completely different than they have been in regards to what they're doing offensively, and they're different defensively. No different than any other game, we pay attention to what we think are the goals going into the game in order for us to win, what are the objectives, what we feel like are important with this game on the road, and then you prepare for what you're seeing. But clearly they're very explosive offensively and they put up real big numbers. The other thing if you pay real close attention to the games, they've been very competitive and very close. You look at Green Bay - that was a close game. Two weeks ago with Chicago was the same way. They've been in a bunch of games now in just four weeks where they've put themselves in position to win or did win against Jacksonville. It's really just trying to acquaint yourselves with what they're doing, then implementing our plan and studying it closely."
Did you tell your team that Carolina is right on the threshold of breaking through and they're dangerous?
"Certainly our players understand that every team we play is dangerous. Our guys are able to look at the film and see the scores and see who they've played and they understand the explosive nature and the type of team they are defensively. They're playing well. I think that's part of the week as you go into it. But clearly they're different. They haven't had the wins, but they're putting up some real impressive numbers."
Have you seen a rookie quarterback in the NFL with Cam Newton's ability?
"It would be hard to make a comparison. The things that's most impressive that I would say is considering the fact that we really haven't had an offseason, so there are a lot less reps for all these young quarterbacks who are first year starters or rookies in Cam's case, what's been impressive is the way he's performed just having one training camp and then all of a sudden the regular season is on him. He has given them a lot of confidence I think. You see the players playing around him, rallying around him. He has a very gifted arm, he can escape, and when he does escape he looks to throw and not just run, and when he does run he's extremely athletic and is someone that can pick up more than just five or six yards, it can be 15 to 20 yards. There are a lot of challenges that he presents, but the transition for him is what's been most impressive considering the abbreviated offseason."
How much of a dilemma does Newton present deep in the red zone area?
"Anytime that the guy taking snaps is a run threat like he is, there's another dimension added to what you have to defend that some weeks you don't have to defend. That's not going away. That's something you have to deal with."
Can you see a stamp already on the team since Ron Rivera has gotten there?
"Yes. There's no question. They're playing with great energy and great effort. They certainly have bought in and you can see that on tape. I said this in the offseason, I think the challenge really during this lockout was for the new staffs because there's so much that they have to not only install, but there's a lot of evaluation that needs to take place with the current roster they inherited. I just equate it trying to go back to '06 envisioning a lot of the key decisions we had to make and part of that process was minicamps and OTAs and not having that is a challenge."
How strange will it be to not have John Fox on the other side of the field for the Carolina?
"For a while in this division there were some real close friends with John Fox being at Carolina and he and I had worked together in New York and of course Jon Gruden at Tampa Bay. It's the nature to some degree of our business. You pull for those guys. It's always more difficult when they're in your division. Coach Rivera has done a real good job from the get-go and certainly the wins haven't come but you can see that the players are playing extremely hard and they've been very impressive. They're one of the surprise teams just in regards to not only the quarterback, but all the players around him. Steve Smith right now is having one of the best seasons of his career. Both Greg Olsen and Jeremy Shockey are guys that are threats certainly in the passing game and in the running game. You lose sight a little bit of their running backs and the depth they have there with Jonathan Stewart and DeAngelo Williams. There is a lot offensively that they're doing well and defensively they're getting after the passer. They're putting up very good number in their rush. Captain Munnerlyn, their corner, is having an exceptional season. They have a lot of confidence in him. You can see that Chris Gamble is a veteran player and they've overcome some injuries just like we've had to with some players on defense, particularly Jon Beason, their middle linebacker. This is our first divisional game and an important game."
Will Smith had a great game last week.  How do you think he's looked since coming back?
"He did. He's looked good. He's in great shape. He had one of his better training camps in the condition he came into camp in and he played very well last week. It's good to have him back in the lineup and certainly back playing the way he's playing right now."
How much does that help with the rest of the defensive line unit?
"I think that's important with the snaps of trying to get into a rotation. We have a number of guys at the end position as well as the tackle position. We've always tried to rest guys and make sure they're fresh and get guys in and out of the game. I think that's one of the things we've kind of stuck to. Each week it can vary depending on the total number of plays."
What are your thoughts on Marques Colston?
"Last week, we got him back into the flow of things. His role was somewhat limited and yet he was right at around 20 plays. I think you'll continue to see his role increase. He's fully healthy, he's moving around great, and his weight is down. It's just a matter of now no different than Tracy Porter, some of these guys have come back after the first week of an injury and now going into the second week you'll see him more and more involved."
How would you evaluate what Shaun Rogers and Aubrayo Franklin have done so far this season in the defensive line rotation?
"I think they've done well. There have been a lot of games where we've see a lot of nickel and their role has been different. There have been other games where we've seen more base offense and their roles were increased. Both of them just recently in the last two games have played well. Each week depends on the front you're seeing and the offensive philosophy you're seeing. Both of those guys are doing well and are certainly acclimated to what we're doing."
Were you surprised that John Kasay was unemployed when you picked him up and how fortunate you feel to have a guy with his experience to come in and do what he's done?
"I don't know that we were surprised. Typically on our short list, depending on position, maybe there's more depth at some positions than others. If you went through each position, you would find that at linebacker there's little depth available in regards to free agents. At kicker when we picked him up there was more depth and we were fortunate to be able to sign him. That can vary really depending on the position you're looking for. It's always hard to find corners, offensive tackles, there are some positions that are hard to find to come in and help you play and we were fortunate that kicker wasn't one of those positions. We felt that he's been a real consistent performer and he's been that way for us and his experience has really helped us too."
Is there anything that stands out to you that they're doing that makes Cam Newton so successful so early?
"I think the one thing is he's had a lot of experience in the shotgun so you're seeing more shotgun snaps. He's very comfortable with shotgun running game in regards to the exchange and then the handoff. That's something that he's had a lot of work with so that transition has gone smooth. With the offensive set, some of them being spread sets, that just creates space not just for the players he's looking to throw to, but space for the running backs if it's a running play and certainly space for him if he's going to step up and flush or leave the pocket. Just by watching the tape, there are some things you see that come very natural to him. I think it's important to state that he's an exceptional athlete, but he's also an exceptional passer. He has great arm strength. You can see just the yards per completion that they're statistically averaging is very impressive. You see that effort and energy from all the eligible receivers knowing that there's never a play that they may not get the ball. If not in the initial part of the read, then down the field if a play is broken. That's the challenge. When the play is extended and the coverage goes from three and a half seconds to seven seconds. That's the challenge and you've seen each week, he came up with some big plays last week. He steps out of the pocket, flushes to the left and hits Steve Smith on a ball that was in the airs 65 yards almost moving to the left. That's tough defensively."
How difficult is it for Chase Daniel to simulate a guy like cam Newton?
"We ask him to look at the tape. They'll pay attention to some mannerisms. They'll pay attention to coming out of the huddle. Obviously trying to emulate someone each week can vary and with the type of quarterback we see each week defensively varies. Chase will look at some of the film and he'll try to approach the center in a very similar fashion. He'll try to look at the shotgun depths, where the launch points are and there will be plays where we ask him to flush and force our guys to extend the play and get used to the play being broken. It's something that we spend a lot of time on. In other words, here are the things that are important defensively and that goes back to each week in our preparation. It was (Mark) Brunell for a few years. I remember the two weeks Brunell did a real good job of practicing all the stuff that Peyton Manning did leading up to the Super Bowl. That's something that's important."
So his physical stature doesn't necessarily translate?
"We can't go sign a 6-6 practice squad quarterback."
Does that make it hard?
"I think it just is what it is. You have your practice squad player and there comes a time when all of a sudden we'll implement if we're going to see some snaps when they're in Wildcat, we'll put a running back there because they've done that. As it pertains to the quarterback, you adjust and adapt to it."
Who on special teams do you feel like has done a good job of covering punts?
"There are some guys that stepped us last week. Korey Hall got the game ball on special teams. He was exceptional. Jonathon Amaya has been very consistent. We've had a number of guys. Courtney Roby has been very consistent. It's the execution, certainly the punter, each week. (Morstead) has had a good season so far. When it came to the Chicago game and his location, Houston, the field position changed when all ofa sudden we're backed up and the punt's over and we're taking the field defensively and the ball's on their 36 yard line. Those types of things have been real impressive. All of those guys in the coverage units have done a good job, but Korey has been up now the last two games and he's handled that role. Isa (Abdul-Quddus) is a guy that's played well. He's one of our core guys. We just keep emphasizing that aspect of the game because it's huge."
I think you've allowed ten punt return yards in four games.
"It's a credit to the cover unit. It's a credit to the punter with his hang time and location. Our kick coverage has been good. We had the one kick return in Green Bay so what happens is statistically that kind of haunts you like a D on a test in school. It takes a bunch of games to put that statistically behind you if you know what I mean. But overall we've been pretty consistent in covering, the location, and the depth and hang time of the kicks have been good. We just keep paying attention to that. We think it's real important and we keep working on the return game."
What have you seen on film from Steve Smith this year?
"All the things that we've seen form him, you see right now. He's healthy, he's running well, andhe's playing with a ton of confidence. It's all the things that have made him a great player and he's having one of his best seasons after four weeks. After each game you put the tape on him, it doesn't matter which game, you can put it on him and if I didn't ask you who to look for, within a quarter of a play you'd ask, 'Who's #89?' We know who he is and he's playing fantastic."
Who on the defensive side of the ball for the Panthers are you most concerned about?
"Charles Johnson, the end. The rush is real good and we've seen each week them affect the quarterback in regards to their edge pressure. The ends are playing well. Like I said, I think Captain Munnerlyn is playing well. Each year, there's a corner or two in our league that just steps up. (Brent) Grimes a year ago in Atlanta had a great season and I think you're seeing that from him. (Chris) Gamble's an experienced player. He's been very consistent. Their secondary is playing exceptionally well."
Is there a target for Drew Brees with the number of passes you want him to throw and are you conscious about the balance between running and passing plays during the game?
"There's never a target number of attempted passes. That's somewhat flexible as the game moves on. We never set a target for attempts. I'm probably mindful of rushes and passes but I pay more attention in the course of the game to where we are on first down. That would be a question I would ask each week after five series is what's our mix on first down and then what are we seeing defensively on first down. To go along with that, maybe more mindful of how our runners are getting involved in the game. I try to pay attention to that."
What do you make of the Mercedes-Benz deal?
"I think it's strong. It's impressive. In the team meeting on the PowerPoint, I just had that logo up and then I turned it off and turned the lights on and just talked to them a little bit. I'm not a business major. I couldn't handle the math, but I do know with a company like that putting their name with a state, a city, and a team like the Saints, that's pretty impressive. They don't just do that on a regular basis. It's a great indication and a great sign of how far we've come, not only as a team or as an organization, but certainly as a city and as a region. I'm not going to get into the other stadium named, but that brand for our team and our city is pretty powerful. Ten years and the significance of it, it's certainly a big shot in the arm for everyone here and a credit to Mr. Benson and everyone who put this deal together. I think it's fantastic. I think it's good for all of Louisiana when you look at the finances of it."
How much more of a concern is it with David Thomas' injury when it lingers with the concussion?
"It is a concern and it's something that you just keep looking for symptoms and you keep paying attention to him. It's certainly something we pay close attention to and we don't take lightly."
Is he having something similar to Randall Gay?
"I wouldn't describe it as the same. The difference also is the amount. I think Randall had a series of (concussions) over a course of time. It's just the headaches and getting back to where he's 100 percent. We just keep paying attention to it and it's something where we would never hurry so we'll just continue waiting for him to get cleared."
Mark Ingram had more carries than your other running backs.  Is it something where it depends on down and distance or something else?
"I think some of it is just how it unfolded. There was a point in that second or third quarter where I said to Bret (Ingalls), "Let's make sure I'm getting Pierre (Thomas) in there.' There's no exact science to the rotation. I do think the important thing is giving these guys the chance to get into a rhythm too. But it's mouthing that's a challenge and there wasn't anything specific. Take out the goal line snaps and short yardage and you're really talking about four or five snaps there. A lot of it is just how the game unfolded and the personnel groups we were in."
Can you talk about how the defense has improved since Green Bay?
"I think we've played two of the better teams in our league offensively. I've said this to you guys earlier, when you look at Green Bay and you look at the Texans, clearly those are two outstanding offenses. Each week there's a different way that we feel like we need to win. I think we try to remove ourselves to some degree from the statistics and pay close attention to what we feel like are the keys to winning. Obviously the wins and losses are the statistics that are most important. They played exceptionally last week especially down the stretch with the short fields to defend. When you look at teams that will go for it on fourth down late in the game, those are additional snaps that you have to defend. You get past third down and then you have to play another third down really. Our efficiency there was real impressive and important for us to win. But you could see that confidence. We're gradually getting healthy there with some guys coming back, Tracy Porter now being back in the mix and Vilma progressing with his injury, Tom Johnson inside, all of those things have begun to fall into place and yet they recognize that this is another challenge this week, a different type of challenge, and nonetheless a big challenge."
You're tied for third in the amount of sack yards defensively.  Can you talk about that?
"Today we put up our first quarter numbers after four games and we kind of went through them all and we also PowerPointed last year's first quarter. We're just trying to pay attention to some of the things we set out to do this year than we've done. We still aren't handling and the turnover thing is something we still need to get better at, both offensively and defensively and also in the kicking game. Form a ball security standpoint it's something we pointed to and from a takeaway standpoint it's something we pointed to. There are a lot of positive things after four games and yet there are still some things we view that we can improve on."