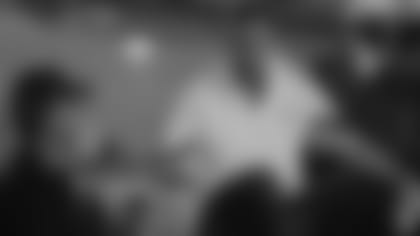 New Orleans Saints Head Coach Sean Payton
"Here is our final report today: Zach Strief (knee) did not practice and he's out for this game, Dave Thomas (concussion) did not practice and he's out, Will Herring (hamstring) did not practice and he's out for this game, WR Devery Henderson was full and is probable, Jon Vilma was limited and is probable, Martez Wilson was full and is probable, and John Gilmore was full and is probable."
When you look at how the Roman Harper and the personal foul, do you think your defense is getting a certain reputation for doing things?
"No.  Obviously there are specific plays you point to but I don't think so."
New Orleans Saints Defensive Coordinator Gregg Williams
If there's a guy on the Tampa Bay offense that you're afraid of, who is it and why?
"What we do is we take a look at all the targets and we take a look at all their players.  I think they've done a really good job of getting young and good players, but they have a lot of different guys.  We don't just isolate on one, we try to surround the formation and try to play as hard and as fast as we can and minimize every inch of grass that we can.  Sometimes that's easier said than done.  This division has become such a great quarterback-driven division, and Josh (Freeman) has played very well against us.  We have our work cut out for us again with having to play him this week."
Did you see Mike Williams say he's not playing and what do you think about that?
"No, I didn't see it.  I don't know anything about that."
Do you think your defense has earned a reputation for its physical play?
"I would hope so.  It was that way when I was in Tennessee, it was that way when I was in Buffalo, and it was that way when I was in Washington and Jacksonville.  The teams that are the most respected are the ones that are the most physical.  Every single week, we go out there wanting to win the physical battle.  When you see teams run screens or gadgets or things like draws, those are things that are compliments to the defense because they physically can't just point at you and say we're going to run the ball right down your throat or we're going to pass protect any way we want to so we have to do some things that are going to slow you down and change your mentality of being so physical.  Sometimes it works against you when you play as hard as we do.  I learned from some pretty good people that you don't ever slow our guys down and what you do is you actually speed them up, recognize and speed them up."
From 2009 to now, are you seeing that quarterbacks are trying to get rid of the ball faster?
"It's been really anywhere we've gone because of the style of defense we play and I've adjusted everywhere I've gone to fit the style of the players that are there, but we've always been a pressure team.  But what kind of pressures, what kind of fronts and coverages that fit the DNAs of the men we have to coach.  Everywhere I've been, people have always done that.  They know they're going to have to speed it up.  I constantly refer to Bill Belichick.  Bill and I had some great conversations in the early 90s when I first came into the league about if you don't do a good job of speeding up the quarterbacks timing in his head, it could be a long night or a long day.  Somehow and someway you have to affect the timing of that play.  Offensive coaches love to be out there on air and just run plays on air, and this is the timing to do things, but defenses try to affect the route concept, the protection, the direction the ball carrier runs the ball, and if you don't affect those things it's a long day defensively."
Do you find that offenses come out differently in the next game if they didn't play well the game before?
"Possibly.  I think good coaches and veteran staffs have those what-if conversations.  We have what-if reports.  We have what-if logic written into our programs also.  I was one of the guys that got that started back a long time ago when I used to do that before I moved up in the ranks.  But sure, we talk about those kinds of things.  Every game takes on an identity of its own.  Sean (Payton) is one of the best people I've ever worked with that understands that.  I've heard Bill Parcells talk a lot about that before.  I don't know who to give credit to with Sean having been with him and is so close to him.  We've got to be able to react and work in synergy with each other.  There have been several instances of big wins and big games that we've had around here where we've had to do that.  Sometimes it might be a way that we want to play on defense or maybe he wants to play on offense, but the total outcome of the game is what's most important.  Even this past week, we did a really good job situationally of what we had to do in that game, both of us on both sides of the ball and on special teams.  We did a very good job of that in the Houston game.  We did a very good job of that in the Super Bowl.  I'm just using those right now but there have been a lot of instances here when you have to do that and sometimes you forfeit stats that you don't necessarily want against your offense or your defense or your special teams, but the most important stat is that scoreboard at the end of the game and you live with it and you love the fact that you're a winning ball club that way.  Our team has been very resilient and understands that.  Sean preaches that very well here and our team understands that.  It's a fun group of guys to be around, especially with as many new guys as we have.  On defense, we have 45 percent new people that have to kind of experience those things where some of the guys have experienced that in other years with us and it's just a routine for us here, there are still some guys going through learning curves and getting a feel for that and getting a trust for that.  Sean does a very good job with that."
Have you gotten what you've wanted out of Aubrayo Franklin, Sedrick Ellis, and Shaun Rogers in the middle?
"I think what you see us doing is we're trying to rotate as many guys as we can in, not just in that position area, but we're trying to be very observant in the number of snaps we have at the corner position, taking hits off of those guys.  You have a luxury when you have three good corners.  We're doing that at the linebacker position with how we're rotating those guys through there.  I think one of the things we did a good job of in training camp, I probably didn't do a very good job of playing Will Smith too much last year.  He played very well, but he's playing lights out now.  The fact that he had a couple of games that he wasn't around here, he's real fresh but we still have to monitor all those steps and how we rotate those inside three guys or inside four guys is that we take into a game that's critical on down the road.  People don't realize the collisions that those guys take, your mind keeps telling you take those shots but then the body breaks down towards the end of the year.  We're very cognizant of the fact that we're trying to rotate guys in and they've played pretty solid.  A couple times we've given up a couple runs in there when we're actually playing a pass where they're pass rushing and you just have to get him down.  You don't like that gain but you have to get him down."
Can you talk about the growth of Patrick Robinson?
"I'm so proud of him and I said that during training camp.  I'm so proud of how far he's come on from last year.  I tease him about it, I didn't lose sleep over it but I was pretty hard on him last year as I have been on all rookies that I've had a chance to draft.  If you've taken a look at especially our defensive backfield where I've gone place to place to place, I've had a chance to draft a lot of number one draft choices in the defensive backfield and I've been the same way with all of them.  It's my responsibility and it's our responsibility to make an impression nd make sure they're a real pro.  Usually a lot of those guys have just been better athletes than every single person they've had a chance to play against.  It's not that way anymore.  You come into the National Football League with the best athletes in the world at the receiver position.  You better be ready at a corner and as a defensive back.  A lot of that goes back to your study, your preparations, your body language, your effort, your intensity, your focus, andyour attention to detail, and he was lacking in some of that last year.  I can't tell you how proud not only me, but his teammates.  To see to repartee and the camaraderie those guys have this year because he earned it.  It wasn't handed to him by me.  He earned the respect and I'm real pleased with how far he's come.  I think he can be even better.  There will be another significant jump you'll see with him.  Things are starting to slow down for him now.  I think you'll see even another big jump in his play."
As a coach, how do you walk that line between a player and coach?
"We as coaches, Joe Vitt and I talk about this a lot, we earn the right to coach them hard.  The pressure is on us not to be wrong.  The first time I coach them hard and he says, 'He's flat out wrong,' then you lose their respect and you are the cause of shutting you off.  It's a lot of pressure for me to stay on him and always be right about why I'm on this particular habit or this particular thing that has to change in a technique.  But also behind the scenes that you all and maybe he doesn't want to admit, there's a lot of recruiting and petting and nice things that go on behind the scenes too.  We deal things with humor and making him smile and talk about things outside of football.  But the things that you cannot and I will not compromise on from an effort and a focus and attention to detail and a toughness that you have to play for us.  You can't compromise that with those people and the rest of the people that are constantly looking at you to make sure he's paying his dues, paying his respects to the rest of the guys in the room.  But there are a lot of things that go wrong behind the scenes that go on that they know I care for them.  I love them like my own kids.  Unfortunately I was pretty tough on my own kids."