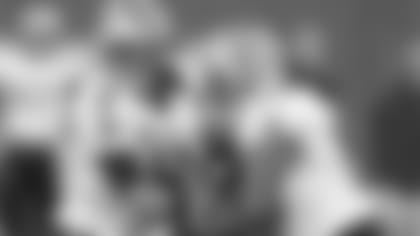 NEW YORK GIANTS POSTGAME QUOTES
SAINTS AT GIANTS – METLIFE STADIUM
SUNDAY, DECEMBER 9, 2012
We knew it was fan appreciation day and we also knew it was the alumni game. We talked about the energy and demonstrating a greater purpose because that is what really encourages all the fans to be involved in the game and appreciative of the way we play on the field and therefore we are appreciative of what goes on in the stands. We are now 2-1 in our six-game season. This was a battle as you can tell. We were plus-two in turnovers. David Wilson broke the all-purpose yardage record with kickoff returns and then he had 100 yards rushing as well. We did a lot of good things today and yet we've got more to get done. We spoke at halftime with a smile on my face about we are capable of playing better than we are playing right now. You saw when we jumped out to get a lead, they came back so quickly. And that's the type of football team that they are and have been. It was nice to play them here in our stadium and it was nice to be able to win the game.
Q: You liked the way you finished?
A:  We finished. I don't even know what the numbers are, but when you say 'finish' I'm thinking finish the game. We did finish the game well.
Q: I meant scoring touchdowns in the redzone instead of kicking field goals.
A: That's the idea. Again, I don't know what the numbers are so I can't even comment.
Q: Can you talk about David Wilson?
A: Well, he did a great job. Our kickoff return team gave us unbelievable field position. Some of which we didn't take advantage of. Then JJ Jernigan jumped in there and he made a play as well. So I was really pleased with that. It was good, hard, fast running, but obviously there was some good blocking as well. And we stayed away from the penalties, too, which, God Almighty, is discouraging. Last week we had a ball returned to midfield and we had a penalty.
Q: Do you think the guys were aware of the endings in the Dallas and Washington games?
Q:  So do you think it would have played any factor had they known?
A: It didn't have any effect on us on the field. Some of them may have known, but I didn't pay any attention to it. What happened?
Q: They both won on the last play.
A: On the last play? But we won, too, didn't we?
Q: Well, it just looked like you guys were ready to open up a big lead in the division.
A: Well, you know better than that. We couldn't stand for that.
A: Well, I'm sure he is going to be sore as he always is, but he was able to go back in.  
Q: Could he have gone back in at the end?
A:  I think he could have.
Q: What does it say about David Wilson's mental fortitude that he was able to have this game after an up-and-down season?
A: Well, I don't know what you mean by up-and-down because he is the same every day. He's an upbeat kid. He loves to play, has great energy. Let's be honest, for a rookie, he struggled at times with some of the protections and that type of thing, but it's never been anything that has had a negative effect on him in terms of his attitude. His attitude has always been good. So, for him to come back out today and have the kind of game that we needed him to have, we needed a spark, and we certainly got one. The timing is right. The timing is right.
Q: Can you talk about Stevie Brown's spark and his yardage record?
A: I just learned that as we were coming out here. Steve's yardage with interceptions sets the record for the New York Giants. He was in position again, the one he picked in the fourth quarter, boy was that timing right. They had flipped the momentum on us almost completely. We weren't doing much about it at that time. But thank goodness he makes that play and we end up kicking a field goal.
Q: Why does this team play its best when there is no margin of error?
A: I don't know. You'll have to go ask somebody else that one. I would hope we would play our best all the time but that's not the case. We have traditionally done a decent job in certain years when we had no margin for error and our backs were to the wall. If that's the case, let's keep our backs to the wall.
Q: What do you think about Rolle? Is he a leader now and do you think your team needed his message about being nastier?
A:  I think everyone knows now that Antrel thinks about what he is going to say. And what he does say, at this point in time, people take it in a very positive vein. What he did say last week, he was saying it from the heart. He saw what he saw and he thought it needed to be discussed or at least stated and, so, whether or not there was a response along those lines I couldn't tell you, but I do know we had a very difficult opponent to try and defend and it was frustrating at times that they were running the ball the way they were, but eventually did a little better job in the second half on that as well. 
Q: Why do you think your teams over the years respond so well to having their backs to the wall?
A: Good character. Good group of people. The desire factor, the idea that all the effort and work that you put into it is right in front of you now. It's for you to determine your own fate. Destiny is a matter of choice. I wouldn't be able to give you any deep answer to that. Just win.
Q: Is it frustrating you can't dominate the entire season?
A: Well yeah, you'd like to, but unfortunately you are playing against good people too. This is a highly, highly competitive league. The parity is incredible. Week in and week out, look at what you face now. I mean in Carolina and Washington, their style of offense. The level of talent is incredible. And sometimes, you prepared well, your heart is in the right place, you play hard and you don't win. And there are times, obviously, this year where we haven't played as well as we would have liked to. We are all about trying to be consistent, but sometimes that doesn't happen. That's what we talked about this week as well. Establishing consistency.
Q: Did you have to say anything to Eli after that first pick?
A: I liked the way he responded. He wears that stuff hard. That one and the later interception he wasn't very happy about and I wasn't either.
Q: What do you think the message is going forward this late in the season?
A: Same message, over and over and over. Humble in victory, lots of work to do, very difficult opponent coming up this week. And still, maintaining this one-game lead. Understanding the difficulty of our schedule but understanding also you can't get where we want to go without playing the best and having a chance to beat the best. The message now is, again, each one of these games is very, very critical to getting to where we want to go.
Q: What did you think about the pass rush?
A: Well, it's difficult. They did a really good job of keeping lots of people in and causing problems for us from a protection standpoint. I would have liked to have seen more on the quarterback, but to be honest with you, the way they blocked it up it was a difficult thing.
A: No. I don't think he got hurt, I think he wore down.
Q: Did you step out of character saying you needed to win out?
A: That's not what I said. When we start the season off, I talk about winning 16. When we had four to go, I talk about winning four. It's just about winning. You're better off if you feel you have to win each one of these games. What I try to do is make our people absolutely aware of the circumstances. The way you solve your own issues and your own problems is to take care of your own business. How do you take care of your own business? Win. 
Q: Did you like the way you guys responded after that first interception? It seemed like you guys really stepped on the gas pedal.
A: Yeah. Obviously, we had a good little lead there for a little bit. Their offense is high-powered and they fought right back. When they scored, obviously, we responded right back. We had a couple of touchdowns, a field goal and other big plays. That's what we needed to do. It was a good performance by all three phases, in offense, defense and special teams. Obviously, the defense was outstanding by giving us turnovers and the offense was scoring touchdowns, making up plays and we scored enough points to get the win.
Q: Did you like the way you guys performed in the red zone?
A: Yeah. I thought the red zone (offense) was definitely better. You're not always going to be 100 percent, but you want it to be. There will be times when the defense makes plays. I thought we had opportunities. We had chances and they made a couple of plays on the fade to Hakeem. They kept us to a field goal, but after that, we started making the plays that we needed to. I hit Hixon on a fade, hit Martellus on a little one and we started running the ball in there as well. Then obviously, hit Victor on a little play-action as well. We talked about needing touchdowns in the red zone and I think when we get inside the red zone more than anybody, we have to make sure that we're getting touchdowns and tonight, we did a good job of that.
Q: How impressed were you with the job that David Wilson did on running the ball and on special teams.
A: He had a big night. His special teams and his kickoff returns were outstanding. Obviously, giving us a touchdown after I threw an interception for a touchdown was very nice. I appreciated that. Then, he had a couple of other returns that gave us great field position and then the runs. He ran hard. I said to him, 'Your best play was picking up that three-safety blitz on a play-action.' He's learning, running hard and he had a couple of big runs at the end for first downs. He obviously showed speed on the toss for that last touchdown.
Q: How nice is it to get the field position that you guys got from special teams and the defensive turnovers?
A: That's outstanding when the defense gets fumble recoveries, interceptions that gave us great field position. We want to get touchdowns out of those, hopefully. It makes a big difference when we don't have to drive 70 or 80 yards and only have to drive 30 yards to get points. It makes our jobs a lot easier.
Q: Do you think that Wilson can score from anywhere on the field?
A: He's definitely got breakaway speed and he showed it tonight on a few plays. Obviously, his kickoff returns were huge for us. If we could get a couple of those per game, or one of those per game, it creates great field position. Obviously, he had three or four great ones and (Jerrel) Jernigan also. Yeah, you get some runs to him where he can… I thought he ran hard tonight. He made a lot of plays. If we just give him a few touches, the more touches you give him, the more opportunities he'll have to break a big one.
Q: You threw four touchdown passes today. The pass you threw to (Domenik) Hixon had a particular effect. Did you feel comfortable throwing that pass in the corner?
A: Yeah. They did a good job of rotating their safeties on that one. I knew I was going to have one-on-one coverage and we needed a touchdown in that situation. I was confident, had good rhythm and put it in a spot where only he could catch it or nobody and he made a great catch by staying in-bounds. It was a big play for us, right before halftime. That gave us an eight point lead going into halftime.
Q: You guys had a few weeks where the passing game was out of sync. These last three games, we're seeing different results. How have you guys been able to get that passing game back on track?
A: I think offensively, we continued to work and make sure that everybody is doing the right things. Making sure that our assignments, our techniques are perfect and getting back to practice and make sure that everything is sharp. Knowing exactly what we need to do to get open, the offensive line is protecting and we're getting good down and distance and staying out of third-and-long situations. I think guys are just stepping up and responding. Getting Hakeem (Nicks) back and running where he's making plays, that's obviously outstanding. Getting Hixon back into the mix, getting him healthy and Martellus (Bennett) has been playing well. All of those things make a big difference.
Q: What kind of space does Cruz get when those two guys are operating?
A: I think when you have three receivers and a tight end who are all capable of getting the ball and you have great confidence and trust that they're going to get open and beat whatever coverage they're throwing at you, or whatever the one-on-ones are, it obviously eliminates what defenses do. They can't just say, 'Hey, we're going to double Hakeem and double Victor.' If they want to do that, we'll go to Martellus, or we'll go to Hixon. I thought tonight, we mixed it up well. It just makes my job a lot easier when I can just read the coverage and understand what my rules are, where I need to go with the ball and the first guys are winning on their routes.
Q: Right before kickoff, Dallas and Washington won in dramatic fashion with field goals at the end. Were you guys aware of that and if so, did that change the feel or the urgency of this game?
A: No. We came in all week knowing what this game meant. We needed to get a win. I think our concern right now and for these next three weeks is about the New York Giants and what we need to do. That's all we can focus on. Obviously, each week might present a different circumstance. Obviously, after the first week of this four-game season, all three teams in the NFC East won. I think Philly won also, so all four teams in this race won games. We have to keep going and keep winning football games.
Q: When did you know that Dallas and Washington had won?
A: I happened to see during the time-out. I looked up and saw that Washington had won. I did not see that Dallas won until after the game. I asked somebody and they told me that Dallas won.
Q: Did you feel any different before the start of today's game – did you know something big was going to happen?
A: Not really, I just went through the regular warmups, but last night I was really tired so after the meetings I went upstairs and went straight to sleep. 
Q: You have high expectations for yourself.  Did you feel like you had a game like this possible this season?
A: Actually to go back to the first question, I fell asleep watching the Bo Jackson thing on ESPN, so maybe I was dreaming a little bit about that. To come out and have a breakout game like this, it's an excellent feeling – you want to have a good game.  Every game you want to have a good game.  I think I went out there and my teammates went out there and we played great.  We put up 50 points, which hasn't been done in a long time.
Q: Talk about how far you've come since the first game of the year when you fumbled and Coach didn't put you back in and you got emotional on the sidelines.
A: I didn't have the greatest start for a rookie, and rookies have little room for error.  At that point I was put in a position where I had to gain the coaches' trust again.  I stuck with it and kept working and working at meetings and working on the field and trying to regain the trust.  I knew eventually my opportunity would come again.  I did those things so I would be prepared when the opportunity did approach.
Q: Did you feel the organization brought you along slowly to get you ready?
A: Yeah, they did what they had to do.  This is a great organization with great coaches.  They make the right decisions – it's the reason they win games.  They knew how to handle me and knew what to do with me to put me in the positions where I could win.  They just made all the right decisions.
Q: On Friday in practice you had a big kick return – did you feel like this was coming?
A: We go through the special teams script each week and sometimes it's not there and sometimes it is.  This week on every return that I did in practice it looked pretty good, and before the special teams meeting before the game, coach hands out assignment sheets.  This game, he didn't hand me one, so I went to ask him 'coach, where's my assignment sheet," and he said, "you don't need one – just run fast."  I think that might be the new thing – I think I'm done with the assignment sheets. 
Q: Were you more proud of the 100 yards rushing or the kickoffs today?
A: I think the kickoff return for a touchdown was really exciting and really a spark for the team, so I think I enjoyed that one more.  But anytime I'm in the end zone, you celebrate with the team and you can see how happy we are.
Q: You were also pretty close on a couple others [returns].
A: All season I've been close and when I got close on the first one I was like, 'here we go again.' 
Q: What takes more skill: Victor Cruz's salsa or doing the back flip?
A: With his salsa, you've got to have coordination.  Not that many people can dance, and not that many people can flip.  I think they both have their own little spice.
Q: When did you know you had the touchdown return?  Was there a point on the field where you said, "this is it?"
A: When the kicker turned around the second time. 
Q: Some of your blockers said that they had seen the scores in the Cowboys and Redskins games right after the pick-6; did you happen to see that as well?
A: No, I didn't, but we've been looking at the season, especially these last past weeks and especially this week, we took the approach of a four-game season.  So regardless of what teams do around us in our division, we want to have full control of our own destiny.  We prepare each week to win every game, so we can control.
Q: What does it feel like when you get into the open space?
A: When holes open up like that, I just thank God for giving me the speed to take advantage.  You hate to be one of those guys that can just look at the hole and say, 'Man, I could have taken that hole if I was a little bit faster.' At that point, I just use my God-given ability.
Q: For all the talk about this team – we've been here before, we've been through this – you're a guy who wasn't here last year.  At any point in the last couple weeks when you see the highs and the lows do you take a step back?  Are you surprised at the way this team plays when it's under pressure?
A: I wasn't here last year, I watched them win the Super Bowl on TV.  Then I got drafted to them and I said I want to win a Super Bowl.  I knew coming to this organization I would definitely have the chance and the opportunity.  With some of those games it hurts a little bit, but we know there's more games, and now it's narrowing down to the end of the season so we can't have any more of those errors.  We want to definitely control the table.
Q: Jason Pierre-Paul and Antrel Rolle kind of challenged the defense a little bit this week. Do you guys feel like you played the way that you wanted to?
A: In some aspects, we definitely played tougher. But, you know, we still have some things to clean up.
Q: The turnovers seemed to be as timely as they've always been.
A: Definitely, definitely. A long as we can get them off the field, keep them from scoring and get the ball back to the offense, it always works in our favor.
Q: That first turnover seemed to be kind of big to get the fumble out and turn the field around. You didn't score on it, but how key was that to set the tone?
A: It was key, because they had made a few plays. Then, there was the big catch that he (Marques Colston) caught. Will (Hill) came through and hit him. The ball came out, so it was definitely big for us.
RE: The strong play of the Giants special teams:
A: Yeah, definitely. They definitely stepped up and they played well. Coach Coughlin challenged us on the kickoff return team for a couple of weeks now. He said, 'You guys got the guys in this room. We know you guys can score.' We went out and executed.
Q: Is this the aggressive tone that you feel the defense needs to set every week? That aggressive, ball-hawking style?
A: Yeah, definitely. Definitely. We need to come out there and make sure we're always physical. And make sure that we're always trying to go out there and get the ball, create turnovers and things like that. So, it was definitely a start.
Q: They hit a couple of big plays, but by and large, you guys knocked down some of those long passes.  Was that a focus on limiting Drew Brees when he threw down the field?
A: Yeah, definitely. There are so many options and so many weapons, they're a very efficient offense. They're able to make a lot of big plays. We were trying to eliminate as many big plays as we could.
Q: You set the Giants single-season record for interception return yards.
A: I mean, that's what I was told. I mean, it's a nice accomplishment. It doesn't really mean too much.
Q: Did anything Antrel said this week fire you up at all?
A: Yeah, definitely. Definitely. You definitely want to go out there and play hard after someone makes a comment like that. Everyone looks at 'Trel as a leader and he's played great for us this year. When someone challenges you like that, you want to rise up.
Q: What did you guys do against (Jimmy) Graham? He had five catches for 56 yards, but a few of those catches came after the game was decided. Was there anything specific you guys did against him?
A: There's nothing too specific. We were just cautious of where he was at on the field. We knew he was one of Brees' favorite targets. So, we wanted to take him away.
Q: Is there a buzz after the way the Cowboys and the Redskins games ended? Did guys know what was going on?
A: I wouldn't know. Everybody knew what happened. I mean, you see it across the scoreboard at the game and everything like that. We weren't too worried about it. We're in first place right now. If we don't lose, we go to the playoffs. That's our focus.
Q: Do you guys play with that dog mentality that Antrel said you guys needed?
A: I think we did. I definitely think we did.
A: When we came out there on those first couple of possessions, we were able to make big hits to knock the ball loose. People were out there trying to make tackles and I think everybody was playing hard. Everybody was trying to do what they could to better the team.
Q: Could you sense that there was something a little different about today?
A: We had a great week of practice. A great week of preparation and everything like that. So, we just tried to carry it over into the game.
Q: Turnovers were a big part of this game.
A: Definitely, definitely. That's something we talk about on a weekly basis. We're always trying to win that turnover battle. If you win the turnover battle, it puts you in a better position to win.