New Orleans Saints tight end Jimmy Graham has overcome tremendous obstacles his entire life. He accomplished what others said he never would, and he's not done yet.
"Most people, even people that I knew, laughed in my face when I told them I was going to play football," said Graham, a former basketball standout for the University of Miami. "I think I'm only going to improve."  
That attitude, paired with an exceptional drive and work ethic fostered over a lifetime of competitiveness, has allowed Graham to become one of the most dominant tight ends in the National Football League in just his fourth year playing football.  
The former Hurricane played basketball in Coral Gables, Fla. for four seasons. After years of being labeled as the enforcer by his teammates, Graham realized his skill set and attitude might be better suited elsewhere. It was then that he decided to take his talents from the hardwood to the gridiron and he has yet to look back.  
"I was either going to throw you or the ball out of bounds," said Graham. "How I am competitively and physically, I definitely think I have more of a football mentality. I think the aggression that I have is definitely meant for football."  
That aggression and competitive nature helped Graham in his only season playing football at the University of Miami. Well after the end of the collegiate season, as the 2010 NFL Draft approached, Graham began to receive attention in ways he hadn't before.  
"Every analyst on TV said I was the NFL Draft's biggest risk," said Graham. "I can remember, literally every day I heard that I was the biggest risk. It was pretty motivating. Sometimes high risk has high reward."  
For the Saints, the reward has been well worth the risk.  After selecting him in the third round of the 2010 Draft, Graham has appeared in 42 games with 25 starts for the black and gold while racking up 189 receptions for 2,320 yards (12.3 avg.) and 24 touchdowns, the most by a tight end in the NFC since 2010.  
He is the only tight end in franchise history to be named NFC Offensive Player of the Week and the first at the position to earn the honor since 2006.  He was named a Pro Bowl starter in just his second season.
Tight ends coach Terry Malone has worked very closely with Graham since he was drafted. Malone noted that since he arrived, Graham has been eager to learn as much as he can.  
"I think one of things that makes Jimmy Graham very special is that he is a competitive guy and he really has a burning desire to be the best," said Malone. "He works that way. Since he joined the team, he has always put time into the game and it's very important to him. When you combine a guy that has his talent with that kind of attitude, then the sky is the limit."  
Even while continuing to learn the detailed ins-and-outs of the game, Graham has performed exceptionally well. He has relied on his passion, emotion and motivation to ensure that he puts forth his best effort on the field each and every game.  
"I have a fearless attitude," said Graham. "I am a player that plays with a lot of emotion. I think the fans notice that. I take the game very personally. It's something that I take a lot of pride in. I always feel that when I step on the field, I have something to prove. To this day, people always call me the basketball player and I feel like I'm out there proving why I should be out there."  
But after his 2011 season, players and coaches all across the league know that this tight end doesn't perform like he's still learning the game.  Graham recorded 99 receptions for 1,310 yards (13.2 avg.) and 11 touchdowns last season while leading the club in all receiving categories.  
He became just the second tight end in history to go for over 1,300 yards in a single season and he also started a streak of six consecutive games where he pulled in a touchdown catch (tied for the second-longest by a tight end since the AFL-NFL merger).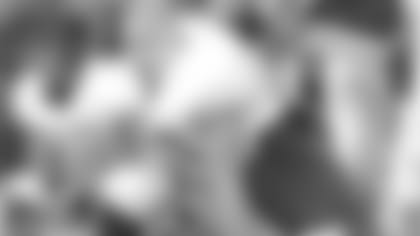 He finished the season ranked No. 14 on the NFL Network's "Top 100: Players of 2012," a list voted on by NFL players.  Despite the accolades and praise, Graham still isn't satisfied.  
"I think there were a lot of missed opportunities last year," said Graham. "I missed some plays just because I was a young player. Now, I feel like I can recognize things a lot quicker. Hopefully it can allow me to limit those mistakes and capitalize on more opportunities."
So far this season, even while facing more complicated coverages and double-teams, Graham is tied for the team lead in touchdown (8) with Marques Colston, second in receptions (59) and is third in yards (654).  
Against the then undefeated NFC South opponent Atlanta Falcons on Nov. 11, Graham put forth the best effort of his career when he racked up a career-high 146 yards and tied a career-high with two touchdowns in the Saints win.  
"I think I've just scratched the surface as far as my potential," said the Pro Bowl tight end. "I have more of a football body now. I've put on some weight. I know more about defenses and it helps me to recognize certain coverages I want to continue to improve each and every day."  
His hard work has helped him to hone his skillset but the tight end has also been able to learn from one of the league's elite quarterbacks, Drew Brees.  Brees has been the signal caller for every game since the former Hurricane was drafted and the quarterback has been able to witness Graham's passion and desire to be great.  
"The sky is the limit for this guy," said Brees. "The good thing about him is that he doesn't necessarily need to be pushed or motivated. He is self-motivated. He is driven. He's got a fire that burns inside of him."  
Graham traces that desire well into his past, all the way to his childhood. When faced with many obstacles to overcome, Graham turns toward the upbringing that shaped his attitude and competitiveness.  
"It taught me and it has given me that chip on my shoulder," said Graham. "My whole life I've had to prove myself and battle through things. My whole life I've had a chip, it's just in my personality."  
Offensive coordinator Pete Carmichael has noticed the passion that Graham plays with on the field.  
"I would say he is a very emotional and passionate player," said Carmichael. "When he makes a big play he gets excited. He gets excited for his teammates when they make a good play. I think he is a guy who plays with some extra passion, some extra fire."  
But even with his success to this point, Graham retains the same attitude that he has always had. He strives to be great and will never stop. He remains focused on constant improvement and evaluates his performances with a microscope.  For Graham, there is no excuse to settle.
"Improvement and hard work are the biggest things for me," said Graham. "I am focused on becoming the best player I can to help this team. I want to help this team win games."  
But, for the tight end, there is some extra motivation every time he steps into the locker room.  
"There are a lot of guys, whenever I look around, that have a ring," said Graham. "I'm not one of those guys. That's the ultimate goal, to get a ring. It's really all I think about, especially when I work out. I am always trying to move towards that goal."