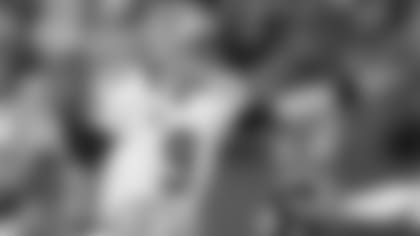 NEW ORLEANS SAINTS POSTGAME QUOTES
SAINTS AT GIANTS – METLIFE STADIUM
SUNDAY, DECEMBER 9. 2012
Saints Assistant Head Coach/Linebakers Joe Vitt
That was an embarrassment today. It starts with me. That's where the blame should go. I didn't do a good enough job of getting this team prepared. I didn't do a good enough job at getting the major critical factors across to our football team, what it was going to take for us to win this football game. I have not had the chance to look at the stats yet, but I promise you the stats are fairly even. I think offensively we had a good output. We moved the ball. Defensively, we had to defend some short fields. Here's the key, we can't have four turnovers in a game, especially on the road against a good football team. We can't allow them to have the returns that they had and score touchdowns on returns and have the chance to win on the road against a good football team. The average starting field position for their offense as opposed to our offense has to be off the charts. It has to be at least plus 35 or 40 yards. So when you look at the critical factors and when you look at the game within the game, we didn't deserve to win this game. Again, it starts with me. I have to do a better job at making sure that I get across to our team the critical factors of what it takes to win a football game on the road against a good football team and defending world champions.
Q: It seemed like Thomas Morstead's kickoffs were a lot shorter than we're used to.
A: Well, we're outdoors. There's a little bit of a breeze down there. It was raining. I don't think you expect him to go that far. It's no excuse. Our coverage teams have done an outstanding job all year long. It's a shame what happened today with our coverage teams, but they miss it. That's what they're paid to do. That's what we're paid to do is cover kicks and cover punts and get the job done. We didn't get that done today.
Q: Was it more of a breakdown on the Saints side or was it something the Giants were doing exceptionally?
A: Obviously they out-executed us, so give them credit.
Q: In the last three weeks it seems like it's been a steady progression downward. Is there anything that you can see coming off of this game for you guys?
A: Like I said, I think our coverage unit has done a great job all along. We're one of the top coverage units in the National Football League. Today, all of the sudden, they returned the first kickoff and then the second kickoff for a touchdown and we're all stunned. We're in damage control mode and the horse is out of the barn. We have to regroup. Just kick the ball off. Coverage guys have to cover. We didn't do that.
Q: Can you explain the last couple kickoffs?
A: We tried to sky kick it. It's a great thought. They fumbled the first one we did. We were in position to maybe get that thing recovered. Mack had seen enough of the coverage unit. We were going to give our defense the best chance they had with decent field position. I thought that was a great thought. But, we have to clean that up.
Q: You used the phrase damage control mode. Are you guys just too far out of your comfort zone in these games that you let it get to damage control mode?
A: I don't think that. When you're losing the way we're losing, you're a fragile football team. We have a lot of new guys, a lot of new faces on this football team. We have enough guys that are used to winning, that are used to doing things the right way. Unfortunately, right now we don't have enough of them. All of the sudden something goes bad and it's like here we go again instead of just setting your jaw and drawing a line in the sand and having the mental toughness to get it done. Again, it all starts with me. I have to do a better job of that. The average starting point for them today and the average starting point for us was off the charts. They did a great job in the field position game. We played a good football team on the road.
Q: Since you've been in New Orleans have you seen a game quite like this one?
A: I can't say that I have. We've had some heartbreakers. We've played bad on both sides of the ball.  But, this was a pounding today.
Q: At the end of the first half it was 14-13 and they drove down and got that touchdown. How big was the momentum shift there?
A: I'll tell you what's disappointing about that. We emphasized to our football team all week long how good Eli was particularly in the first half of two-minute drills. He was leading the league. We had a blown coverage in that situation on a switch route. If you blow a coverage, you're not going to give yourself a chance to compete. They complete a big ball, its third down and long and now we're already losing the game. We're not doing the things that we have done here in the past to win football games. We have to do a better job of it. We knew the situation we were in and we knew the quarterback.
Q: What is it that you can do to change what's going on?
A: I promised our football team in the locker room that they're going to get our 'A' game. We're going to coach them as hard as we can and as well as we can every single time they're here. They know as well as we do that we're going to be held accountable for what happens on the field on Sunday. I've got to do a better job of making our football team understand the critical factors that you must do on a weekly basis against your opponent to win a football game. You can't turn the ball over. You can't lose the field position game. You have to be able to protect your quarterback and pressure the other quarterback. You have to win in the red zone. You have to win on third down. A lot of those things we did today.
Q:  Is this the roughest stretch you've had in your career?
A:  I'm not sure, but it's been tough. We were at .500; we crawled all the way back to 5-5 after the 0-4 start and really felt like we were catching our stride. We knew we had a tough stretch ahead of us, but we knew we controlled our own destiny at that point. The most disappointing thing is just losing the way we have and doing some uncharacteristic things, doing all the things that get you beat. That's the disappointing thing, because we know better. Credit to the Giants today because they played exceptional.
Q:  What are your emotions like after a game like this? Frustration? Disappointment? Anger?
A:  *  *Yeah, it's kind of all encompassing. Like I said before, we have an expectation level we've established within our organization and within our team for the way that we're going to play. We want to play winning football and want to be efficient and do all the right things. We have great coaches; we're well coached. We know better when we do some of the things that are either lack of execution or not taking care of the ball; those things that we have engrained in our head as to what wins football games and what loses them. You're going to have bad days, and typically we've been able to overcome those. Unfortunately the last three weeks, we have not been able to overcome the mistakes we've made.
Q:  With the recent trend of interceptions, is there a theme of trying to find the holes when they might not be there?
A:  No, obviously we've been behind in some of these games so you're taking some chances that you might not ordinarily take. Some of them have been poor throws, just bad location; could've thrown a little better. There have been some that have been bad decisions. You want to get rid of those. Others have been bad luck. Your arm gets hit or the ball gets tipped and whatever it might be; those are the unfortunate ones and yet, it still falls on you the quarterback.
Q:  What would you attribute the interceptions to today?
A:  I tried to give Jimmy (Graham) a chance on that one. The defender was kind of draped on him…I'm not sure about the contact, but I felt like I put it in a place where Jimmy could get it. Unfortunately, that ball gets tipped up to another guy, not down. The other one, I really threw it right where I wanted to. The guy made a great play by cutting Jimmy off. Not sure if Jimmy felt that he was there, but that's just one of those tight throws that I felt like I threw with good zip right where I wanted to. Unfortunately, he stepped in front of it and made a nice play.
Q:  How tough is it for this locker room to know that the playoffs are probably out of reach?
A:  Yeah, it's tough. It's really tough, but it doesn't affect the way that we prepare and the way that we approach each week. Each of these games is so important, still so important, because we have a lot of prideful guys. We're not about to shut it down and feel like the season is lost. There's still a lot that can be done.
Q:  Is it tougher for this group considering how successful you've been in the past?
A:  Yeah, absolutely. We've established a standard. Coming into this year, we were the "winning-est"  team in all of football the last three years. We had won 41 games and that was the most. We're used to winning, and we still are, and that's why it hurts and it's painful. We have the right type of guys to pull ourselves out of it and make sure that this season is for something. 
Q:  Are you anxious about the next couple of days and if a decision will be made about your future for this season?
A:  Not at all. I could care less about that. I'm more worried about us finishing strong. It's been awhile since we've been eliminated from the playoffs. This is tough. This is tough to swallow. This is definitely my priority and, unfortunately, we're not getting it done right now, so no, I'm not worried.
Q:  Do you feel like you're eliminated now? A lot of things have to fall into place:
A:   Yeah, exactly. I don't do all that math. I just know 8-8 this season I seriously doubt is going to be playoff-potential.
Q:  Do you think this team is "fragile?"
A:  I wouldn't say fragile. I really don't know what to call it. I just know we're accustomed to winning, finding ways to win. This year, we're not. To be perfectly honest, we're just not doing it this year. To overcome a lot of the mistakes, whether it be a kickoff return, a long touchdown run, an interception return, whatever it is, for whatever reason this season, we're not good enough to overcome those mistakes. We have to be more conscious in practice, more detailed about how we approach our game and how we handle our business on Sundays.
Q:  How much did those long kickoff returns put you on your heels?
A:  I don't think it put us on our heels; it just was tough knowing that if you give up a first down, they're already in field goal range. If you give up two first downs, whatever it is, one missed read, you give up a touchdown instead of just a long catch. Those were the things that were happening. We blitz, he throws one nice ball, over-out to 85, I think, I can't even remember now; if we're backed up, it's just a nice catch, nice throw. Instead, it's a touchdown. Those were the things that hurt. We're out there to do one thing, and that's to stop their offense and give our offense the ball back. Sometimes we did that and sometimes we didn't. 
Q:  Is this the most frustrating loss you've had?
A:  No, all the losses are frustrating since I've been here. We can't turn the ball over like that and expect to beat good teams.
Q:  Can you talk about your team's performance in all three phases of the game?
A:  I'm disappointed; disappointed because we keep giving these things away. You can't have that many turnovers and you can't give up field position like that and expect to beat a good team…or to really beat anybody. We have to figure it out.
Q:  You had a few dropped passes; can you pinpoint what the problem was today?
Q:  Is there anything you need to work on or have been working on in practice?
A:  I'm not sure. Just get back to the drawing board and hopefully make some plays.
Q:  Do you recognize the identity of this team right now?
A:  No. Honestly, since I've been on this team, we always win. That's probably the biggest difference.
Q:  What has the problem been with protection the last few weeks?
A:  I'm not really sure. If we had the answer, obviously we wouldn't be turning the ball over, but we are. We are collectively as a group and you can't expect to win games like that.
Q:  Were the Giants doing anything in particular on those first few kick returns?
A:  I have no idea. I just play safety in the middle and if he gets through, I do my best.
Q:  Coach had you sky-kicking at the end?
A:  We haven't done it this year and the situation hasn't dictated that we need to do it. Coach made the decision.
Q:  Did it just seem like the Giants had a knack for breaking off the long returns today?
A:  I guess. I haven't looked at the film, nor do I know how they got through. All I know is they got through.
Q:  Goodell mentioned eliminating kickoffs from the NFL last week. What were your thoughts on that?
A:  I don't know. It's a big change for the game, I guess, if they were to do it.
Q:  You said last week you usually get pumped up kicking off:
A:  It's different kicking off at home as opposed to away.
Q:  Pretty tough in these conditions?
A:  I thought I kicked well; just not going to go quite as far.