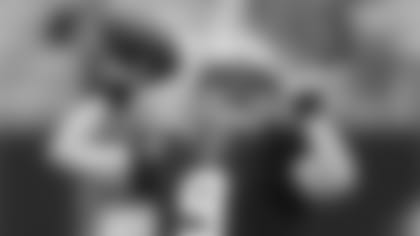 New Orleans Saints Postgame Quotes
Saints at Carolina Panthers
Sunday, September 16, 2012
Offensive Line/Running Game Coach Aaron Kromer
Tough loss on the road to a divisional opponent. Obviously, we're not happy with our results of today -- the final score, the outcome. That's a good football team that didn't win last week but this week you could see the progress that they were making with their quarterback. Cam Newton is an outstanding player who is able to rush the ball and throw the ball. Offensively, you'd say when you look at us, we improved a lot of the areas we were looking to improve. We had 162 yards rushing and we had 300 yards passing, and we only had two penalties. So if you'd say we were 54% on third downs, you'd say this – you'd say we went out there to improve penalties and third downs from last week, we wanted to run the ball more efficiently, and we did that. But when you look at it, you turn the ball over for a touchdown and you lose the game by eight points, that can hurt you. And when you allow big plays on defense, that can hurt you. And that's what happened today. We're going to get it fixed. When you look at this team in the locker room right now, they're hurt, they're down, but they're not out. No one in that locker room is quitting. They're a group that's resilient at a lot of things and they're sticking with it, they're sticking with the plan, and I appreciate it for them.
RE: On the impact of the pick-six in the first quarter
There have been plenty of times when we've had a pick-six that we've been able to overcome. So in no way did we look at that at that time and say, 'The game is over. We don't have anything because we have a pick-six now.' At the outcome at the end of the day, yeah, that hurt you.
RE: On the Panthers' big plays
They did a good job of doing that. Teams obviously don't want to give up the big play so they play their safeties deeper than you can get, and you check the ball down.
RE: What he's going to take away from the game
Like I said, we were 54% on third down, and last year that would have been tops in the league. And I really think if we can just stay more consistent with keeping drives going with a couple of third downs that I can recall, protection could have been better, and we could have got open faster… It's always that offensive effort. It isn't usually one position one way or the other so we just got to keep working. The guys are going to keep working. They're going to show up tomorrow resilient, and no one's going to panic. Are we going to heat it up and are we going to keep working harder? Yes, we are.
RE: Steve Smith's 66-yard catch
They made a good play there. Cam found an open receiver running down the sidelines, and I'm sure if that happens again, we'll get it fixed.
We choose not to use excuses, and that's a choice that we make in the locker room. Everybody has adversity; all teams have adversity. We just need to continue to pay attention to what we need to know about the offense more so we don't have the mistake. What we need to learn on defense so we don't have the mistake. Just keep studying the game and keep studying what we have to do to be successful on a daily basis.
RE: If Drew Brees was trying to do too much
I don't think it was today. No, I don't think it was that today. I think the things we asked him to do was to cut the penalties down, we asked him to convert third downs, and he did both of those things. We didn't get behind the chains offensively as much, which allowed us to convert third downs. And I'm telling you, we're going to stick together. We're going to right the ship, and we're going to win more games than we lose. That's what we're going to do. We're going in to win next week.
RE: On the Saints' defense
If you look at our defense and you look at the two offenses we've played, we've played the most unconventional offenses in the National Football League. You go from RG3 and then to Cam Newton, they're just unconventional. So do we have to do better against those style of offenses? Yeah, we do. One thing we need to get settled in on is on that style. But we've played two good offenses, and we just need to keep working at it and plugging away.
Yeah, we lost some momentum there, but we got it back. We got it back because these guys are resilient, like I said earlier. And we found a way to get the momentum back and get that going in our favor. Obviously, we talk turnovers every day. It's our No. 1 goal - to not turn it over and to get more turnovers. And sometimes turnovers come in bunches. So you look at it and you say, we've got a couple turnovers lately that we're not used to getting, to be honest. And, defensively, we haven't gotten the takeaways. And I'm telling you, as we keep going, these things happen in bunches. As we keep going, our defense is going to start getting them and we're going to have to eliminate the ones we give each game
RE: On getting in the win column
I tell you what – we just need to get back to basics as we're doing. This week you'd say, that the team as a whole got back to basics and got better. We played better this week – although not good enough to win – we played better this week, and we're going to continue to improve in all areas.
#9 Quarterback Drew Brees
That was a great way to start the game. Obviously, we feel good about our openers. We went out and executed very well. I think we were three-for-three on third downs. It resulted in a touch down which is a great way to start the game.
It's difficult. Especially since obviously, expectations are a lot better than that. It's been two hard fought games. Unfortunately, we have gotten down in both of them to the point that I feel like we were trying to claw back in the fourth quarter. Typically when you get a close game at the end, it's back and forth. I felt we were playing catch up these last two games. You look at this game, and you just look statistically, we rushed for 160 yards on 27 carries so a 6.0 yards per carry, which is phenomenal. You look at that stat alone, and say we won the game. Better than 50 percent on third down. Unfortunately I had the turnover early that resulted in a touchdown for them which is a huge play in this game. It can't happen. But then red zone efficiency, and all those 500 yards total offense, if you look at the stats offensively, it should have been a game we won. Unfortunately, as I think back, there are probably six or seven plays that I can think of right now that if it had gone our way, just one or two of them, I think the outcome of this game is completely different. Typically that is what it comes down to is six or seven plays, did you make it or didn't you. Unfortunately, we didn't.
We trust our preparation. We trust our approach. Unfortunately, we have done some things these last two games that have set us back, prevented us from winning. The important thing is recognizing what those things are and having an answer for them. I feel like we have that. Now it's a matter of going out and actually getting a win, catching a break, having one go your way, and get on a win streak. We have done a great job of doing that here in the past. There is always adversity. Unfortunately it has come to us a little bit sooner than we expected with the 0-2 start. There is no doubt in my mind that we have the right type of guys in our locker room and coaches and scheme to overcome this.
It's fine. It just got rolled up on, kind of an awkward position but it's going to be fine.
RE: Has anything changed other than technical part to the game
It is all the things that we have talked about up to this point. The do your job mentality. Not trying to do too much. Just play within yourself, play within the scheme. The preparation aspect of it. The way we practice. Everything is the same as it always has been. Now it just is a matter of as the season starts you come as a team. You gel. You find out who you are, early on. Unfortunately for us, it hasn't gone our way. It's going to test us. I'm confident we are going to stay strong and battle through this and we will overcome.
RE: Play calling or execution mistakes
I'd say it was execution. There was a third down that was a batted ball or else it's a completion that continues your drive. The one with the sack that I got rolled up on, I should have gotten to a different play. If I had done that maybe the drive continues or maybe we don't get knocked out of field goal range. That's three points. That could have been three crucial points going down the stretch there. So those are just two examples of the six, seven, eight things that I'm talking about offensively that man, if we can get one or two of those to happen in our favor, changes the outcome of this game.
#43 Running Back Darren Sproles
RE: Carolina's style of defense
"We were fighting. They started off playing man coverage. In the second quarter they played a lot of zone.
RE: Bouncing back from the loss
"We have to go back this week and practice hard."
Re: What did coach say to you after the game?
"We just have to keep fighting and go back to work this week."
#33 Cornerback Jabari Greer
*RE: On Carolina's Style of Offense *
"I think that they executed well. I think they executed some of the first and second downs that put them in favorable third down field position. They executed some third downs well. They capitalized on some explosive plays. We were prepared for the style of offense they were playing. They did a good job of capitalizing on some explosive plays that moved the momentum in their way."
"It was a miss communication that we had."
"Of course we are disappointed with our start, disappointed with losing today.  We have to continue to be encouraged by the opportunity that we have. This is professional football and it is unforgiving. No one is going to feel sorry for us. We're not going to feel sorry for ourselves. We're not going to be frustrated.  Our backs are against the wall and we are going to come out and fight. Not only do our men deserve that but our city deserves that as well. I believe that each and every one of us as professionals need to show ourselves, dig down deep and see what we can pull out. This is not a favorable condition for Saints football.  This is a great opportunity for us to bounce back."
"It really comes down to turnovers and making big plays. We need to not make turnovers.  At the end of the day it needs to come down to explosiveness. Overall we didn't play well enough to win the game, especially on the road."
RE: Bouncing back after two losses
"A lot of teams come back from 0 and 2. We just have to keep playing. We don't want to lose sight of playing the division. We have a long way to go. We are looking forward to the challenges ahead. With uncharted territory comes uncharted success. We just have to ride this out and rectify it."