SAINTS VS. EAGLES GAME PREVIEW
The New Orleans Saints (6-9) enter Sunday's matchup having won two-consecutive games, looking to break a two -contest losing streak in the series at conference leader Philadelphia (13-2). New Orleans will be looking to have their first three-game winning streak in over a year and remain in contention for a postseason berth.
The New Orleans Saints and Philadelphia Eagles first met on November 5, 1967, with New Orleans posting a 31- 24 victory at Tulane Stadium. It was the first win in franchise history, coming in Week eight of the Saints' inaugural season. In 1967 and 1969, New Orleans and Philadelphia were rivals in the NFL's Capitol division. The Eagles lead the regular season series 18-12, with the Saints holding a 3-1 edge in the playoffs. The Saints are 3-11 in regular games played in Philadelphia, the most recent two victories at Lincoln Financial Field taking place on September 20, 2009, a 48-22 victory and a 26-24 win on January 4, 2014, for the franchise's first road playoff victory in an NFC Wild Card contest. 
WATCH SAINTS VS. EAGLES ON TV
Fans can catch the action on the following television stations:
TV: FOX (WVUE FOX 8 locally)
Announcers: Joe Davis (play-by-play), Daryl Johnston (color analyst) and Pam Oliver (sideline)
LISTEN TO SAINTS VS. EAGLES LIVE
Fans can catch the action on the following radio stations:
Local radio: WWL-870 AM and 105.3 FM
Announcers: Mike Hoss (play-by-play), Deuce McAllister (color analyst), and Steve Geller (sideline)
Spanish language radio: KGLA 830 AM and 105.7 FM
Announcers: Mario Jerez (play-by-play), Juan Carlos Ramos and Victor Quinonez (color analysts)
STREAM SAINTS VS. EAGLES ONLINE WITH NFL+
With NFL+, Saints fans can take their game on the go. NFL+ offers fans in the New Orleans market access to every Saints Sunday afternoon game live on phones and tablets. Additionally, fans can also watch every prime-time regular season and postseason game on mobile devices, including the three Saints appearances during prime time this season.
Additional benefits to NFL+ users include live out-of-market preseason games across all devices (excluding Saints preseason games shown in the New Orleans market), live local and national audio for every NFL game, NFL Network shows on-demand, NFL Films archives and more.
NFL+ is available in the NFL App across all app stores for $4.99/month or $39.99/year. Fans can upgrade to NFL+ Premium for $9.99/month or $79.99/year, which offers all of the features of NFL+ as well as full and condensed game replays and the All-22 Coaches Film. (With the launch of NFL+, NFL Game Pass will no longer be offered in the United States.)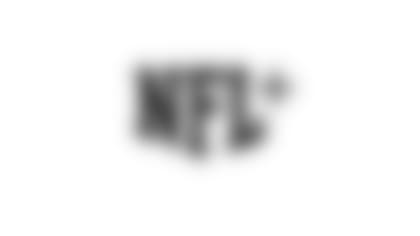 NFL+
Watch live out-of-market Preseason games, live local & primetime Regular Season and Postseason games on your phone or tablet, game replays, and more.
ADDITIONAL GAME COVERAGE
SAINTS POSTGAME SHOW PRESENTED BY VERIZON:
Fans can watch player postgame reactions following the Saints' 2022 Week 17 game against the Philadelphia Eagles on the Saints Postgame Show presented by Verizon. Fans can stream and watch LIVE on NewOrleansSaints.com, the Saints mobile app, Twitter, Facebook, and YouTube.
SOCIAL MEDIA ACCOUNTS
Follow your Saints on social media for live game day updates, videos and behind-the-scenes photos: