Tennessee Titans QB Matt Hasselbeck
Conference Call With New Orleans Media
December 7, 2011
You have had considerable success against the Saints during your career. Is there something you attribute that to?
"I don't know if that's actually true but if it is true when you get to go up against a great offense or a great defense you kind of get geared up for those games. The Saints have had really good teams in recent history. Obviously everybody talks about the offense but with the defense, quarterbacks know how tough it is to face that defense. You probably put a little bit more extra effort into that."
Are you preparing this week the same way you prepared leading up the Saints playoff game last season?
"You have to watch a lot of film and with Gregg Williams as the defensive coordinator if you asked all those quarterbacks around the league they would say he is the toughest guy to prepare for. He really changes up what he does week to week or month to month. We had the luxury last season of playing the Saints in the regular season. That is sometimes a little bit easier to prepare when you know what works for you and what doesn't work for you. That game could have gone either way. It was a tough game in January. We were really fortunate to play at home."
What did you take from the preseason game against the Saints earlier this season?
"Not too much because it was the fourth preseason game. Both teams were so vanilla but when you are talking about the defense that we run here and the defense that the Saints run there, our guys learned a lot of what they know from Gregg Williams. They are probably some similarities. If all the defensive players got together and went out for dinner, they would probably be speaking the same language."
When you are preparing to play a team like the Saints, do you look at games that they lost or games in which you think they played their best?
"It's a little of everything. I try to watch every game. Typically NFL teams will have a six-game breakdown. A look at the last six games that they played. If some teams, let's say they played Denver and they are going to play Denver differently then they played  us, you maybe lose that game and throw in a game like Green Bay in Week 1 that fits more of the personnel groupings and formations that you like to do. At the same time, when you are playing against someone that you have gone up against for years, you know what they have in their encyclopedia of coverages and fronts. You know what they are capable of doing. For example, we haven't seen many double corner blitzes in our breakdown of their last six games but that is something we know that they do. They are willing to do it and they are aggressive on defense. They were that way when Coach Williams was in Washington and Buffalo. It really is tough to prepare for them because you really have to prepare for anything."
Having played the Saints both inside at the Mercedes-Benz Superdome and outside, do you see any difference in how they play?
"I don't. Trying to scout that offense and that offense is so good with Drew Brees. The only thing that can really stop them is maybe the crowd noise and helping the pass rushers get off the edge. The speed rushers get off the ball. Maybe St. Louis had a little bit of crowd noise advantage. Or even last year in Seattle. We probably had a little bit of a crowd noise advantage. Our guys on edge were able to get off the ball. That's not just for the Saints. That is for any home team."
You guys have been playing well lately. How much do you credit that to RB Chris Johnson's improved play?
"I think it's our running game coming around and everything fitting together. The offense is not like the defense. You don't just chase the ball. All the moving parts have to work together. The running game, for whatever reason, has taken us a little bit longer to get that going. The last month we have done a really nice job of running the ball and CJ has been a big part of that. Our tight ends, offensive line – everybody. The coaching staff has put together some good creative checks at the line of scrimmage with the running game that has allowed our guys to get to the second level and break one. That has been the key. Breaking a long touchdown run is really great for stats and momentum."
This is a big game for you guys but do you think you would be as excited to play this game if it were earlier in the season?
"I think there is a very high level of respect for this team, their players, coaching staff and what they have done in the past. I equate it pretty similar to our game against the Baltimore Ravens earlier this year. Everybody knows about their defense. They have weapons on offense. It was a big game for us. Nobody was giving us a chance. We were struggling at the time running the ball. They are exotic with their blitz packages. They play a lot of Cover O. They are aggressive and take some chances. It was a great opportunity for our offense to see if we could protect it, run it, throw it and if we could find a way to win the game. It is a similar game and team. Certainly, there a team that people expect and have expected to be in the Superbowl. Anytime you play a great team like that it's exciting."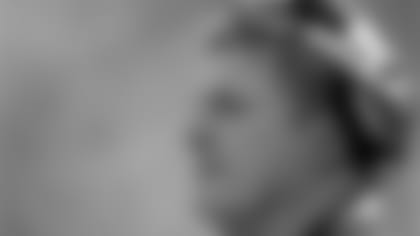 Tennessee Titans Head Coach Mike Munchak
Conference Call With New Orleans Media
Wednesday, December 07, 2011
What has led to Chris Johnson turning it on after a slow start?
"It's hard to just pick one thing.  Opportunities have picked up.  He had a couple of good games earlier in the first eight weeks.  The first four or five weren't so good and that's what everyone was focusing on.  They were expecting so much from him after the contract holdout and the contract he signed.  He's been working at it in practice.  He's been working him back into shape.  The offensive line has been blocking better.  Play-calling, everything is getting better as we're going through the season.  I think we're getting comfortable with the new staff.  He's had an opportunity three of the last four games of getting over 20 carries a game.  He's the kind of back if he gets those types of carries, he can do some big things and have some big runs.  He's been doing more of that the last few weeks."
Have you been picking Matt Hasselbeck's brain about how he beat the Saints last year in the playoffs?
"He's a veteran quarterback and they remember the games against all different coordinators.  They get comfortable with how they're planning on attacking them.  He's helpful every week with who we're playing against from past experiences because he's played against almost everybody and every system.  It gives him confidence going into the game with knowing what Gregg (Williams) will do.  Gregg is always "expect the unexpected".  We've been around Gregg for a long time here in Nashville and I know how good of a coach he is.  It'll be a challenge going against the Saints.  They've been doing some good stuff.  It's good to have a quarterback who feels comfortable every Sunday.  We just have to keep him upright so he can make those good decisions."
Drew Brees has said before it's not who you play, but when you play them.  Are you more comfortable playing the Saints now than a month ago?
"Definitely.  We played Buffalo at a point when they were 4-1 and looking like they had something great going and all of a sudden a couple of injuries happened.  We know New Orleans is a good football team.  We played them in the preseason, but that doesn't mean a whole lot.  They won the Super Bowl a couple of years ago and have a great quarterback and all those weapons on offense.  They play with a defense focused on getting turnovers.  We knew where they were going to be around this time of year.  It puts us in a great spot to play against a very good football team at a time when we have to win a football game if we want to have a chance at playing in the playoffs.  We're thankful it's here in Nashville and we're not travelling for this game.  This is the kind of game you want to play in front of your fans and hopefully they'll be able to help us and make it a little bit harder for the Saints offense to operate."
Do you notice any difference in the Saints when they play outdoors"
"I don't think so.  I think a lot is made about that.  I think the fact that you play on the road, most teams who are 4-4 on the road and 8-0 on the road is a pretty good season.  I think most teams who go 12-4, that's the formula right there.  They're exactly on that formula at 3-3.  I think it's hard to win on the road.  I played in New Orleans and we played indoors, and I didn't feel any difference when we travelled to play in outdoor stadiums when it was November.  I think people try to make things out of that, and I think it's more of the media and the fact that you're 3-3 on the road.  There are a lot of other factors than the fact that it's outdoors that factor into that.  We know that.  The reason we're happy about it doesn't have anything to do with what they're doing, it's more about that we think it can help us.  I've been on the offensive line.  It's hard to operate on the road the way you want to especially on offense.  They've been in a lot of big games on the road so this isn't new to them."
Do you find yourself studying the Saints offense more in the most recent weeks or earlier in the year to study what went wrong?
"You have to do both.  You want to see what they're doing most recently.  The problem with the game today is that there's so much tape.  In past years back when I played, you have four games to look at.  It's almost for coaches like there's too much access to too much information and you get weighed down a little bit.  I think it's still an advantage to look back and see what teams did and made adjustments.  They played the Rams and lost to them, but when you play a 16 game season you're going to have an off day somewhere.  They caught them at the right time and they played well.  You know teams adjust from that.  You put more emphasis on what they've done lately and what they're doing now the last three or four weeks in which they've been playing very well because that's what you're going to see.  You look around and see what someone did to beat them.  I'm sure the Giants and Lions did the same thing but it didn't help them a whole lot.  Ultimately you have to go out there and play Sunday and you try to learn as much as you can without confusing them.  As coaches you do, but you don't want to confuse the players with too much information.  You just want them to go out and play."
What do you think Jon Vilma brings to this Saints defense?
"He's like the quarterback of their defense.  He makes plays.  They feel comfortable when he's there.  They do a lot of things.  They don't just sit there and play one or two fronts.  They're going to change things up especially in their sub-packages when they go to their nickel stuff.  He allows them to do a lot of things.  He gets people lined up right, set up right, and can make the checks when a quarterback checks.  He's kind of the leader as far as checking in and out of blitzes or coverages that they're doing.  I'm assuming Gregg's very confident when he's out there with all the things he can do.  I'm sure the players feel that too.  That makes a huge difference for players too from my perspective when your leader is there.  It gives you a sense of comfort when he's there rather than when he's not there.  Gregg can put it on one guy to do the thinking and let the other guys play football.  I don't think people realize what a value that is."
Do you think it was a good thing he rested for so long instead of trying to push to get back?
"Yes, I think that's true because most players do want to come back.  I think Sean Payton and Gregg Williams did a great job in keeping him out because it's hard to keep a great player like him out of the lineup because you want to play him.  You have to think long-term.  I think they were smart by doing that because it makes a difference.  They're positioning themselves for a playoff run and they need him on defense if they're going to do what they want to accomplish.  That was smart by them.  We try to do the same things when we can do that.  When you watched the games, it didn't look like he was hurting in any way."
Does it help having been on a staff with another coordinator going into a game like this?
"I do.  A lot of coaches have been together and then they're coaching against each other.  As far as our offense, Chris Palmer, our offensive coordinator, worked with Gregg so they kind of know each other.  That doesn't necessarily mean it won't hurt them as much as help them.  Sometimes you can use that against you because you can know someone and get a little too confident.  I think he's smart enough to realize it's not a huge advantage.  Ultimately it comes down to what you're seeing on tape and how you adjust and what you're seeing on Sunday.  For example, how Gregg decides to play based on what Chris is doing.  The players are playing the game and not the coaches.  The coaches are putting those guys in position but ultimately those guys have to go make plays.  Players usually do a good job of making coaches look better than they are."
Could you describe in one word the Saints offense?
"One word would be unstoppable.  It seems the last three or four weeks impressive, consistent, but I think the biggest thing to me it's not just passing.  We've played against the Colts for so many years against (Peyton) Manning and what they're able to do.  I think Sean does a good job of keeping them balanced.  One word I would use is balance.  They run it at you.  They don't get away from the run game.  They're a well-coached team.  Their offensive line plays well and it gives them an opportunity to run the ball well and pass it well.  They have a lot going on that side of the ball.  I enjoy watching them play.  They make things happen and they make plays.  They're a group that feels like they can score at any time."