Like most players, New Orleans Saints wide receiver Marques Colston always hopes to perform well on gameday.
But for Colston, the most important part of the game happens even before the ball is kicked off.   
"We bust our tails all week in practice and try to make that the most difficult part of the week," said the 6-4, 225-pound wideout. "I don't believe that you can just show up on Sunday and do things without getting the reps and operating full speed throughout the week."  
The focus on the weekly preparation has allowed Colston to evolve from a seventh-round draft pick, taken 252nd overall from Hofstra University in 2006, to the Saints career touchdown leader with 56 scores.
Colston passed former Saints RB Deuce McAllister for the career touchdown mark at 55 against the 49ers on Nov. 25.
Colston is third in team history in receptions (510) and receiving yards with 7,068, trailing Eric Martin (532 receptions for 7,854 yards) and Joe Horn (523 receptions for 7,622 yards).
Even with the exceptional performances on Sundays, Colston points to the week at the office as the main reason he's been successful.  
"For me, it's just working throughout the week," said the receiver. "The process of going out and getting all of the reps during the week. I want to work to be as consistent as possible."  
Consistent is exactly what he's been. In his seven-year career, Colston has gone for over 1,000 receiving yards every year except 2008 when the receiver missed five games due to a torn ligament in his left thumb that required surgery.  He holds the franchise-record as the only player to go over the 1,000 yard mark five times while sporting a fleur-de-lis.  
"Around here, you're used to seeing the level of consistency and playmaking ability (from Colston)," said quarterback Drew Brees. "I would say he has flown under the radar a little bit when you talk about the scope of the National Football League. If you want to just sit there and match up the numbers, the consistency and the level of play over the last, this going on his seventh season, it's pretty impressive."  
For Colston, Brees has served as a helpful asset in molding the receiver as a pro since they both arrived in New Orleans in 2006.  
"I have taken a lot from Drew," said Colston. "Just having a feel for him and the way that he likes to operate definitely helps you be successful. His consistency, his work ethic, those are all things that rubbed off on me as a young player."  
Coming to the Saints the same year as Brees, as well as having an opportunity to learn from Saints great Joe Horn in his rookie season, put Colston in the "right place at the right time."  
Since his arrival, Colston has become a part of a wide receivers group that has remained together for numerous seasons. Mainstays at the position, including Lance Moore and Devery Henderson, help form a veteran group that is dedicated to hard work and leadership.  
"You don't really find a group that has been together as long as we have," said Colston. "We're a tight-knit group and we work hard for each other. We are genuinely excited and happy for one-another's success. To have that continuity is really a special thing."  
Even with so much talent at the position, the receivers don't get envious of each other's opportunities. They don't fight. They aren't overly-competitive towards each other. They, like Colston, remain consistent.  
"I think we, as an organization, have done a great job of bringing in good character guys," said Colston. "It really shows in our (meeting) room, and I think that's one of the reasons for our success. We have a group that is high in character and handles adversity well, and that's what you're going to see week in and week out in this league."     
The group works together throughout the week, along with all of the other offensive weapons, to practice and strategize about how to best produce on Sunday.
To the receivers, it doesn't matter who touches the ball on any given play. They know they need to remain consistent in their roles because their chance can come on any snap.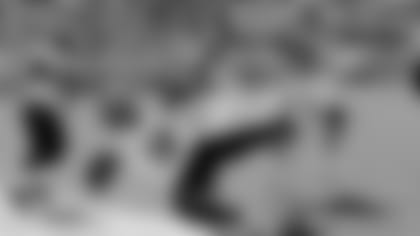 "You never know when it's coming your way," said Colston. "You need to have Drew's trust that you're going to be there. You always have to be at the right place at the right time."     
Offensive Coordinator Pete Carmichael has been with Colston since the 2006 season and admires the receiver for his effort on the field whether the ball is coming or not.     
"Every snap, he is going to give you 100 percent and he is going to run the route as if he is expecting the ball," said Carmichael. "He is such an unselfish player; it makes him special. He is such a team guy."     
Before Colston and Carmichael ever crossed paths, Colston spent draft day at his mom's house in Pennsylvania, not knowing where he'd fall. He remained confident that somebody would pick him up until he received the call he had been so anxious for, he was coming to New Orleans.     
"I was hoping I would get drafted," said the Hofstra product. "I didn't know what to expect coming from a smaller school but I really ended up going to the right team."     
Even while putting up big numbers as a member of a record-setting offensive unit, Colston has never been named to a Pro Bowl.  In fact, his contributions go widely unrecognized by the national audience.  
"Really and truly, it is not something that concerns me," said Colston. "I'd rather fly under the radar. I don't really enjoy everything that comes along with being a guy who is in the media all of the time. It's all about trying to maximize each and every day to improve and continue to work. You never want to take this opportunity for granted."  
With his philosophy, work ethic and dedication, Colston has developed into one of the best receivers in the National Football League.  And he's not done yet.  
Colston remains focused on each and every day, each and every practice, while continuing to work at his craft. He has stayed so motivated for so long by just two things: "being great and winning."  
"That's the reason we all play this game – to win," said Colston. "That's enough motivation right there."  
He believes that with hard work and dedication he can reach his goals both as a football player and in life off the gridiron.  
"As a player and as a person, the sky is the limit, and it's only going to come with hard work," said Colston. "You just have to continue to put in the work and reach it."