The 2012 season was the first time in S Malcolm Jenkins' football career that a team he played on missed the postseason.
Adding to the disappointment of the campaign, Jenkins missed the final three games after being placed on injured reserve on Dec. 15 with a hamstring injury.
Despite the team being outside of the playoff hunt when Jenkins was placed on injured reserve, he didn't take it as a chance to slack off.
Jenkins, who was voted as a team captain by his teammates to start the season, still wanted to help the team as much as he could.
Jenkins wore a headset and held a notepad on the sideline during the final three games of the regular season. He said he took a scouting approach while on the sidelines, analyzing what he saw on the field and advising other Black and Gold safeties including Rafael Bush and Isa Abdul-Quddus that helped fill his void.
"I just wanted to help any way I could," said Jenkins. "It's not fun standing on the sidelines so I wanted to make the most of it. I would just point things out to the younger guys and provide any details that can help."
Jenkins' attention to detail is what has fueled his career from winning three consecutive New Jersey state titles at Piscataway High School to becoming an All-American at Ohio State and helping the Saints win a Super Bowl in his rookie season.
An example of Jenkins' analytic approach came after the New Orleans Saints first win of the season – a 31-24 victory over the San Diego Chargers on Sunday Night Football on October 7.
Although Jenkins was happy the Saints won, one play still bothered him – a 15-yard touchdown reception by former teammate Robert Meachem in the first quarter.  When Jenkins got home, he was reminded about the play by former teammate and current NFL Network analyst Darren Sharper.  Sharper, who picked off 63 passes during his 14-year NFL career, texted Jenkins offering advice on how he could have intercepted that pass.  
Jenkins and Sharper share the same attention to detail and knack for making big plays in key situations.  It's why the two clicked right away when Jenkins was drafted in the first round of the 2009 NFL Draft and what made his transition from cornerback to safety after the 2010 season go smoothly.  
"Darren helped me a lot because I didn't have a lot of experience at safety," said Jenkins. "His help was huge. Even now, I will call him sometimes to ask about certain things and he will give me advice. He will call me after a game or shoot a text about something."  
The reason that Meachem's touchdown was a thorn in Jenkins' side is because he thrives on finishing plays. He plays to the whistle no matter how unrealistic the play he is trying to make appears.
Over the years Jenkins has built up quite an impressive resume of game-changing plays. Jenkins made one of his biggest plays of the season against the Chargers when he tipped a pass that was intercepted by Harper during the fourth quarter of the Saints' first win of the season.
He's made several other plays like that; plays that sparked a defensive resurgence for the Black and Gold.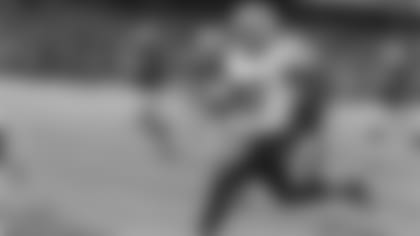 In Week 7 against the Buccaneers with the Saints leading 28-21, Tampa Bay wide receiver Vincent Jackson was racing down the sideline en route to a potential 96-yard touchdown when Jenkins chased him down from the opposite side of field and tackled him at the 1-yard line. The Saints stopped the Buccaneers on the next four downs to get the ball and went on to win the game.
In a 2010 Week 14 matchup against the Rams with the Saints leading 14-6, the Rams were at the four-yard line late in the second quarter when Jenkins picked off Sam Bradford and returned it 96 yards for a touchdown. The first half pick-six ignited a 17-0 run for the Saints as they went on to win 31-13.  
Jenkins had what he calls the biggest play of his career on Thanksgiving in 2010. With the Cowboys leading 27-23 during the fourth quarter in Dallas, Jenkins chased down wide receiver Roy Williams, stripped the ball and recovered it at the Saints 11-yard line. Drew Brees then led the Saints on a five-play 89-yard drive capped off by a 12-yard touchdown pass to wide receiver Lance Moore to win the game.  
"I have been blessed with a mentality to never give up," said Jenkins. "I have a strong conviction to never let my teammates down. If I feel like I didn't give 100 percent on a play, I feel horrible about it, because big plays can motivate your teammates, as well. I can see at times my effort can become contagious, and I will see other guys giving that extra effort as well. That makes us better as a team."  
Whether it's trying to be the first defender to the ball carrier or coming across the field to make a play, the aggressive approach by Jenkins not only makes him a top playmaker but also a leader in his fourth season with the Saints.  
"Every play, I am going to go hard, regardless of what the play or game looks like," said Jenkins. "Even in high school or college, that was my mindset. I never want to quit on a play. I am looking for any way to give my team a chance. Even if it's a first-and-goal at the one. All you want is to have a chance. I know what the result can be. It doesn't always pay off, but there are those key times where you will have that opportunity."
Assistant Head Coach/Linebackers Joe Vitt noted earlier this year that Jenkins' flair for making key plays is a credit to the extra work he puts in at practice. Vitt said Jenkins' ability for being in the right place at the right time on game day has earned him his teammates' trust.    
"When the game is on the line and plays have to be made, you just trust Malcolm Jenkins," said Vitt. "You trust him because he works so hard and he is so accountable to his teammates. It's been fun to watch."    
One key component to Jenkins' success with the Saints is his ability to adapt to change. He had a smooth transition from corner to safety in 2010 and picked up first-year defensive coordinator Steve Spagnuolo's scheme quickly.      
"I didn't find the changes difficult, because I see myself as a versatile player," said Jenkins. "I want to play wherever it best helps the team. Now, to this day I still think I can play some corner, so whenever I can get a chance in practice I take advantage of it."      
With Jenkins' "whatever-helps-the-team" mindset, the position he plays in the defensive backfield is irrelevant but No. 27 does appreciate the different aspects of each spot.      
"At corner, I loved the challenge that you are one-on-one and trying to win those matchups on an island," said Jenkins. "At safety, I love the freedom I have being able to control the calls of the secondary. It's fun playing everywhere. I just love learning new things on defense and playing different spots."
Jenkins has appeared in 57 games with 49 starts. The 6-0, 204-pound defensive back has recorded 325 career tackles (233 solo), two sacks, four interceptions, two returned for touchdowns, 32 pass defenses, two forced fumbles and three fumble recoveries.
The 24-year-old defender started all 13 games at free safety for the Saints in 2012 and ranked third on the team with 95 tackles before being placed on injured reserve on Dec. 15.
Roman Harper has started alongside Jenkins in the defensive backfield the past three seasons. Harper, a two-time Pro Bowler, said what separates Jenkins from others is his topnotch competitiveness.      
"He never quits," said Harper. "You will never see someone out-work him at what he does. He is one of the most competitive people I have ever been around. The competiveness makes the younger guys compete harder at practice."
Along with Sharper, Jenkins said Harper has been huge in his development.
"I am a mathematics-type guy," said Jenkins. "I stick to the numbers and rules of certain coverages. I want everybody to be in the perfect spot, but football is not that type of game. Football is a very gray game. Sometimes you have people out of their spots and you have to adjust. Roman has helped me with that as far trusting my eyes and being able to play off what I see if a play breaks down."
Jenkins said he will review every game this summer as he prepares to enter his fifth NFL season. Jenkins, who lives in New Orleans full time with his wife Morrisa, said part of his offseason training will be boxing. Jenkins said he enjoys it because it gives him a break from the grind of football and still helps him stay in shape. He has taken of few of teammates to the gym to box, including CB Patrick Robinson, but joked "most of them don't' come back."
After the disappointing ending to 2012, Jenkins said he will evaluate everything that happened, learn from it and is more motivated than ever to start the next season.
"Not making the playoffs is not something I have experience or want to continue," said Jenkins. "I am confident we will get back to the standard we have set here and we will work as hard as we have ever had to get there."