In his first season in New Orleans, LB Curtis Lofton looks to make an immediate impact on the field.
The 6'0, 241 pound linebacker joins the team after spending the past four seasons in Atlanta.
Lofton was drafted by the Falcons in the second round of the 2008 NFL Draft from the University of Oklahoma. As a Falcon, he started 63 of 64 games and recorded 577 tackles (387 solo), four sacks, three interceptions, seven forced fumbles, one fumble recovery, and 15 passes defensed. In 2011, Lofton logged double-digit tackles in ten games.
This season, the former Sooner is learning a new defensive system put in place by first-year Saints Defensive Coordinator Steve Spagnuolo, who is a newcomer like himself. Lofton is working hard to become one of the leaders of the Saints defense.
"Curtis has been everything we thought he would be and more," said Assistant Head Coach/Linebackers Joe Vitt. "He continues to get better and is mastering the system. He has some natural leadership qualities and he wants to win. He has been great."
Lofton acknowledges that challenges will arise while learning a new defense with a new team but recognizes the improvements he has made during the offseason workouts.
While making stops at or near the line of scrimmage has always been his forte' and priority, Lofton has worked hard to shed about ten pounds this offseason, to increase his versatility at different positions and also help him in coverage.
"It's challenging because there is a lot on my plate as the middle linebacker," added the Kingfisher, Okla. native. "I have grown a lot as a player in this system. I will keep continuing to improve every day."
Coach Spagnuolo has talked about the importance of having a middle linebacker that fully grasps the system. Spagnuolo plans to use his middle linebacker as his coach on the field for the defense, making adjustments and calling audibles while passing along information to the other ten defenders.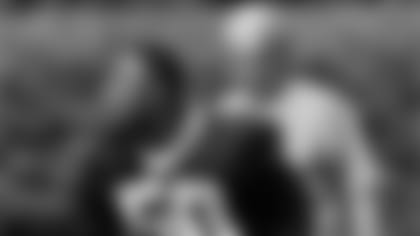 "He (Spagnuolo) puts a lot of the decision-making on the player in the course of practice and in the course of a game," said Vitt. "Lofton has great communication skills. As you watch him practice, he is calling audibles and getting (the team) in better defenses every day."
Lofton hopes he can take what he studies and perform the same duties during the season and beyond. He hopes the lessons learned as player will help him as a coach on the high school level once his playing days are over.
"I want to coach on the high school level when I finish playing," said Lofton. "I want to stay on that level mainly because I want to be a family man and have kids. I want to be able to help them out and coach them."
While Lofton attended Kinfisher (Okla.) High School, he led his team to the 3A State Championship in 2003 and the semifinals in 2004 on his way to being named All-State by the coaches and The Oklahoman.
"To me, that is where the game is purest," said Lofton. "Everyone loves it and everyone loves playing."