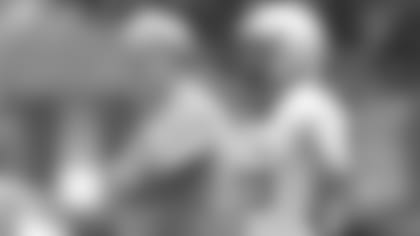 New Orleans Saints Assistant Head Coach/Linebackers Joe Vitt
"It was emotional this morning. Andy Reid is strong and his family is strong and everybody knows our thoughts and wishes are with him. It's always great when we practice against a class franchise like this franchise. We got a lot of good work done today. We got some first and second down, we got some situational third down stuff and then we got a two-minute drill. We got good work today. We've got a few nicks and bruises, but we're okay and we're looking forward to coming out tomorrow."
A lot of attention is going to be about your new defense going against a really good offense, but that's what you want, right?
"Yeah I mean I said at the start of practice today, if you're putting in a new defense, who better to go against than Drew Brees and then all of a sudden you're going against Tom Brady. Both those guys do a tremendous job of looking people off and getting you off your spot and fitting the ball in there. The tempo is great. The chemistry between him and (Wes) Welker is unbelievable, so you've got to have you're A game. This is going to do nothing but make us better."
Was the planning between these joint practices easier since you did this two years ago?
"Yes, I think so. I think there's a lot of trust involved. We know what we want to get out of each day. I think the biggest thing is the players trust one another. They know that we work tempo, angles to the ball without just beating each other up. Whenever you have that trust between two teams, I think it makes it a lot more compatible."
Is there anything you can learn from the experience the Patriots had and the season they had with going 17-0 after Spygate?
"Let me just say this, number one - I made this statement yesterday and Sean (Payton) has made this statement – that this franchise that we're going against is the Microsoft of our industry with what they've done. Number two – in my era as a coach, Bill Belichick is the coach of my era. He's the Don Shula, the Bill Walsh of my era. So they've had some adversity and have done a great job of handling it. I've had conversations with Bill. We know that our players are strong. We've been through adversity before, but there's really no comparisons as you're getting out to these practices. We're trying to get better, both teams every day."
Would you take one of these tight ends from either squad over the other?
"Hey listen, we like our guys and they guys they have keep me up at night trying to defend them. They're a good group."
Can you talk about how these tight ends are kind of the new era of tight ends?
"They can run, they can catch, they can run routes, they can block, they can get to the edge and kill you, they can catch the deep ball, they can catch outside of the framework of their body, they're all good dancers, they're good cooks and they love kids."
Has the intensity level changes in these joint practices as opposed to when you're practicing against your own team?
"The intensity of practice is the same for both sides. We're trying to get better, but we're trying to get better being smart – staying up off the ground, making sure we have good fits and taking proper angles to the ball. These are two teams that have won a lot of games over the last couple of years so that hasn't changed."
What's been your approach about how you lead the team?
"Our program is set. I am doing what Sean (Payton) has established since '06. Our schedule is intact, the way we evaluate personnel is intact, the way we install is intact, our teaching progression is intact and our players don't talk about it nearly as much as everybody here does to try to sell papers. We're trying to get better and trying to get prepared for the season."
Do you have a sense of how much talent is out on the field at these practices?
"I think there are a lot of Hall of Famers out there right now. I think the two guys pulling the trigger out there are going to have a bust someday in Canton."
How important is Pete Carmichael to getting you guys through this?
"Did you see us play last year? Pete Carmichael was the play-caller."